Sometimes it is often easy to miss things that are happening right in front of you. It's easy to miss because you're not looking for it. But sometimes, that can only make the problem worse.
Did you know that currently there are more than 14 million people in the United Kingdom that are living below the breadline?
That includes 4.5million children, according to the Social Metrics Commission. That means over 21 percent of the country are not able to afford the basic necessities they depend on.
Most people may be shocked by these statistics, and others may simply read them, and continue their lives in blissful denial at what is happening right on their doorstep.
So, what exactly is poverty? Poverty is the lack of the means necessary to meet basic personal needs.
That means there are people out there who cannot afford food, to clothe themselves or their family and sometimes, cannot even afford shelter. These are often things that we take so easily for granted.
In recent years, period poverty has become more prevalent. This type of poverty occurs when women and girls are unable to afford the means of buying sanitary products.
The latest research from children's charity Plan International UK reports that one in 10 young women (aged 14-21) have been unable to afford period products.
And poverty is just one issue that may affect a person's access to period products. There are varied social and cultural reasons why products might not be available at home, many of which are linked with the stigma that persists around menstruation.
Increasingly, overstretched teachers are taking on the responsibility of helping pupils in need and schools keep small stocks of menstrual items for emergencies. Limited budgets mean they can usually only hand out a couple at a time, sometimes being forced to charge students per product.
Helping to widen our understanding of the extremities of poverty is just one thing. The next is what can we do?
The Red Box Project is a nationwide, community empowered project that was set up in March 2017.
The initiative was devised to ensure that no young person misses school and other educational settings across the UK, ensuring young people have access to menstrual products wherever they need them – no questions asked. The aim is to tackle the issue of period poverty head on.
We're raising funds to support our projects & their fantastic & dedicated work across the UK!

We've grown more quickly & widely than we ever dreamed & your ongoing support means the world https://t.co/MyQlUVv1Jw#EndPeriodPoverty #RedBoxProject#KindnessMatters

— The Red Box Project (@RedBoxProject) September 13, 2018
The Red Box Project distributes red boxes around educational facilities in the UK. Each box contains a variety of different sanitary products in, so that those who cannot afford them don't undergo the awful situation of not using them or misusing them by using them for longer than is instructed.
The scheme encourages individuals in the local community to support a Red Box in a school near them, working together to keep it filled with period products and spare underwear.
The Red Box supports young people throughout their period with as many menstrual products as they need, along with the added reassurance of a few left over to prevent a panic next month.
Periods happen during the school holidays too and so students are encouraged to take extra for times when school is closed.
Coordinators also place Red Boxes in appropriate settings such as youth clubs, libraries and church halls which are accessible all year round. This is what makes the project special.
The Red Box is easily accessible through appropriate members of staff and plain bags are included for discretion. Posters placed in toilets and changing rooms signpost the box, its contents and location.
Access to the Red Box is available to everyone, no questions asked. Open discussions are encouraged between teachers and students about the subject of periods generally, and the availability of period products via the Red Box specifically.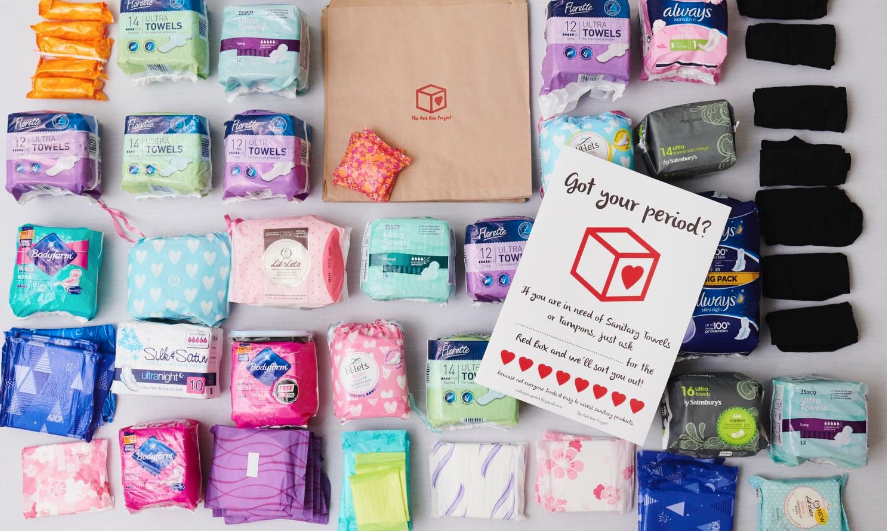 30% RISE: Since installing the Red Box Project in schools, some have reported an increase in attendance levels of nearly a third
A spokesperson for the Red Box Project said: "The Red Box Project was started in March 2017 with the aim of tackling period poverty within schools.
"It began in Portsmouth after hearing that 1 in 10 young women was experiencing period poverty in the UK according to Plan International UK; this rose to 1 in 7 young women within London.
"From there the project has expanded right across the UK with us now having over 2000 active red boxes within education settings across the UK. 
"The boxes are stocked with menstrual products as well as knickers and tights – the young people can come and take as much as they need from the Red Box, no questions asked.
"A Portsmouth school reported having seen a rise in attendance levels in girls by just under a third since having the Red Box installed within the school. This report was carried out by BBC South Today (on December 16 last year)."
ENDING PERIOD POVERTY INDIGNATION
What does this mean for women and girls in period poverty? It means they don't have to undergo tearful panics in the loo. No wrapped-up toilet roll. No anxious embarrassment. No missed lessons or staying at home. No missed education.
The Red Box Project is powered by community kindness and focused solely on supporting young people.
It is designed to be a simple, no frills scheme to meet a need with minimal fuss. Castle View Academy in Portsmouth has said since the scheme was introduced it had helped increase attendance levels by nearly a third. Now, the Red Box Project reaches 2000 active boxes in the UK.
Anna Miles, Co-founder of the Red Box Project, said: "A young woman's education will shape her future. We are determined that this will be the last generation of girls to suffer the indignity and embarrassment of period poverty.
"When we started this project, the need for the provision was clear to us. Within three months we had six boxes and by the end of 2017, nine months in we had 35 boxes.
"By the end of 2018, just one year later, we will have over 2000. It's incredible.
"The support we have received to date has been amazing. If you want to get involved in providing menstrual products to young people in your community, please do get in touch with us. We would love to hear from you."
A teacher from a school that has a Red Box commented: "Our girls are no longer whispering, 'Miss, do you have some pads?'
"Our girls are not having to decide between buying lunch or sanitary protection. They feel loved and supported."
A simple idea, an aim to help others and proactive approach in making that become a reality. An action of good might not change the world but it might change the world for one person.
Maybe that's an attitude for us all to try and adapt.
Image courtesy Hazel Mead and The Red Box Project via Twitter, with thanks.