After this year's Brit Awards were criticised for a lack of diversity, singer-songwriter Tom Robinson has called for greater recognition for musicians of colour.
Speaking to MM at Manchester's People History Museum, the 65-year-old, who presents three shows a week on BBC Radio 6Music, insisted that commissioners are failing to give artists of colour a chance to receive the highest accolades for their work.
Not one award was given to a musician of colour at last week's event, while only the International Male category – won by Justin Bieber – featured multiple non-white nominees (The Weeknd, Drake, and Kendrick Lamar).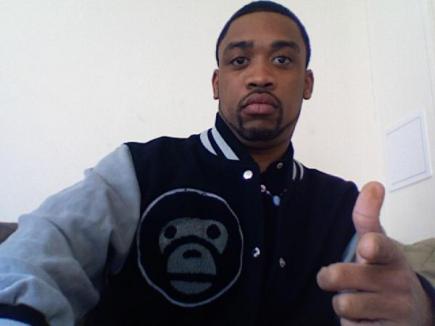 GREATNESS: Tom believes that Wiley should be given more credit © Lookwhoitis, via Wikipedia
And although he doesn't believe that people in the industry are racist in the way they were in the 1970s, Tom believes the pathway for musicians of colour must become easier and more welcoming from a grassroots level through to the top.
"I think the problem doesn't lie with the Brits, it lies with the commissioners," Tom told MM.
"They aren't giving people like Wiley the chance to really achieve the greatness that he deserves.
"Grime is still an underground genre altogether, and so is the wealth of South Asian music that's pouring out from people like Bobby Friction and Yasser on BBC 1Xtra.
"There's so much more interesting stuff than those conduits are putting forward, but then it's self-perpetuating because those people are using focus groups and market research and trying to play safe with their investors' money, and it's all bollocks.
"It's a scandal, but the people awarding the Brits didn't have a choice to pick from.
"I'm on the Ivors committee and we pick the Ivor Novello award winners in many cases, and we get some 80 submissions, of which two are from artists of colour.
"And you certainly don't want to patronise someone by given them an award just because their skin is brown."
Tom's track record on activism speaks for itself.
An early supporter of Rock Against Racism and Amnesty International, he has also spent decades fighting for LGBT rights, and he happily admitted that Britain has reached a place previously unimaginable for gay liberation.
"I never, ever in a lifetime imagined that we would see a Conservative government introducing gay marriage," he said.
"That's just mind-bogglingly astonishing.
"When we went on a gay pride march we had 2000 marchers and 3000 police. That's what the early 70s were like, and of course we just welcomed everybody with open arms who wanted to march with us.
"I suppose you could be nostalgic for those days, except that those days were so fucking horrible!"
His most renowned contribution to LGBT history is Glad to be Gay, a song penned for a 1976 gay pride march that charted at number 18 two years later.
For Tom, 'gay' was a much more inclusive term 40 years ago, encompassing everything non-heterosexual in a word that was 'nice and easy to say'.
Today's 'more splintered and diverse' LGBT movement has provided society with a range of new categories in which people can be pigeon-holed, but Tom's own story refuses to fit in a particular box. 
An out, proud gay man, in 1982 he fell in love with a woman whom he went on to marry and have two children with.
He believes it's a shame that society continues to squeeze fluid sexuality into rigid definitions.
"It's just human nature to try and put people into boxes," Tom said.
"We always try to define people and give them a rigid identity, and human nature consistently refuses to be crammed into those boxes.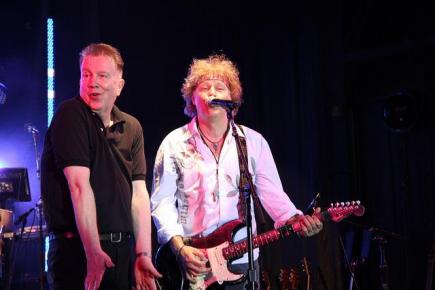 ACTIVIST: Tom on stage with Jamie Moses https © Mark Kent, via Flickr
"Human experience, human attraction, human desire, human fantasy has always been much wilder and weirder.
"Wouldn't it be great if we had a world where we didn't need a box to put ourselves in?
"If you met somebody at a party who you just felt completely drawn to and you went and talked to them, and they weren't drawn to you, they'd just go 'I don't fancy you', rather than 'I'm not gay' or 'I am gay', or giving some kind of external reason for why they don't share that.
"It would be nice if we could just be people, who have these personalities that can change over time and range in a wild and free way."
With an endless number of out LGBT musicians today, artists from across the spectrum of genres including Years & Years, Frank Ocean and The Internet have been able to write honestly and openly about their sexuality in their music.
Yet many artists still skirt the topic in their music, while some openly gay singers avoid the use of gender-specific pronouns.
Tom believes that musicians should not fear being themselves in today's society.
"John Grant's a great example for us all," he said.
"He's out, proud, spikey, doesn't pull any punches lyrically, is open about his HIV status, and it hasn't really damaged him.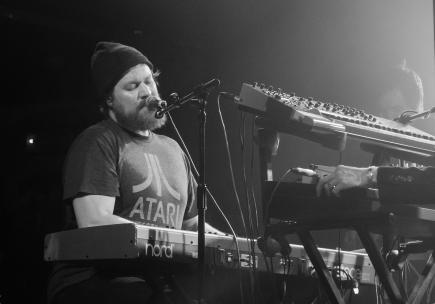 GREAT EXAMPLE: Tom described John Grant as 'one of the hottest artists' around © Ed Webster, via Flickr
"He's one of the hottest artists of the day, and you go and see him in concert, and these waves of love pour off the audience towards him.
"I don't think people have the problem, it's just the artists themselves having the courage to come out, but that goes back to the 70s.
"Coming out is key, just being yourself, being natural, being truthful, and people generally respond better than you think they might."
Tom also has a habit of refusing to pull punches in his writing, even when penning Glad to be Gay at a time when homosexuality hadn't been legal for a full decade.
Mid-70s politics also saw the three day working week, the rise of Margaret Thatcher and the marches of the National Front.
For Tom, it felt like the world was ending.
"It really felt like society was falling to bits, and just because something doesn't happen when there's a pivotal moment – because the outcome went one particular way – that doesn't mean to say that particular outcome was guaranteed or inevitable," Tom said.
"Things could have gone differently, and they went the way they did partly because of people getting involved and doing what they did, or not doing what they did."
Tom's potent songwriting is as relevant now as ever before, not least with the release of his first new album in two decades last year, Only the Now.
One of the tracks on the album, The Mighty Sword of Justice, tackles the inequality of the British justice system – including last year's controversial criminal courts charge.
He said that this is just one element of growing social inequality in the UK.
Comes to as all sooner or later @IMcMillan… if we're lucky 🙂 pic.twitter.com/FVokLqQNnI

— Tom Robinson (@freshnet) 24 January 2016
"I think anybody that said social inequality was decreasing would be out of their brain at the moment," he said.
"I don't know where it's going to lead, but it's a really rotten system. And the kind of viciousness of the attacks on Corbyn kind of show how determined the haves are that the have-nots are not going to get anywhere near their pile.
"Basically that's what it's all about, it's about selfishness.
"Of course, right-wingers and neo-liberals say that socialism is the politics of envy, but on the other hand their politics is the politics of greed.
"How many cars do you need? How many houses can you live in? How many suits of clothes can you wear? How many luxury fucking yachts do you need?"
And that's just Britain.
Across the pond a real possibility is emerging that Donald Trump could become the next president of the United States, a man that Tom believes could be disastrous for everyone.
"I'm not optimistic about the Trump situation," he admitted.
"I can't believe they're taking that clown seriously. It's terrifying to think of his finger on the button."
Tom admits he's no political expert, rather a man of 'pensionable age shooting his mouth off', but in 2016 that counts for very little.
Political commentators have made a recent habit of making bad predictions, and grassroots activism played a large part in the election of Jeremy Corbyn as Labour leader.
The future appears to be even less clear, and the one prediction Tom makes is that it won't be a repeat of the past.
Steve Bell on the EU referendum pic.twitter.com/bdCXoyfW0W

— Tom Robinson (@freshnet) 26 February 2016
"Britain in particular has always had a tendency to try and fight each new war on the basis of the last one," he said.
"That is why we're slashing the NHS and spending £112billion on Trident, to fight a nuclear war which is really not high on the list of priorities that you would spend money on in a sane and rational society.
"That's all looking over the shoulder towards how things were and saying 'we must keep that because of what happened'.
"But what happened in the past won't necessarily happen again, we don't know what the new thing will look like.
"It may not be a mass movement, it may not be a political party. Corbyn may be a signifier of some other change that's coming.
"Who could have predicted what happened in Scotland, with Labour getting wiped out, just eradicated?
"They didn't think that could happen, and they don't think Corbyn has a chance or Corbyn's beliefs or the values that he subscribes to have a chance, but who knows?
"If we get involved, if we do what we can in our own field of action, each of us – that's all we've got responsibility for, isn't it?"
Image courtesy of Mark Kent, via Flickr, with thanks