A new exhibition – Goal! – at Portland Basin Museum, Ashton, showcases the importance of football in Tameside from when it was first played to the present day.
The exhibition examines the relationship between the area and the game by charting back to the early days of the Football Association – when local mill-workers and engineers quickly adopted the FA's newly-written rules.
Local team Ashton United – then called Hurst FC – was founded in 1880, less than 20 years after the FA held its first meeting.
It may be over 100 years since a local team featured in the Football League, but Tameside is the birthplace of three World Cup medal winners – Geoff Hurst, Jimmy Armfield and Simone Perrotta.
And with an impressive six senior non-league clubs in the borough, making it the only borough in the country to be able to say that, football still plays an important role in the area.
"Goal! proudly highlights Tameside's place in football and its love for the game," said Tameside Council's Cllr Frank Travis.
"It shows there is much to celebrate, and much to learn, too."
The exhibition includes table games, match programmes, collector cards, books, balls and clothing.
It includes a replica England shirt signed by 1966 World Cup hero Hurst, who was born in Ashton and lived in Denton.
Armfield, who broadcasts for BBC Radio 5 Live, was in the 1966 England squad but was injured and did not play in the final.
Finally Perrotta, who was born in Ashton before moving to Italy at the age of six, was in the Italian World Cup-winning team that beat France in Germany in 2006.
The exhibition boats a series of photographs of Tameside soccer past and present. Among these is the collection of retired outfitter Jack Coggan.
Jack had a shop in Stalybridge and was the tailor to such Manchester United notables as Sir Bobby Charlton and Wilf McGuinness.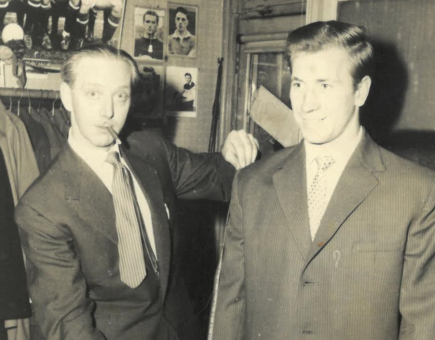 SUITS YOU SIR: Stalybridge tailor Jack Coggan measures up World Cup winner Sir Bobby Charlton
As well as being fitted by Jack, the Busby Babes used to visit for tea and cakes with Jack's mother. It was all about looking after young lads who were homesick and far from their own families.
Jack became very friendly with the Manchester United players, especially Charlton, Dennis Viollet and Wilf McGuinness.
Later, when Jack opened his sports shop, it was the only place in the region to get Manchester United souvenirs.
In the early 1960s he helped Matt Busby's son, Sandy, set up the souvenir shop at Old Trafford that has since evolved into today's megastore.
The exhibition runs from March 4-July 9, Tuesday to Sunday between 10am-4pm. Admission is free.