Did you know that Manchester is the home of the industrial revolution or the place where the first programmable computer was made?
Did you know that Manchester is the birthplace of Emmeline Pankhurst or the place where Karl Marx and Friedrich Engels met to create the Communist manifesto?
A poster detailing the chronological history of Manchester from 1653 to the modern day has been created by the independent online site, 'The Sense Of Doubt', to highlight some of the incredible achievements that Manchester and its inhabitants have accomplished.
The poster combines stunning infographics, with in-depth summaries of some of the most important cultural, scientific, historical, sporting and musical events that have occurred in our city.
Its creator, Alejandro De Luna, originally from Mexico City, moved to Manchester two years ago and has been enthralled by the city, its people and its heritage ever since.
"I first moved to England because of the music, but I discovered that Manchester is such a sophisticated city – there is so much history here," Alejandro told MM.
"I started discovering that there are so many things happening in this city. This is the place where the industrial revolution started. The first computer was built here. The atom was split here.
"There are so many achievements that it is just unbelievable what has happened in this city. If you are into art or creativity this is one of the best places in the world and this print proves it."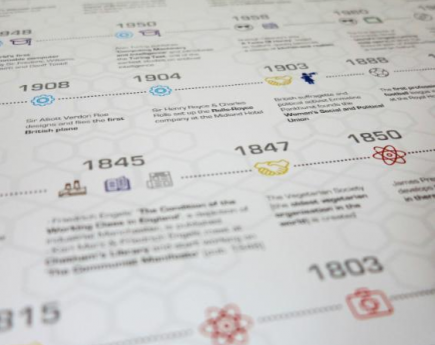 ART HAVEN: The Sense of Doubt start-up creator says Manchester is among the best places in the world for creative minds 
The first print run was so successful that Alejandro has created a second edition, as well as a dark-grey variant – which is available for pre-order before its release on November 15.
'The Sense of Doubt' owner, who has previously released info-graphics focusing on Morrissey and David Bowie, sums up 'Manchester: Legacy of the world's first modern city', as a reminder in a nutshell of how great Manchester is as a city.
"This poster is for all the people of Manchester," De Luna said.
"It could be framed in a bar, in your living room or in a café in a museum – it is an educational piece of print.
"There are so many various categories on the poster – so if you like football or music, science, technology, pop culture or television, then there is something for you. There is a little bit of something for everybody."
Both posters are available in light and dark grey for £25 or you can purchase a signed limited-edition variant for £34.99, which are available at https://shop.thesenseofdoubt.com/.