"It is an odd thing where you're doing comedy and getting paid to comment on the collapse of western civilization," reflects Nish Kumar on his job as a political comedian.
Since his first Edinburgh show in 2012, Kumar has been sharing his exasperated musing on the world – becoming more and more political overtime.
He's currently the host of the The Mash Report on BBC2 and has made repeat appearances on Question Time (QT). He also has a stand-up show which is set to resume touring in January, right up until the night of the Brexit deadline.
In light of Brexit, arguably much of the comic's success is owed to the rise in political discourse, which presents somewhat of a dichotomy for the funnyman. 
"I would prefer it if the world wasn't in the process of destroying itself – that would be my absolute preference."
Kumar's exposure on BBC television has given the staunch remainer a platform to espouse his apoplectic views on a national scale.
He bemoans the Kafka-esque occurrences on the news, thunders that 52% has resulted in "utter chaos" and shrugs his shoulders at the collective schadenfreude that Europe must be feeling for the UK presently.
Nevertheless, the comedian of Indian descent feels conflicted about his role as a serious political commentator on programmes like QT.
"I'm an entertainer, I have no business being on the show.
"I feel underqualified to be on these shows but at the same time I feel a kind of burning need – particularly as a person of colour in the current climate in British political discourse – I feel a certain level of pressure to represent."
According to Kumar, a concern for all comedians going on QT is that they're going to look like an idiot. It's more nerve wracking than say a gong show, because "literally there's no prep – they don't give you the questions, you have to answer them as they're asked from the audience."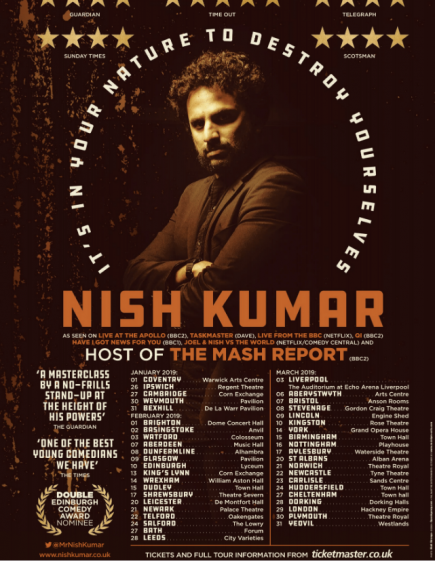 He labours the point that preparation is key and that he felt like he had to overcompensate in that regard by swatting up.
Three days prior to his appearance on the programme, the 33-year-old rented an offices space and "just knuckled down and just fucking hammered the work," reading all the different news stories like he was revising for a school exam – which he said was one of his key skills growing up.
On the topic of preparation, the conversation begins to flow towards the government's lack of action on Brexit.
According to Kumar, the Tory Brexit team have acted like procrastinating school children.
"The government has done absolutely everything other than any work on what they were supposed to be doing on Brexit."
This in-action and infighting follows on from Prime Minister Theresa May's "homicidal" decision to call a general election.
Kumar accepts that Brexit has to happen but that we are in desperate need of more time to negotiate a deal with the EU.
He points out that "there are 800 legislative changes that need to be put before parliament before we can properly codify British law and remove all of the elements of EU laws that we currently use to prop up are entire society. So far 71 of them have gone in front of Parliament."
STAYING SHARP
The Double Edinburgh Comedy Award Nominee will be touring his stand-up show around the country during this transition period, aptly titled "It's in Your Nature to Destroy Yourselves."
It's an 80 minute show with 60 minutes "hardwired in" and 20 minutes where he can be more flexible. The comedian will undoubtedly have to update his act each week to correspond with the changing Brexit developments.
"The audiences that come to see me have an expectation that I am not behind the curve," says Kumar.
"So it forces you to stay sharp and stay on top of things."
The Mash Report presenter is currently spending his time during the week running a writing room for each programme of the satirical news show, so he's au fait with the process of generating fresh topical material.
When he was hired for the show, he brought in comedy writers Sarah Campbell, Tom Neenan, Max Davis and Ahir Shah to work on his bits with him. He's worked with these writers over the years and enjoys the collaborative process.
The comedy series was birthed from the satirical news website The Daily Mash. The writers of website, led by head writer Tim Telling, work on most of the other parts of the show.
Comedienne Rachel Parris writes her own segments and guest correspondent comedians also bring in their own material. It's a massive team effort.
This results in Kumar having to work with other comedians work on the day of recording and he has a technique for keeping it fresh every week.
"What happens is, they'll maybe run an idea past me but I only really get involved with a lot of the correspondent's stuff on the day of the actual recording.
"Even then, sometimes, especially with Rachel Parris' stuff, she works out what she wants me to see beforehand and other stuff she doesn't want me to see – she only wants me to see it when we start recording because they want the sort of freshness of my reaction. It's great and makes it all feel very exciting."
Over the past couple of series, the Mash team have formed a close friendship with each other.
"My first record back, my main emotion was just happy to be back with that group of people – I was excited to see everybody, it was like the first day back at school after the summer holidays, it was lovely."
The Mash Report is on BBC2 Fridays at 10pm.
Dates for "It's in Your Nature to Destroy Yourselves" can be viewed here.
Nish Kumar is performing at The Lowry, Salford on Sunday February 24, tickets for that performance can be purchased here.