She looked, to say the least, a bit exhausted. The blue eyes had paled slightly, they had lost their usual fiery hue.
Every so often they would narrow, partially engulfed by a crumpled tissue and forced to surrender to a bout of some ferocious nose-blowing.
Outside, the first drops of rain pattered against the classroom window and were soon drowned out by the distant shrieks of students running for shelter somewhere below.
"I've felt more emotional since coming back," the boxer spluttered, turning to watch the rain which was now beginning to pelt down.
"It's been a struggle this week to adjust, definitely," conceded the three-time English national boxing champion and former European silver medallist for Great Britain.
The reality of the previous week had thrown its punch and had hit Stacey Copeland square on.
She was back as a teaching assistant in East Didsbury after spending the half-term break outside in the cold autumn air, against a bleak canvas of grey skies and desolate wooden huts in Northern France, running sports activities for child refugees in Calais.
It was all a bit different to her days as a professional footballer playing in America, where she'd routinely help out at a refugee centre every week and play Jenga with asylum seekers. (What, you might wonder, isn't on this woman's CV?)
Erroneous knee surgery, which had ruled her out of going one better at the European boxing Championships in Bulgaria this year, was enough to spur her on and undertake this unique and seemingly unpredictable latest fight.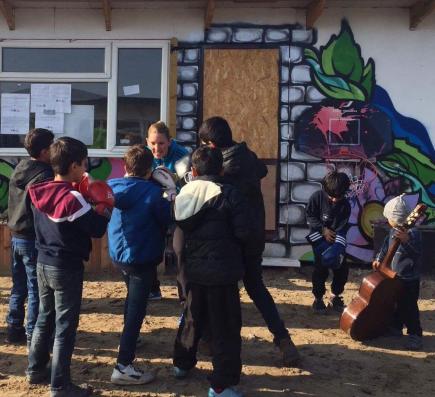 Days before the trip, the French government had finally announced that they would dismantle Europe's largest migrant camp and randomly relocate thousands of Calais refugees to centres throughout France.  
It was a massive blow for Stacey, who was unsure about going ahead with the trip.
She sat in front of her Twitter feed and typed #Calais into the search bar to learn if the Eurostar and the camp were still accessible and instead saw hundreds of angry, hostile and homophobic tweets from Britons who were relentlessly venting their anger against the arrival of child refugees from Calais into the UK.
"We had 50 sleeping bags and loads of men's clothing which we put in one of the charity vans that 'Care for Calais' were taking to Paris. It was all organised through social media. When we tweeted the charity, someone saw it and tweeted us back, 'Oh… you left tard do-gooders! I think the homeless in the UK would appreciate that," Stacey said, her eyes now wide with anger.
"Those were just fluffy compared to some of the stuff that was written – some of the things people wrote were awful," said Stacey, who recalled how she read Tweets from Britons who wished rape upon Calais workers and fellow Brits.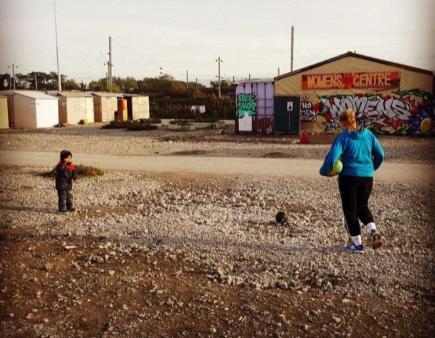 She admits to it being one of the most difficult parts of the week.  
"Our trip wasn't a statement about economic migration, or adults claiming to be 12 when they're not. It was about a couple of things I'd saw on child refugees in the summer. I thought about sport and the way it can reach people and make a positive difference."
Boxers are thick-skinned and Stockport-born Stacey is no different. As the Calais 'jungle' was inaccessible, she settled for a camp in Dunkirk.
"After five seconds of being with those children, I 100% knew that was where I was meant to be," she said.  
The way Stacey talked about the Calais children was surreal. These were under confident, irrational children whose lives were gripped by all the insecurity which comes with uprooting thousands of miles from home to continue living in what was effectively a barren swamp – an ideal breeding ground for trauma and uncertainty.
"It was a bit like survival of the fittest in a way, but with little personalities," Stacey said.
"The most striking thing for us was the level of aggression towards one another, because of what they've been through. They're not getting that opportunity to learn how to process emotions."
This wasn't natural or playful aggression – this was behaviour that Stacey, in all her years of experience as a teacher working with children, had never seen before.
"There was no coping mechanism there. A lot of it was just the effect of trauma.
"They were really chuffed with the bibs – they didn't know how to put them on as they'd not seen them before. It was a nightmare for them to try and take turns – they were trying to rip them off each other, which is an example of a survival instinct. They'd pick up rocks from the ground and just batter each other until they got what they wanted."
Thank God there was no Jenga involved. 
But as the week wore on, there were massive improvements – getting in line, taking turns and building trust within the group.
"We definitely saw a transition by the end of the week. We saw many glimpses of natural human nature," Stacey said.
The last day, however, was a complete knock-out.
Stacey was packing up from her last activity session, when she noticed a boy lingering a short distance away, the same child who had watched every day from the outside of the group, unsure about taking part.
Like a stray animal, he would keep well away from the rest of the pack, unsure of its leader, an unfamiliar over-excited western woman shouting excitedly in her course Manc accent and dressed in baggy sports clothes.
Stacey began gesturing to him to come over, but he stayed put. She then rolled a football over to him. The boy picked it up and a smile stretched across his face.
For twenty minutes, the pair rolled the ball back and forth to each other. Stacey then walked towards him with the ball, held it out to him and presented him with it.
"My friend," the boy squealed in happiness.
Since being back, Stacey's rolled her eyes at her pupils at Parrs Wood High School for complaining of being cold when they're outside ("It's nothing compared to those wooden huts the refugees have to live in!") and terrifically hid her shock at the "3K's worth of sweets" her little niece collected on Halloween – liberties which come with the normality of being a child.
"It kind of tugs at your heartstrings a bit. It was such a different world to be part of for such a short time. You kind of leave a piece of your heart there."
This boxer's heart is big enough, this inspirational woman will cope just fine without it.