After growing up on Poland's mean streets, Kamil Tomaszewski escaped a life of alcohol abuse and street-fighting to become a well-respected lawyer at one of Manchester's top legal firms.
The heartbreaking reality that many of his friends had nothing to keep them off the streets has inspired Kamil to today tirelessly devote his energies to offering Rochdale children an alternative: Brazilian jiu-jitsu.
It was his burning desire to help young people through sport that impelled him to set up the Rocha jiu-jitsu club over two years ago at Rochdale Leisure Centre.
"When I was younger, back in Poland I know a lot of my friends hung around in some nasty places," the 25-year-old told MM.
"I didn't, though, because I used to go training instead of going out onto the streets drinking, fighting and that's what I want to teach the kids today that there are other options out there."
On top of his high-pressure job at the Mills & Reeve law firm, Kamil spends three nights each week teaching the martial art, only charging enough to cover the costs of renting out the hall at the leisure centre.
Kamil, who is a former judo silver medalist at the Poland Championships, says he runs the classes out of pure enjoyment at seeing his students progress.
"I don't get paid for what I'm doing here," he told MM, while refusing to accept a young student's money because it was their first session.
"I remember when I competed in jiu-jitsu when I was younger and how much it gave me confidence, motivation and ambition.
"I want to pass that on to the kids today and see them do something rather than being on the streets getting into trouble."
Kamil's efforts are already bearing fruit; recently one of his students, Max, used the confidence gained in Brazilian jiu-jitsu classes to prevent a fight from happening in his school playground.  
"This made me so happy," said Kamil, "the fact that he was ready to stand up to prevent a fight after gaining confidence from classes is pleasing.
"Max didn't even know the guy who was getting beaten up – he just thought he had to react, which he did.
"But this is what we're teaching – we're not teaching them to fight we are teaching them self-defence and when there is a need to react they know how to do it."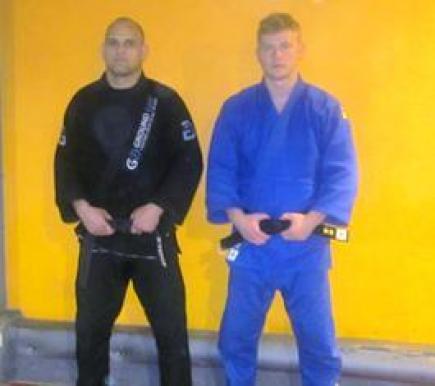 LOCAL HERO: For Kamil (right) jiu-jitsu isn't just about fighting
Kamil's workload as a solicitor is considerable, and he has conceded that at times he finds it difficult to juggle his day job and put on classes.
But he's showing no sign of quitting as a Brazilian jiu-jitsu teacher after admitting he aims to get his students experiencing the thrill of competing in competitive competitions.
"We've recently done two competitions for the kids but for the next event I want to invite another club from Stockport and Greater Manchester," said Kamil.
"I want the kids to have the opportunity to experience competitive competitions, and as we're growing bigger and bigger I hope we can compete against clubs from around the country."
In addition to Kamil's relentless work during the week he is a stalwart supporter of the Rochdale Children Society.
The charity provides specialist help for people in the area and through the club Kamil organises events to raise money for them.
"Not so long ago we challenged the kids at the club to do a total of 1,000 press ups between them to raise money for the children society," he said.
"We managed to raise around £120 which was great and we're hopefully going to organise the kids from the charity to come down here to have a free session with us.
"I'm planning to continue to work with them and we're hoping to raise even more in the months and years to come."
For more details of Kamil's Jiu-Jitsu classes visit http://rochdalebjj.co.uk/index.phpm   
Images courtesy of Kamil Tomaszewski, with thanks.