Lately it's hard to ignore the current goings on in the United States. American President Donald Trump's face is plastered everywhere. This however should come as no surprise.
After all, he's Commander-in-Chief of the most influential country in the world.
And Manchester is no stranger to this influence.
If Mancunians take a trip to Lincoln Square – just off Deansgate – they'll find a statue of a man.
To describe the man, passers-by would say he has a sunken chin and stern brow.
But this man and his ideas changed the world forever.
The man in question was the 16th President of the United States Abraham Lincoln, arguably the most important person in American history.
And the statue is dedicated to the working people of Manchester and their fight against the abolition of slavery.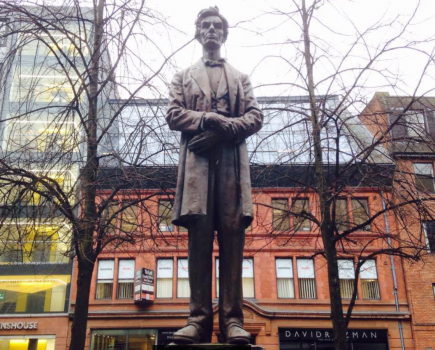 IMPORT-ANT TIMES: Former US president Abraham Lincoln towers above his Manchester square with Britain hoping to restore its special relationship with America under new President Donald Trump
The Lincoln statue is just one slice of American pie scattered around the great metropolis of Manchester.
The city centre is home to an abundance of American restaurants including favourites Almost Famous and Home Sweet Home, both on Great Northern Square.
However, trumping all (pun intended), the best American eatery in Manchester opened its doors as recently as March 8 2016.
Alabama's All American Eatery, located on Newton Street, presents a vast menu to provide guests with a taste of the best dining options from our transatlantic cousins.
And the 'Americanisation invasion' doesn't stop with food!
In 2010, America's silver screen was brought to Manchester's doorstep when the Northern Quarter (NQ) was transformed into a scene from 1940s New York.
NQ's Dale Street was used for the filming of Hollywood blockbuster Captain America: The First Avenger – and let's face it, you can't get more American than that!
Manchester being chosen as a filming location pays homage to the fact the city is twinned with Los Angeles: a city that leads the way in motion picture production.
From the silver screen to the small screen. Manchester is well-known for producing spectacular pieces of art that give tribute to all things pop culture.
And one of the city's best examples of pop-art is just off Fairbrother Street, Salford.
On the fronts of Salford Quays, there is an outstanding mural of the hit American 80s-set Netflix series, Stranger Things.
Splashes of culture and inspiration can be found all over Greater Manchester. This has led to the city having one of the largest functional economic areas in the UK outside London.
And with that, it's safe to argue Manchester will be considered a key target for America's new trade regime.
The two countries have a vast history of trading goods, ideas, and values, which have had a massive influence on each other's population and lifestyle.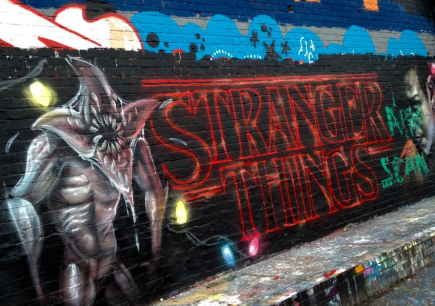 SALFORD CULTURE: This mural can be found just off Fairbrother Street 
In fact, other than abolition, the Lincoln statue represents a symbol of Anglo-American unity.
This notion of togetherness was verified in January 2017 when President Trump's spokesman, Sean Spicer gave his verdict on UK and US trade ahead of British Prime Minister Theresa May's visit to the White House.
He said: "I think we've always had that special relationship with Britain.
"And we can always be closer."
The reality is, it's been a torrid time for British and US economies to say the least.
But if this transitional economic period strengthens trade relations between Britain and the US, what does look certain is Manchester will be hit with a whole new influx of star-spangled banner imports.
Basically, it's not all doom and gloom. If anything, the more the 'Merica.