A Manchester man is hoping MasterChef will provide the launch-pad to a fruitful TV career after his northern charm impressed the show's producers.
Carl Nunnerley, 39, from Burnage, will showcase his colourful personality and creativity in the kitchen in this evening's MasterChef heat, which airs on BBC One at 8pm.
A jovial, confident character without ever being cocky, Carl's infectious personality seemingly did not go unnoticed by the BBC producers.
"I got a lot of good feedback from the production company as a whole and they thought because of my personality how I came across and on the show, that I should work in television," Carl told MM.
"My friends and family say it all the time but I didn't see it myself.
"But I've watched the show back, seen what happens and it's quite good and quite funny and I thought 'wow'.
"Then I got the feedback from the professionals, which was nice."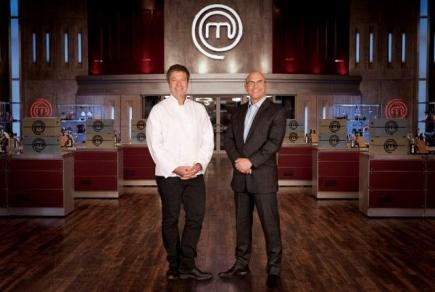 JOHN AND GREG: MasterChef presenters play a large part in show's success 
 
Dressed in the red and white colours of his beloved Manchester United, Carl admits to feeling the heat of his surroundings, which many talented cooks have succumbed to.
"I was very nervous at first," he admitted. "It was a lot of pressure, trying to cook on time and in the unusual surroundings with the lights, cameras, and lots of people everywhere.
"As John and Gregg went round the cooking benches they made us feel relaxed and had a nice chat with us, while also keeping an eye on what we were all cooking."
Carl, a support worker for disability sport, says he has always had a knack for performing, so it came as no surprise that he revelled in the lime-light.
He told MM: "I like to be centre of attention and performing and things like that. It's all part of me as a person.
"So I'm looking into doing some courses and I will be going for some kind of presenting role in the future."
When asked if he was the biggest personality among the contestants and whether he dominated the show Carl replied with a chuckle 'yeah I suppose do'.
Indeed such is Carl's larger than life personality that he features in the show's current commercial, and he revealed even this brief appearance has already made him something of a local celebrity.
"The advert's not been on for very long," Carl said. "But my Twitter account's gone up, Facebook's gone mad and now I've been invited to a new club, Manchester Club Liv and asked if I'd like to go on the guestlist."

AGAINST THE CLOCK: Carl admits to feeling the pressure 
 
It seems that Carl is someone who is made for and enjoys the limelight, but ultimately his new-found publicity stems from his first love – food.
Carl's culinary talents were honed from the age of five in the Austrian city of Graz, where his mother is from and where his grandmother still lives.
Although Carl was born and bred in Manchester he would spend his school holidays in Graz.
While his cousins were often out playing he would find himself drawn to his gran's kitchen by the sights and smells of sizzling schnitzels, doughy dumplings and sweet apple strudel.
"The smells and the laughter drew me to the kitchen," he said. "My Gran was always in there with a couple of my aunties and her friends.
"It was their place of eating, drinking, cooking and having a laugh – like how we have our living room over here.
"All those kind of lovely things were going on and I just got drawn in by it.
"I also used to run in because I was a bit crafty. I knew at a certain time you'd be able to go in and taste the food."
It was these early moments which inspired Carl to take up cooking himself.
He said: "Cooking has been a hobby for me ever since and when people are tucking into your food you get a little buzz about it and it makes you feel proud."
From that point onwards Carl's exploits in the kitchen have gone from strength to strength, although he admits there were some teething problems along the way.
"I would say when I cooked my first meal on my own I was about seven or eight," he said. "It was beans, fried egg and homemade chips.
"My mum would go to the shops and sometimes I'd be left on my own and I remember one time I burnt the kitchen down when she came back because I'd left the chip-pan on."

PASSION: Carl started honing his cooking skills as a child
Over time Carl's palette evolved and he now describes his own style of cuisine as Austrian/English, and his alternative appetite was very much evident when describing his favourite meal.
"It would have to be homemade sausages with homemade baked beans but with a bit of a twist," he said.
"With a little bit of chilli going through the beans and maybe little spots of black pudding going through the sausages – that would make it.
"I'll go for that but it's difficult because I like all foods, you'd think I'm 22 stone but I'm not. I don't eat the same thing every day."
So what should we look out for in tonight's episode? Carl of course, as the unbashful but likeable contestant reminded MM.
"With all the pressure going on, I'm still able to be quick-witted and keep smiling during the show," he added.
"I'm sure you will hear my laughter throughout and hopefully my personality shines through."
Images courtesy of MasterChef, with thanks.