With an estimated 8.9 million pet dogs in the UK, it's no wonder that the doggie day-care industry is booming.
One Manchester centre has shown dogged determination to stand out from the crowd by opening the city's first canine café – and it's just celebrated its first year in business.
The Beach Dog Café at Central Bark has established itself as a mecca for dog lovers.
It may be over 30 miles from the coast, but the Wythenshawe eatery offers both two and four-legged friends a taste of seaside life, complete with sand and deckchairs.
Don't worry if you're dog-less – whether you're a Pug person or more of a Labrador lover, there are plenty of free-roaming pooches to cuddle.
There are usually up to five of them in the café, with some belonging to centre staff and others being day-care customers.
MM were particularly taken with a tiny Teacup Yorkie called Maisy.
The café is spotless, with hand sanitisers on every table for when you've weaned yourself away from the dogs.
Central Bark was founded by entrepreneurial couple Tony and Tania Golden, who moved from South Carolina, USA, in 2008 to help their two sons pursue their footballing dreams.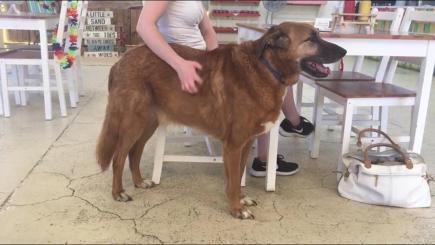 BEST FRIEND: Visitors to Central Bark can pet dogs whilst enjoying a cuppa
"We started our dog walking business to have the flexibility to meet the demands of academy training," Tony explains. "It quickly grew to home boarding, dog day care and grooming due to demand."
There are over 250 dogs who use the centre's services in one way or another and there are even some secret celebrity dogs.
As well as the day-care and café, the team also work closely with a charity called Starlight Barking.
The organisation raises funds to care for abandoned dogs in Greece and transport them over to the UK.
Central Bark is the foster and training centre for these dogs, where they can socialise with other pooches and settle in.
"We offer a new approach to adoption as we parade the dogs with adopt-me bibs into the café for people to get the know them," says Tony. "Anyone can spend time with them in a relaxed and comfortable environment."

The centre welcomes volunteers – it's a particularly popular opportunity with students who've had to leave their beloved family pet at home.
It's no surprise that spending the day with a bunch of wagging tails is preferable to being holed up in the library!
The Beach Dog Café is open 8-4pm every weekday and 9-5pm at weekends.