From cashmere jumper mittens to vodka bottle lamps and scrabble clocks, upcycling has gone mainstream in Manchester.
The city is aiming to recycle 50% of its waste by 2020 according to the Greater Manchester Waste Disposal Authority (GMWDA).
It costs the council up to £157 per year to send just one black bin of rubbish to landfill, so local charities and businesses have been getting creative with Manchester's waste.
Stitched Up is a cooperative in Chorlton running clothes swaps, classes and renting out sewing machines by the hour.
"Participants work on a specific project, such as making mittens and bobble hats from recycled cashmere, or making a pair of knickers from an unloved garment," said founder Bryony Moore.
"One of our favourites though has to be Humpty Dumpty – last year we helped two of our lovely customers create a fancy dress costume of the famous egg, made from recycled materials including a bed sheet.
"The wonderful people of Manchester are an extremely creative and resourceful bunch and we have seen so much enthusiasm for upcycling since we opened.
"Look around Manchester and it seems that upcycling has gone mainstream – loads of bars are incorporating upcycled furniture or lighting into their decor."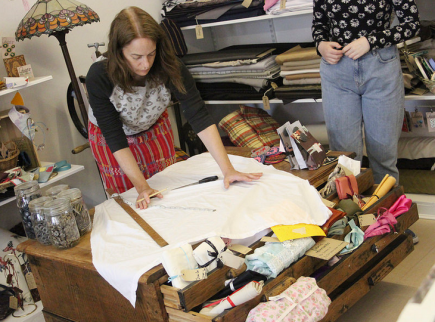 HUMPTY DUMPTY: Stitched Up say that Mancunians are 'extremely creative and resourceful' Ⓒ Stitched Up, via Flickr, with thanks
Stitched Up was born out of a 'shared desire to challenge the dominance of the global fast fashion industry'.
However, homelessness charity Emmaus has embraced upcycling as a way to raise money and make new friends.
Emmaus in Mossley runs an upcycling group where volunteers can be found cheerfully sticking hundreds of puzzle pieces to an old cabinet or turning a discarded Scrabble board into a wall clock.
"The group make all sorts of weird and wonderful creations," said volunteer Ann Castle.
"We have recently created a pink chair champagne chiller out of an old commode and a storage box made from an old Trivial Pursuit box.
"We regularly share stories and have a laugh at some of the ideas we come up with."
Denise Hartle, another volunteer, said: "It is satisfying to know that the products we make help to support the valuable work of Emmaus and inspire other people to do their own upcycling projects."
The upcycled items are sold at the Emmaus Mossley superstore to raise money for the charity.
Glass Bottle Bottle Glass is a Manchester upcycling business that began as a 'young person's answer to self-employment' according to co-founder John Topliff.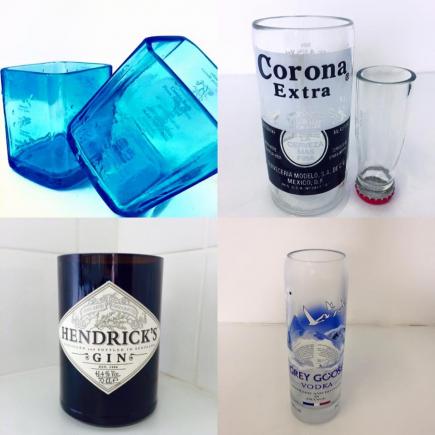 ANSWER TO SELF-EMPLOYMENT: Glass Bottle Glass Bottle showcases upcycling at its finest Ⓒ Glass Bottle Glass Bottle, with thanks
Alongside his grandson, Mr Topliff upcycles unwanted glass bottles into vases, lamps, wine glasses and tumblers.
Glass Bottle Bottle Glass began at Manchester's Three Minute Theatre, and now has online customers from all over the world, including buyers in America, New Zealand, Canada and Russia.
"The bars would have to pay to have their waste taken away but we take it and that reduces their waste and then we turn it into nice things," said Mr Topliff.
"The general manager [of Three Minute Theatre] said 'oh I am not buying any more cheap wine glasses and things like that because they keep breaking so can you make some out of the bottles'."
Everything at the theatre is made from recycled items, including the props, the costumes and the seats.
"This is 100% recycled, upcycled space," he said. 
Image courtesy of Emmaus Mossley, with thanks