A cross-stitching mum will tonight launch her unique blend of traditional embroidery and sweary puns in a special preview of her new exhibition in Manchester.
Katherine Beefheart, who has been producing the tongue-in-cheek pieces of art for almost two decades, will launch her new show It's Everything I Expected And Less at Kosmonaut this evening.
The presentation of 15 pieces includes hilarious puns like 'embroidery tames my savage beast', and 'the past sure is tense', set inside traditional cross-stitching floral patterns.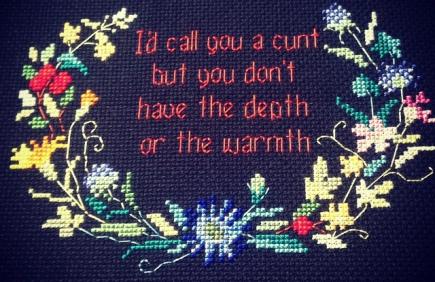 LEFT IN STITCHES: Some of Katherine's work may offend some
MM spoke to Stockport-based Katherine about how she comes up with her cheeky puns.
She said: "It can be anything really. Sometimes it's something that I think of – a film quote, a music lyric, even stuff I've overheard in the street.
"It can be anything that inspires me. I'll just jot it down in a little pad that I carry with me everywhere and that's how it's created; from what I hear or see or think."
*New exhibition klaxon* @KosmonautMCR It's Everything I Expected and Less by @Beef_Art launching next Wed. #ArtInBars pic.twitter.com/CTfw59mMOn

— Kosmonaut (@KosmonautMCR) March 3, 2015
When asked about how people react to her colourful use of language, Katherine said: "It's mainly positive. No-one's been negative about it to my face, anyway!
"I do like the fact that when people approach the work, they think it's going to be sweet, and when they get close they're shocked!
"I do like to stand close to my work and watch people's reactions to it. But no-one's been shocked enough to be offended yet, I don't think!"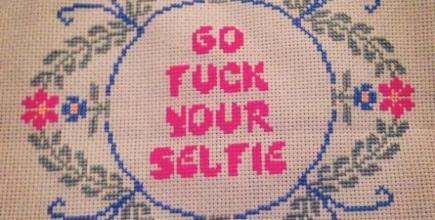 SCORN OF THE SELFIE: Not many subjects escape Katherine's needle
Katherine started stitching simply out of boredom 15 years ago when she was pregnant with her son.
"The patterns I was using were so uninspiring and quite childish and I just felt I could do a better job so I started designing them," she added.
"And then about five years ago, I put them out in public – until then I was just making them as gifts for friends and family – and then I started sneaking the odd one out there into the world and it's really gathered pace.
"People seem to dig it, so that's good."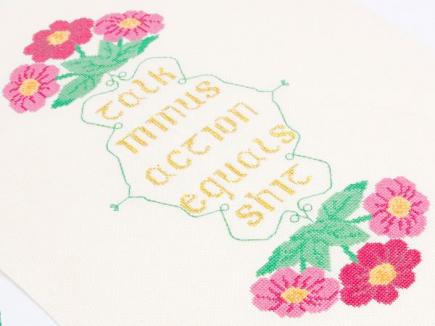 PROFOUND: Katherine's work includes some heartfelt views
A carer for her son who is severely autistic, the majority of Katherine's time is taken up with looking after her boy, but the cross-stitching 'just fits in perfectly with that'.
Katherine said her son is indifferent to her work because it takes up so much of her time, but he enjoys sitting next to her and getting really close while she's stitching away.
"He's picked the needle up when I've been out of the room and hurt himself with it, but then one time, he tried to do it himself and just totally ruined a piece of work I was working on," she said.
"I shouldn't have left it there, should I!
"His is more of an anarchic approach to stitching – to destroy it!"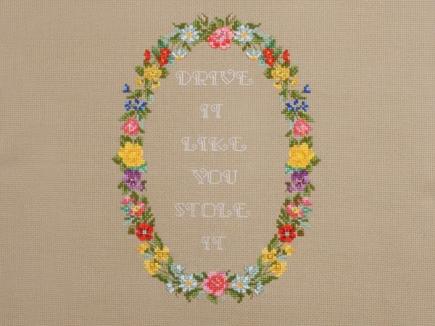 REBELLIOUS: Katherine's work often takes an anarchic edge
While some of Katherine's pieces are quite small and only take a couple of weeks to stitch, she said larger works, some 'enormous', can take months, describing the time taken as dependent on how committed she is to that particular piece.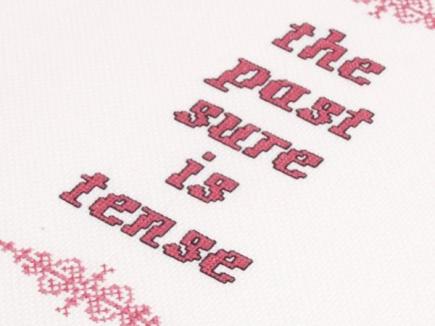 PUN-INTENTIONAL: Some of the work can take weeks to complete
When asked her favourite, she said: "I've just sold it, unfortunately, so it won't be in the show, but it read 'karma's a bitch' inside a pretty ring of flowers.
"But out of the ones that are in the show, it's got to be, 'I'd call you a cunt but you haven't got the depth or the warmth' – I think that might be my personal favourite!"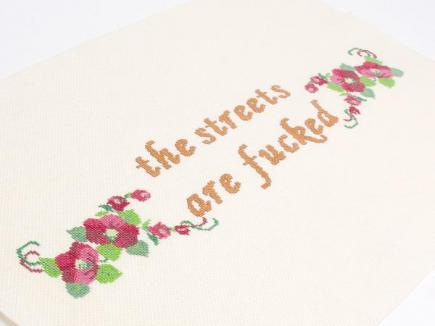 UNIQUE: Katherine's embroidery exhibition launches tonight at Kosmonaut
The free preview of It's Everything I Expected And Less launches at Kosmonaut on Tariff Street at 6pm tonight, with the exhibition running from tomorrow until April 12.
Images courtesy of Katherine Beefheart, with thanks.