Dan Mirvish already has plenty of strings to his bow as a director, author and film festival founder.
After the sleuthing he's had to do for his latest big screen project, however, he could certainly add detective to his list of talents.
For a while, Mirvish, a native Nebraskan, had been eager to work with one of Pulitzer-winner Jules Feiffer's unproduced scripts, but tracking one down was proving tricky.
He first got in touch directly with the Carnal Knowledge and Popeye writer, who mysteriously told him that he couldn't find any scripts but to try him again in four months. So, four months later, Mirvish tried again. Still no luck.
Thanks to some hard work and a filmmaking friend with a good memory, he finally found a copy of the 30-year-old Bernard and Huey script at the Academy Library in Los Angeles.
He thought that was the end of the hunt, but (spoiler alert) it wasn't: the library's copy was edited, and he needed the original.
Once he eventually got his hands on the unedited script, it took another nine months to clear the rights, then there was the small matter of funding.
Being an indie filmmaker across the Pond isn't easy: unlike the UK, there's no public funding available. Fortunately, Kickstarter's armchair investors saw something in the project and over $27,000 later, the film came to fruition.
Bernard and Huey stars Community's Jim Rash and Anchorman's David Koechner as the titular friends who reunite as 40-somethings.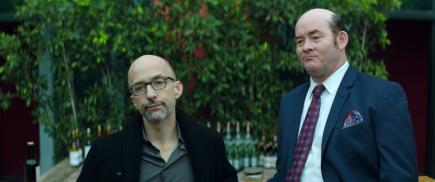 STRONG IMPROV: Mirvish knew Jim Rash (left) and David Koechner would be a superb combination for his black comedy Bernard and Huey
Over the 25 years since they last saw each other, it seems small and nerdy Bernard has taken over young Huey's role as a ladies' man. Throw Huey's daughter Zelda into the mix as Bernard's love interest and enjoy 90 minutes of laughter and second-hand embarrassment for the hapless pair.  
MM spoke to Mirvish as the film had its UK premiere at MANIFF last week, where it won Best Screenplay.
MM: Hi Dan! Hope you've enjoyed Manchester, despite the typical British weather. As we know, Bernard and Huey came to life thanks to a Kickstarter campaign – do you think crowdfunding is the future of filmmaking?
DM: Yes, I think crowdfunding is, or at least should be, the future of indie filmmaking – at least in the US, where we don't get public financing. 
For over 100 years, the model for filmmakers was to find rich people to "invest" in their films. But when most films inevitably didn't return money, those investors broke the filmmakers' kneecaps. It's neither a healthy economic nor medical model for success. 
With crowdfunding has changed that paradigm so that now filmmakers look for "backers" who "donate" to your film and only expect a mug or a tote bag.  It's much more akin to how other art forms, like community theatre, symphony, opera, or art museums raise money – and that's how film should be treated: as just another art form, rather than a profitable business.
MM: Given the script was nearly 30 years old, what difficulties did you encounter translating it to screen?
DM: The original script took place in 1986 and had flashbacks to 1960. Jules and I decided to move the action up 30 years.  Remarkably, we had to change very little – the dialogue is still the same rich Feiffer dialogue from the original.
The only things we had to change were a few topical cultural references, and we also changed Zelda from being an aspiring cartoonist for newspapers to an aspiring graphic novel. It was a very simple switch and also correlates with Feiffer's evolution from cartoonist to graphic novelist, which is what he does now.
Strangely, I think if someone had tried to make this 15 years ago, they would have been more tempted to make her a digital web designer, or something vastly different.
MM: Overall, what was your favourite scene to film?
DM: Part of the Kickstarter campaign also included my invention of a lens system called The Mirvishscope, which in and of itself got press from various film and photography blogs.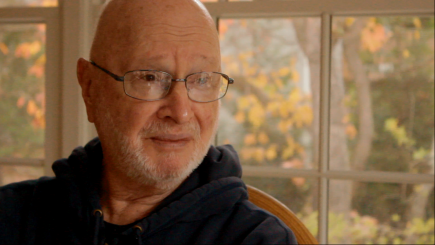 SIMPLE SWITCH: Mirvish and Pulitzer-prize winning cartoonist Jules Feiffer brought the latter's 30-year-old unproduced script to life with just a few minor changes
The scene in the movie with Bernard and Zelda filmed through a curtain of magnifying glasses came from the Kickstarter campaign: at one point, while making our Mirvishscopes, we accidentally ordered 100 extra magnifying glasses of the wrong focal length.
We saved them to use on set, stringing them together in a curtain, in what wound up being one of the most vivid visual scenes in the movie. But we really didn't know if it would work until we actually shot it!
MM: What made you choose Jim Rash and David Koechner as the leads? Their awkward chemistry was brilliant.
DM: Both Jim and David came recommended to me by other Slamdance Film Festival alumni directors who'd worked with them before. That meant a lot to me, and then when I met each guy, I knew we'd all get along really well together. Both also have very strong improv backgrounds, and I love that in actors.
For David, I knew he'd been in a few dramas and horror films and was really making an effort to stretch and show his dramatic chops, since he was so often associated with broader comedies. I knew he'd be good as Huey.
Fun times. #bernardandhueymovie @RashisTVUgly #arclightcinemas https://t.co/4co7uOlL8p

— Sasha Alexander (@sashaalexander) February 10, 2018
As for Jim, I knew his own background as an Oscar-winning writer (for The Descendants) as well as award-winning director would be an asset to the film, and also help inform that intellectual, non-fiction editor side of Bernard's character.
MM: Did you catch many other films at MANIFF? Which were your favourites?
DM: I only saw a few other films at MANIFF, including the opening night film The Painted Woman, which I liked a lot. I also saw the LeBeouf, Rönkkö, Turner film #TakeMeAnywhere which I thought was terrific, plus the other short documentaries in that block, and really liked them all. Hats off to the festival programmers, because that entire short documentary block blended very well.
With a little help from our NASA lens maker friend, the #MirvishScope is ready for public use! http://t.co/gnbaRQrLOj pic.twitter.com/XKaypWc0W6

— Bernard & Huey Movie (@BernardAndHuey) 24 July 2015
I recently saw The SOUNDING at another fest, which is a great film and has a phenomenal performance by Catherine Eaton, who also did a fantastic job directing, too. Unfortunately, I had to leave Saturday morning (though frustratingly, had to spend a night at Heathrow).
MM: You're well-regarded as a mentor for young filmmakers – what's the one piece of advice you give them all?
DM: Marry well.