On March 23 the UK was thrust into a nationwide lockdown, banning all non-essential interaction and closing thousands of businesses.
For many of the businesses who work to serve customers each day, shutting their doors meant not much more than firing down the espresso machines or locking away lasertag guns.
However, it is not so simple when your business involves live animals. Cat cafés, which act as the home to furry felines and welcome visitors to come and joyfully interact with them, have had to adapt quickly under the lockdown.
Three cat cafés across the country share how they are enduring the most challenging hurdle businesses have had to face in recent times – and just how their residents are feeling about it all.
KITTCHEN
The furry residents of KITTCHEN, a cat café located in the Lake District village of Hawkshead, have actually found the new world order pretty easy going, with all seven spending their quarantine in their usual home.
"It made more sense for me to come to them so to not disrupt their lives, rather than them coming to my house which isn't really equipped for seven cats anyway," says Emma, one of KITTCHEN's owners.
Despite the absence of visitors eager to shower the rescues with love, there is still much to keep them pleased on site. With plenty of room to wander around in the two-floor café, teamed with plenty of fuss from Emma who comes by the café every day, the cats are feeling their regular happy selves.
"They're all just amazing cats," says Emma. "We work really closely with our local rescue centre to make sure the cats are of the right temperament.
"Obviously if we took on a load of feral cats who had always lived outdoors and put them inside that wouldn't be fair on them."
Pre-lockdown, the café was shut for most of January due to the winter season's low footfall in the area. This time is usually reserved for refurbishments, but such improvements were not enjoyed for long before the café was forced to shut again in March.
"Because we're in the Lakes we get most of our customers in the summer and we're quiet over winter," says Emma.
Usually, it is April and May that would see great increases in visitors as the weather gets warmer, but of course this is an income the café will forgo in 2020.
Luckily, KITTCHEN has been able to make adjustments to journey through the difficult new financial landscape for small businesses. With a devoted customer base, the café received cat foods as well as donations to help cover the costs of the cats' care.
"For us the biggest thing straight away is how are we going to feed the cats," says Emma.
"Obviously I can ration my own food if it came to that, but how are you going to tell them that they're going to get less?"
Along with its feline team members remaining well looked after, KITTCHEN's furloughed staff are seeing their payments from the government, which are equal to 80% their usual wages, being topped to their full totals by the café itself.
Although it is unclear for everyone when businesses will be allowed to get back up and running, plans for the reopening of the café are already being considered. With a forecasted lockdown release taking place in the region's busiest season – summer – Emma suggests that a bookings-only policy would be put in place for a few days so as not to overwhelm the cats.
The KITTCHEN team also hopes to get the café's much-loved feline-friendly social events back up and running as soon as possible.
"We do film screenings every week, we do a quiz night every week, we do a poetry night every month and all sorts of things like that so we'll be carrying on with that."
SHAKESPAW CAT CAFÉ
In birthplace of Shakespeare Stratford-upon-Avon, the wonderfully-named Shakespaw Cat Café has seen its ten kitties holiday away from their familiar surroundings and venture into the role of foster pets.
"All of the cats are named after Shakespeare characters from the Shakespeare plays," says Jayne, who with daughter Rio makes up the team behind Shakespaw. She herself has taken home two of the café's residents over the lockdown, namely Persians Hamlet and Horatio.
"They're just so full of fun and character – I'm really going to miss them when they go back," she says.
"I've got an old cat, you see, so it's like putting teenagers with a grandma – it's not ideal. She's just keeping out of their way and they're trying to be fun and play and she's not interested at all.
"That's the real social distancing at the moment."
The other fosterers in question are made up of keen Shakespaw customers who have already built up relationships with the cats across visits.
"We're in touch with each of the families two or three times a week and they're sending us photographs of updates. We're providing all the food and litter so we're literally popping round and dumping stuff at the bottom of gardens, keeping our distance," Jane says.
Beyond the chosen ones lucky enough to take a very live part of the café home for themselves, Shakespaw has proved itself to be widely-loved. Within just a couple of days of a Gofundme page being set to help the business fulfil its primary duty of cat care, £1000 had been raised.
"Obviously we've been sad to be closed but it's been really refreshing to know that people really do care," Jayne says. "It's not just a tea room or a café – it's a bit more than that. It's a bit more personal.
"The cat café community is a wonderful community, I have to say."
The support has been a great comfort for the team, as coronavirus-spurned financial concerns surround the business. With its prime town centre location, the café faces high rent prices still needing to be paid each month.
"Unfortunately, our landlord is not sympathetic at all. They're not giving us any kind of discount or break on the rent," says Jane.
Further monetary threats loom over Shakespaw Cat Café for when the lockdown is lifted, deriving from its reliance on the vast international tourist base that the town attracts under ordinary circumstances. 
"We have people booking from literally all over the world when they come to Stratford-upon-Avon," Jane shares.
"But it's how people feel about sitting on a train or sitting on a plane when this is all over."
In the meantime, whilst the café itself may be devoid of its pitter-patters of tiny clawed feet, it has not been left for good over the lockdown.
"We've all been popping in," Jayne says. "I've been going in about two to three times a week doing painting and decorating and cleaning and stuff, just keeping an eye on the place.
"It's really weird without the cats because it's just so dull, so lifeless!"
PAUSE CAT CAFE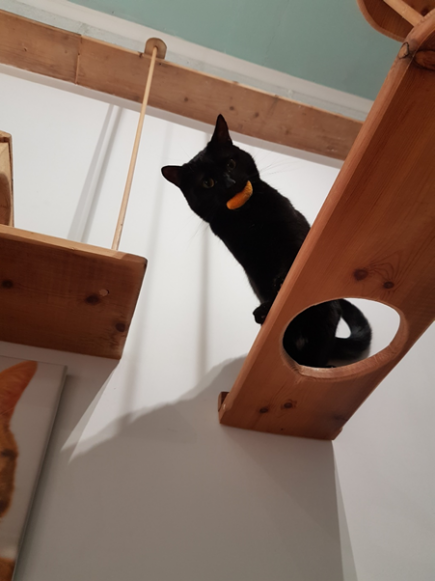 LOVE, CUDDLES AND PLAYTIME: Pause Cat Cafe's residents have been enjoying 'Zoomies' time in lockdown (image courtesy of Pause Cat Cafe)
The sudden lack of customers has not gone unnoticed by the 12 cats of Pause Cat Cafe. Its staff have noticed the rescue cats looking for the attention they are accustomed to receiving from visitors, and as a result keeping them on their toes.
Fortunately, the felines are still met with an abundance of love, cuddles and playtime, as each of them have their own allocated 'mum' or 'dad', who come to visit them in the Bournemouth café where they are continuing to stay.
"The amount of interaction they want varies day-to-day and throughout the day so we let them choose if they want to get away from people. They can always retire out of reach or in their private areas," says Pause.
The cats' wellbeing is a top priority, with their behaviour being constantly monitored to pick up on any signs of stress. Gladly, with them never being left on their own, their temperaments have not seen much change.
"They have lots of play equipment here and have been getting what we call 'the zoomies' more often, letting off some steam by zooming around the cafe at high speed around all the bridges and kitty walkways," Pause says.
The day-to-day running of the site has been shaken up only a little since its temporary closure. Volunteers take morning and evening solo shifts of the usual cleaning, feeding, changing litter and grooming. Now, though, the afternoon shift is dedicated to deep cleaning and playing with the cats instead of serving up food and drink for customers.
"We've always been fairly strict on hygiene, asking everyone who enters the cafe to sanitise their hands first," says Pause. "We did it before it was cool!"
When open, Pause Cat Cafe works hard for community.
"We are unique because of our ethos of kindness, to animals, the community and our environment.
"Through our sister charity, Fresh, we offer placements for people who have disabilities and learning difficulties."
Around half of the café's staff have found themselves falling under the vulnerable persons category of the pandemic, and, when teamed with most being furloughed, keeping up with admin, marketing and enquiries has proved to be a challenge.
As well as this, Pause Cat Cafe has not escaped financial worries. Costs of its running are high, especially considering the site's heating has to be constantly left switched on, making the usual cover charge from visitors is a vital source of income.
Thankfully, caring customers of the café have come through with their support, donating not only litter, food, toys and treats, but also monetary donations.
"Unfortunately, we need a lot more to cover the costs but it has certainly helped and also reminded us that people care and want to help," says Pause.
For the eventual grand reopening, adaptions will be made to prevent the spread of infection. Edits will be made to the café's guidelines and booking procedure, and strict hygiene products have even been specifically designed.
One thing for sure is that, although they remain fabulously fawned over, these cats are looking forward to being greeted by their fans once more.
"They always have one of our team to get love, cuddles and playtime with. I think they'll enjoy it when we reopen, though – they love seeing new faces!"