A Manchester man transformed by newfound faith has spent years helping some of Rwanda's poorest villagers, hoping that his latest endeavour can give the country a life away from its harrowing past.
"I was a bit of a taker," says Rob Ray, when asked about his past. "It was about time I started giving back."
And no one can deny that he has taken giant leaps towards doing just that.
Rob, who lives in Altrincham, is in the process of spearheading a GoFundMe project to provide one of the poorest towns in Rwanda with its independence, and with that, a future.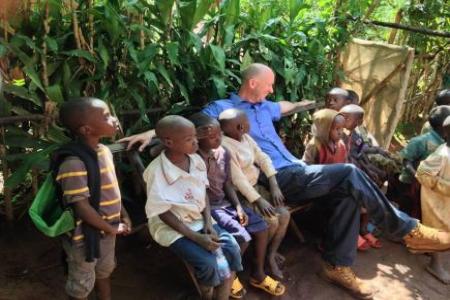 FUNDRAISING FOR CHILDREN: Rob wants to build a school 
He is currently fundraising to build a school at the heart of the village, which would help children and adults alike learn the skills and vocations necessary for making money of their own.
Rwanda, one of the poorest countries in the world and the subject of unfathomable genocide atrocities 21 years ago, had an adult literacy rate of 71.1% in 2010, 13% below the global average.
Cyabatanzi is situated around half an hour from capital city Kigali, and has already seen dramatic transformation over the past two years thanks to Rob.
Who has also introduced residents to livestock farming and helped with refurbishments of their basic mud huts.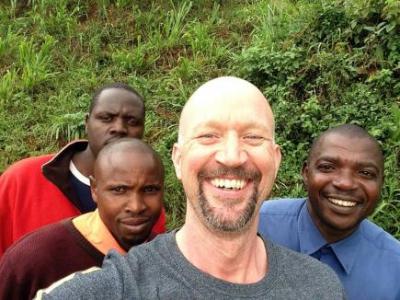 JOYOUS ADVENTURES: Rob with his pals in Rwanda
His latest project is now one step closer to reality, but still needs an injection of public help to get the green light that Rob has worked so hard for over the past two years.
"The only difference between the children we are helping and our own children, is where they are born," he told MM.
"They have come a long way from genocide but there is still a long way to go. We have put in an offer on this plot of land, and the next step now is to get this school up and running."
Rob's charitable endeavours did not take full flow until a few years ago, when he returned from a long spell travelling and set up a business with his wife.
"I left England when I was 21 and backpacked for 12 years," explains the 51-year-old.
"Back in the 1980s I used to go backwards and forwards. I would go to a different country, come back to England, earn loads of money as a bricklayer and then go off again.
"I was a bit of a light thief, a bit of a druggie – your stereotypical independent backpacker.
"At the end of the 12 years I became a Christian down in New Zealand with the Maori boys. I had a great laugh, but then I came back to England and tried to do it all the right way and the legal way.
"I just thought, 'I've taken a lot from people around the world, and it's about time I started doing some good'."
Despite visiting 72 countries in his life, including 40 during 12 years as a backpacker, it wasn't until Rob found Cyabatanzi that he saw the potential to fulfil his charitable aim of helping those less fortunate than himself.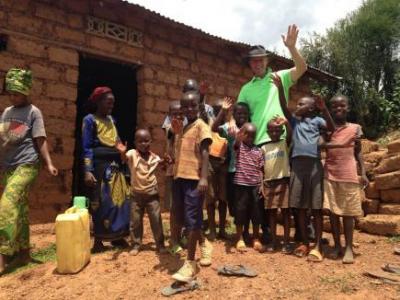 BORN AGAIN: Rob Ray found God and wants to do more
"I spent a bit of time praying and asking God what he wanted me to do, and I just felt in my heart that orphans and widows and Rwanda needed help.
"I didn't know anything about the genocide at that stage, so I did a bit of research and found out about how many people were killed: one million in 100 days.
"I made a few more enquiries and I said to wife that I had to jump on a plane and follow up on this, because it seemed like there were green lights all over the place.
"It's a great, beautiful country but there is so much poverty and so much need everywhere.
"When I got to Cyabatanzi my heart just leapt. I loved the people and I felt excited about the place, even though it is one of the poorest parts. There is no water, no electricity, no sanitation – it is the bottom of the pile.
"But I just loved it, and I wanted to help. It has been a journey over the last two years."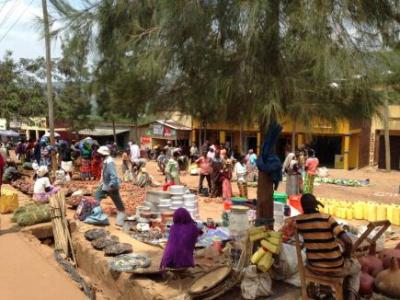 VILLAGE IN RWANDA: A population that wants to move forward
Rob acknowledges that it is difficult for those who have not witnessed extreme poverty and tribulation to put themselves in the shoes of those suffering.
But he says donating as well as volunteering can be transformative for all involved, and not just those on the receiving end.
"I have built up a good team over there. I generally go about four times a year, for about eight or nine days at a time.
"I am now in the process of starting to take teams out regularly. It is life changing for the volunteers as well because these people are living in such poverty.
"How our pets live in England is a million times better than those children. That's the closest you can get to working out how wrong it all is
"There are children living on a mud floor, on a mat, with no parents. If we were living in their shoes we would hope that someone would help us.
"Together, we can help them."
To donate to Rob's cause visit his gofundme page and you can follow his mission on his dedicate Facebook page.