An army veteran who has toured the likes of Iraq and Kosovo during a four-decade military career says he wants to use his appointment in Greater Manchester's Royal British Legion to 'give back'.
Vaughan Kent-Payne's 36-year career saw him complete no less than 17 different military tours, including Iraq, Bosnia, Kosovo and Northern Ireland.
And not ready to stop just yet, the 55-year-old has been appointed as the Area Manager for the Royal British Legion in Greater Manchester and Lancashire.
Vaughan will oversee the delivery of welfare support services – ranging from benefits and money advice to providing immediate needs grants – in Greater Manchester and Lancashire.
The former Army Lieutenant Colonel will also be kept busy liaising with local councils and services.
Vaughan, who is married with three children, said: "After serving as a soldier for most of my life, I wanted to put something back.
"I remember The Legion had helping my father with mobility problems, when I was younger and so I knew something of the good work that they do.
"Much of my time will be spent representing the armed forces to the public and working with local councils across the borough to deliver the Community Covenant."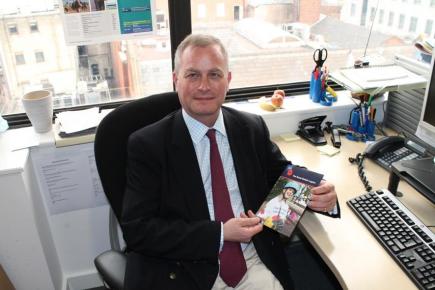 GIVING BACK: Vaughan Kent-Payne's 36-year career saw him complete no less than 17 different military tours
Nationally, there are about nine million servicemen, ex-servicemen and families entitled to Royal British Legion support.
Vaughan said: "The long tradition that Greater Manchester has of supplying disproportionately larger numbers of men and women to the armed services, mean relatively more people are eligible in Greater Manchester than in other areas of the country."
In the last year, the Manchester team has provided support to approximately 1,000 members of the Armed Forces community with some of the most common beneficiary needs including assistance with debt, the provision of household goods and housing repairs and maintenance.
Vaughan said: "The local team is dedicated to providing a wide range of flexible support services, from helping a young widow through an inquest to ensuring that an older veteran can stay independent in their own home.
"We value the enthusiasm and commitment of our local members, who undertake a wide range of volunteer roles and fundraising activities for the Legion, and I encourage anyone who is interested to get involved."
His appointment comes as the charity announces it has raised more than half a million pounds in Greater Manchester.
So far, the appeal has raised £510,000 with more money being collected. It's the fifth year in a row that that it has broken the half a million fundraising target.
The Royal British Legion also recently launched the first of 16 new 'Pop in' Advice and Information Centres, in Liverpool last December.
The rest are due to be open around the UK this year. The Legion is also introducing new community outreach in areas where there is a need for its services. 
Greater Manchester's 'Pop in' office scheduled to open in the summer located on Albert Square opposite the Town Hall.
Vaughan describes the centres as 'military citizens advice bureaus' that will be open to anyone from serving and ex-members of the armed forces and their families.
The centre will offer a welcoming space for personnel, veterans and their families to come for practical help and advice.
They will also offer space for related organisations such as Combat Stress and other financial and counselling services.
Members of the public can also pop in for information on how they can support the charity by fundraising, volunteering or becoming a member.
Vaughan Kent-Payne, from Yorkshire, has a long history of soldiering in his family.
His great-grandfather fought in the Great China Wars in 1857, his grandfather fought in the first World War and his father fought in both the first and second World Wars.
And with 17 operational tours under his own belt, Vaughan is no stranger to the front-line himself.
He said: "I am is most proud of role I played in Liberia in 2009 helping with the reconstruction of the Liberian army post civil war and my time in the Middle East in 2006, helping to create a modern and compliant Palestinian army."
Vaughan joined the Duke of Lancaster regiment in 1977 at the age of 18, retiring with the rank of Army Lieutenant Colonel in 2013.
His younger son, Russell, will soon be taking up a scholarship to Sandhurst, thus continuing the family tradition of army service.