An estimated 35% of grassroots music venues have closed in the last 10 years according to Music Venue Trust.
Here in Manchester, several iconic venues have contributed to that statistic.
The Roadhouse, Sankeys, Sound Control and, most recently, Antwerp Mansion have all closed their doors to adoring punters in the last four years alone.
Throughout that time, the future of another infamous Mancunian venue, the Star & Garter, has been hanging in the balance as the Fairfield Street pub has quite literally been caught up in the middle of the city's development plans.
The self-proclaimed 'last truly independent' music venue in Manchester was issued a Compulsory Purchase Order (CPO) notification as part of the Northern Hub expansion of Piccadilly station.
This means that the property can legally be taken off the Star's hands without the owner's consent at six months' notice at a price dictated by Network Rail and Manchester City Council.
Thanks to everyone that braved the weather and managed to make it to our @ManIFFofficial screening last night. Thanks also for the great q+a, questions after! pic.twitter.com/a7DBY0u5tJ

— The Music Stops Here (@StarGarterDoc) March 3, 2018
Meanwhile, the Mayfield Depot redevelopment to the south of the pub is likely to dramatically raise the value of the property, which will remain intact and be put back on the market once the two new platforms at Piccadilly station have been built.
Earlier this year, The Music Stops Here, a short documentary on the Ardwick pub, had its UK premiere at Manchester Film Festival.
Filmmakers Adam Farkas and Alec Herron chronicle the Star's hopeless battle with Network Rail and the council whilst capturing the deep love that Manchester's punk, metal and indie scenes have for it.
"The good thing about the Star is that it has various groups using it," producer Herron told MM before the screening.
"It's one of the first places to hold open LGBT nights in Manchester. I don't think that there's actually any other venue that has more new bands than the Star & Garter."
In the film, the pub's landlord, Andy Martin, explains how he bought the property on the promise of redevelopment in the area. Years later, he says, nothing changed and it became the city's red light district.
"GET THE HELL OUT OF HERE"
"When they bought it in the 1980s, they were promised that this was going to be like what the Northern Quarter became and it never happened," explained Herron.
"They have been the stalwarts in an area that has essentially been left to rot and they've kept it going. And now that more development might come along, he's the first one to be told to pack up his stuff and get the hell out of here."
Most importantly for Herron, the Star supports small bands by not having a 'pay-to-play' policy which require bands to buy and sell their own tickets so that the venue and promoter are not left out of pocket.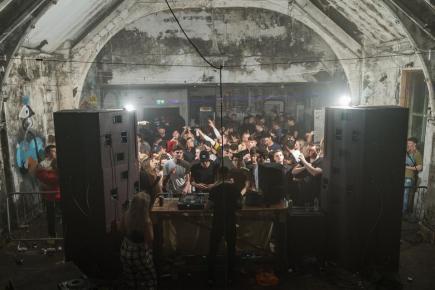 UNRIVALLED NOTORIETY: South Manchester's Antwerp Mansion, built in 1840 and once a home to the Belgian Consul, before it was forced to shut down in March (image courtesy of Facebook, with thanks)
"You don't have a snobbish attitude where you have to have a guaranteed sale of a certain amount of tickets to get in or a certain reputation […] that used to be plentiful in Manchester and the Star & Garter is probably the only place that does it now."
Whilst the Star & Garter remains in limbo waiting for its inevitable closure, the beloved student nightclub, Antwerp Mansion, was forced to shut down after disputes with local authorities started last year.
The legendary Rusholme venue closed its doors for the last time in March following seven years of unrivalled notoriety in south Manchester's music scene.
Built in 1840, the abandoned mansion turned independent venue was once home to the Belgian Consul. It is estimated that over a million people came to the venue since beginning its evening events in 2011.
Manchester City Council cited a myriad of issues which factored into its decision to serve a closure notice on Antwerp Mansion, ranging from safety concerns for clubbers to mounting litter on and around the premises.
"The venue at the evening became so successful, they lost control in how to manage it," Rusholme Councillor Rabnawaz Akbar said. On the council's decision, Akbar said: "It's the last thing we want to do because the council is not there to make things difficult for people."
A petition demanding that the council reverse its decision has garnered over 17,700 signatures and the campaign has gained support from veteran DJ Tim Westwood.
Speaking to MM about the legendary club, Westwood said: "Nothing will ever replace that club. One of the things which really impressed me was… it was just like a really organic venue. There's never going to be a similar venue to that club."
AGENT OF CHANGE
The petition, created by University of Manchester student Alex Sansbury, was rejected by the council because it was not created on the council website. Sansbury argued that closing Antwerp Mansion could exacerbate safety concerns.
"As we saw in London between 2005 and 2015, 50% of the nightclubs were shut down and, as a result, there were lots of underground parties and raves which are difficult to control," Sansbury said. "The same is going to happen in Manchester."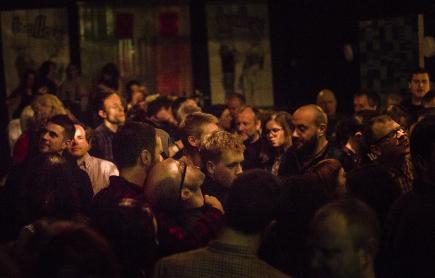 'DIFFICULT TO CONTROL': 50% of London nightclubs were shut down between 2005-15 leading to underground raves and parties which became hard to manage (image courtesy of Iris Cartia, with thanks)
UK Music, a campaigning and lobbying group which represents the interests of the industry, recognises licensing decisions made by local authorities as a major challenge for music venues around the country.
However, UK Music CEO and former Labour MP Michael Dugher believes that one of the main drivers of many closures in the last decade has been new urban developments.
In an effort to support grassroots music venues, UK Music campaigned to introduce the 'Agent of Change' principle into planning law which would require new developments to take responsibility for the impact they have on the area they seek to build in.
"If they put flats next to a pre-existing music venue, they've got to acknowledge that the music venue is already there," Dugher said. "Therefore, the developer has got to pay for the soundproofing of those flats and deal with any issues because of it."
Dugher's example sounds reminiscent of Night & Day's threat of closure back in 2014 following noise complaints from a nearby resident who had moved in less than a year before.
The reputable Oldham Street venue, which has hosted bands like the Arctic Monkeys and Elbow over its 27-year history, was served an abatement notice for breaching statutory noise levels but retained its license after an online petition with over 74,000 signatures was backed by Elbow's Guy Garvey, ex-Smiths guitarist Johnny Marr and the Musicians Union.
The Agent of Change bill, tabled by Labour MP John Spellar earlier this year, received cross-party support leading to a government promise to include the principle in the National Planning Policy Framework (NPPF).
"The government have published their draft proposals recently so there is a public consultation," Dugher said. "We're hopeful that at the end of the consultation process, this can actually be introduced. Certainly before parliament summer recess."
But Dugher recognises that this is just one challenge facing venues today and hopes to work with new city region mayors around the country to help protect them from closing.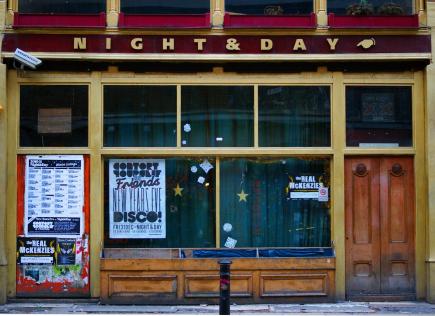 74,000 SIGNATURES: Night & Day's proposed closure in 2014 was met with a petition supported by Elbow's Guy Garvey and ex-Smiths guitarist Johnny Marr (image courtesy of Creative Commons, with thanks)
"The music industry is critically important to Manchester and to the economy of Manchester, and we want to give it every support going forward."
UK Music is already in discussion with Greater Manchester Mayor Andy Burnham, who Dugher describes as "incredibly talented" and a "huge supporter" of music.
"Manchester has a phenomenal history when it comes to music and a really proud heritage," Dugher said. "We're really using Manchester's history, not simply as something to look back on, but as something to be inspired by as we go forward."
Main image courtesy of Facebook, with thanks.