The Bread and Butter Thing have teamed up with The Modern Milkman to deliver food to people most in need during the lockdown in Manchester. 
The Bread and Butter Thing is a charity that makes life more affordable for people on a low income and uses surplus food to provide meals for families.
The Modern Milkman is a food delivery service who use local suppliers and a sustainable ethos to deliver to thousands of homes across Greater Manchester, Leeds and East Lancashire.
Mark Game, CEO, of The Bread and Butter Thing and Simon Mellin, MD, of The Modern Milkman explain how they joined forces. 
"Coronavirus is forcing us all to reevaluate our ways of working to respond to those most in need," said Game.
"Every day TBBT takes food surplus from supermarkets, manufactures and distributors and bags it up for our 8000+ members across Greater Manchester and beyond.
"Normally we distribute through community hubs – and this work continues – but we are now expanding to provide a door-to-door service for Manchester's most vulnerable who are self-isolating at home and unable to get food safely." 
Simon Mellin explains how they are utilising their fleet of 80+ milk vans to deliver food to those who need it most. 
He said: "Our drivers usually spend the mornings doing our regular milk rounds. Now we'll be working through the day to pick up food from The Bread and Butter Thing and we'll be dropping the food bags to people who need them most.
"It's an opportunity for all of us to better serve our city and our communities and look out for Manchester's elderly, sick and isolated." 
This collaboration has been launched across the city and is funded and supported by Manchester City Council. 
Fiona Williams works with TBBT and says the COVID-19 situation has raised three big concerns. 
She said: "There has been increased footfall at our regular weekly distribution hubs. This is growing – more in some places than others – but we are seeing an increase in demand for our services."
Today we've launched our Partnership with The Bread and Butter Thing and Manchester City Council to serve
Manchester's COVID-vulnerable.

We'll be making daily deliveries of fresh food to those in most in need.

Here's Billy loading up the first load this morning! pic.twitter.com/UaULPEqvMT

— Modern Milkman (@ModernMilkman_) April 2, 2020
Due to the social distancing restrictions now in place, they have had to completely change the way they operate and find new ways of working.
"Normally we take food out to our community hubs, pack the bags with our volunteers and then serve members whilst other community support activity takes place alongside." 
TBBT has partners who provide extra services such as debt counselling, or simply having a chat with a cup of tea and cake to combat loneliness. 
"We have to pack everything at our warehouse with an elite group of volunteers and our amazing staff team before taking the bags of food out in the vans to hubs and serving everyone in socially distanced queues with no extra services," said Williams.
'The tip of the iceberg'
Food poverty in the UK was already in a dreadful state before the coronavirus created a new group of people in need of food aid. 
Last year, a report by Human Rights Watch examined how austerity, welfare cuts, and problems with the Universal Credit system all contributed to tens of thousands of families in the UK not having enough food and turning to food banks and food aid charities.
Tom Skinner, director at Greater Manchester Poverty Action (GMPA), said: "I fear the level of need is being underestimated.  Despite the best efforts of councils and food banks and clubs, the number of people accessing support right now is just the tip of the iceberg.
"100,000s of people are being affected. More people are in need, more people are at risk of food insecurity. When the lockdown ends, we could see people malnourished and in debt."
A Foods Standard Agency Food and You survey found that up to10% of households were food insecure, in the period 2016-2018. That number is only likely to be higher now.
Researchers for the State of Hunger report used Trussell Trust (a charity that runs the largest network of food banks across the UK) data and Independent Food Aid Network (IFAN) figures in Scotland to extrapolate that three million emergency food parcels were distributed by both independent and Trussell Trust foodbanks across the UK between April 2018-March 2019. 
Many people who use food banks also experience health problems, with three out of four people reporting that someone in the household is in poor health.
The report also states that more than half referred to food banks are affected by mental health, mainly anxiety or depression, and a quarter of households report someone with a long-term physical health condition. 
A risk factor for using a food bank is having more than two children, a reason why many are calling for the two-child limit to be scrapped.  
Another key reason people visit food banks is issues with the Universal credit system, mainly the five-week wait before receiving the first payment. 
There have been calls to reduce the waiting time before, but the matter is now even more pressing due to the number of people needing money and food.
The Government is offering an advanced payment should you need cash right away, but it is a loan which must be repaid within 12 months. 
'People are falling through the cracks'
The government unveiled plans to support 1.5 million people who they identified as the most vulnerable if they contracted COVID19.
As the people identified have been strongly advised to stay home for 12 weeks, plans are in place to deliver food and medicine where needed. 
However, Sabine Goodwin coordinator of IFAN, fears there are many more people who require food aid who haven't been identified.  
She said: "People are falling through the cracks. Food banks will do all that they can to support everybody who needs help, but a lot of people have fallen into poverty and need emergency food aid. The government does not recognise the scale of the problem.
"The government should give more income support and make sure people are not falling through the cracks. People are in need who shouldn't be. The government shouldn't expect to call on charities to solve the problems. They need to reduce the scale of the problem."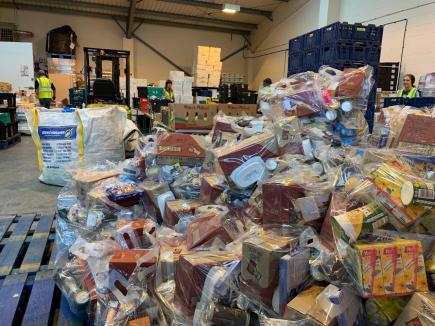 NEAR 300% RISE: Food banks have been inundated since lockdown began – for example in Hereford they had 181 referrals last March compared to 525 this year
A new group of people in need of food aid has been created as many people have either lost their jobs or had a drop-in income.
Many people will find it difficult to buy enough food to self-isolate for long periods and many people won't be able to.
The government is paying 80% of wages for people on furlough, up to a cap of £2500 per month, yet almost a million people signed up to Universal Credit in the wake of lockdown.
With a five-week wait before the first payment, many people have had to turn to food banks.
The extra demand is placing a strain on food banks and food aid charities who were already stretched.   
Some foodbanks had to shut down due to the social distancing measures put in place, and ones that have stayed open are adapting how they work to get food to those in need. 
Food banks still open are struggling as the number of volunteers – quite often elderly people – has reduced as they self-isolate. 
They are also running out of supplies, as the number of people in need increases, but also as people stockpile and the number of donations decreases. 
Hereford Food Bank had 181 referrals in March 2019 for seven-day food parcels, while this March they had 525.
What's being done to help 
Food banks and food aid charities are calling on the government to act to ensure everyone can self-isolate safely regardless of their income. 
The increased demand food banks have seen shows many people are still in need and there is likely to be more unknown to them.
The Help The Hungry campaign aims to support all those in danger of going without food because of job losses, a fall in income or self-isolation.
The campaign helped 40 food distribution hubs to be established across London to get food to more than 150,000 vulnerable Londoners.
Supermarkets are also helping to provide for food banks during the coronavirus outbreak, including Morrisons who are giving away £10m worth of goods and the Co-op have partnered with FairShare, a charity who distributes surplus food around the country. 
Tesco announced they will be donating £15m worth of food to FareShare, Trussell Trust and independent food banks to help support charities during COVID-19. 
These are all short-term fixes for an acute time, but for far too long there has been a lack of government action on food insecurity, hunger, and malnutrition.
The government last year committed themselves to address and solve these problems. 
From April last year, the Department for Work and Pensions began including questions on household food insecurity into the UK Family Resources Survey.
Sabine Goodwin welcomed the DWP adding food insecurity-related questions, commenting: "The details from this research will hopefully lead to big change." 
The data will be reported in April 2021. 
International Food Crisis
As Manchester has a dense and ageing population with existing health issues and high levels of poverty, COVID-19 is expected to hit the area hard, but this is a global crisis. 
Officials from the WTO, WHO and the UN have warned the world risks facing a food shortage if authorities fail to manage the continuing coronavirus outbreak properly.
In the Palestinian territory of Gaza, many people don't have enough food to eat as food aid centres are being closed. 
The US is also experiencing unprecedented demand on food banks for emergency supplies across the country as millions of people have lost their jobs. 
Feeding America and World Kitchen Central launched America's Food Fund with the support of Leonardo DiCaprio to feed the most vulnerable people.
The difficulties caused by COVID-19 inspired the new partnership between TBBT and The Modern Milkman to help feed those vulnerable during these times.
Individuals in need in Manchester should contact the council's dedicated coronavirus support team on 0800 234 6123. 
Images courtesy of The Bread and Butter Thing, with thanks.