Manchester Art Gallery's latest exhibition, True Faith, features artwork inspired by two of the city's finest musical exports: Joy Division and New Order.
The exhibition was commissioned and produced as part of Manchester International Festival (MIF) in the latest of a series of collaborations with the gallery, following Ed Atkins' Performance Capture in 2015.
It showcases four decades worth of contemporary visual artwork from artists including Liam Gillick – who also collaborated with New Order for their MIF live shows at Old Granada Studios – and Glenn Brown.
Fiona Corridan, Curator at Manchester Art Gallery said, "Every project we've done with MIF has been wildly different.
"What's so lovely about this project is that we have a great deal of visual art work in the space – we have painting, photography, installation art, film and music."
The exhibition also integrates the seminal cover designs of Peter Saville, who was instrumental in Factory Records – the record label of both bands – which was founded by the late Anthony Wilson.
The gallery received assistance with True Faith from curator Matthew Higgs, author and film-maker Jon Savage and archivist Johan Kugelberg.
"One thing that was really important to all of the curators was that this exhibition wasn't about éphémère [lasting for only a short time].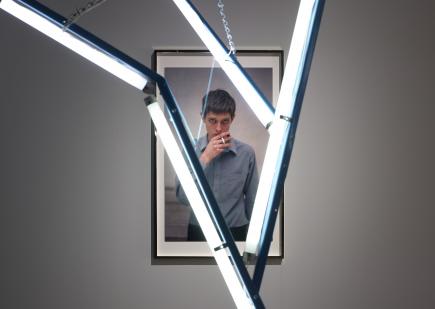 "It highlights the collaborative nature of Joy Division and New Order and all of the works have some kind of connection to them."
Some of the artwork displayed is very recent, highlighting that the two bands were highly influential and at the forefront of combining music with art.
"They were so unique and really ahead of their time," says Corridan.
"Their combination of music with visuals really created something that was highly unusual.
"To find a record cover which didn't have [a photo of] the band and the band's name on the front – but had really beautiful imagery instead – was very intriguing.
"You would play the music and – even though you didn't think there was a direct connection between the images – the whole package seemed to come together.
"There was something within that which seemed to speak to the artists we worked with on this show."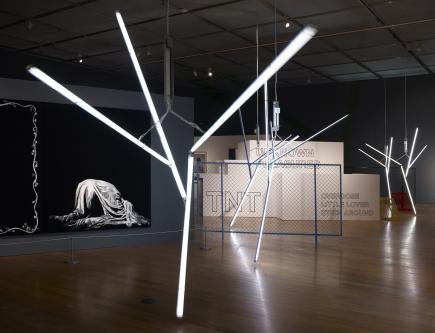 In addition to artwork and design, True Faith features a selection of rarely seen personal items.
These include the original notebook of Rob Gretton – who managed both bands – and the handwritten lyrics of Love Will Tear Us Part by Ian Curtis, Joy Division's late frontman.
Joy Division was formed in 1976 in Salford by guitarist and keyboardist Bernard Sumner and bass player Peter Hook, joined by singer Ian Curtis and drummer Stephen Morris.
After Curtis' suicide in 1980, the remaining members, together with Gillian Gilbert (now Morris's wife), formed New Order, who released hit singles such as Blue Monday, Bizarre Love Triangle and True Faith.
True Faith runs at Manchester Art Gallery until Sunday 3rd September. Entry is free – no ticket required.
Images courtesy of Manchester International Festival, with thanks.