Sean McAllister has been from Baghdad to Beirut, Damascus to Tokyo. But for his latest documentary, he turns the lens back to his hometown Kingston upon Hull.
Hull, once voted the 'crappest place to live in the UK' in 2003, has now achieved the City of Culture status, which is why Sean returned home.
He directed the opening ceremony, bringing in record audiences, with 1.5 x the city's population attending the opening week events.
A Northern Soul follows factory worker Steve, who dreams of starting a community outreach project where he brings hip-hop to school kids, the Beats Bus.
We've got screenings coming up in Glasgow, Leicester, Tottenham, Manchester, Stirling, Belfast, York, Scarborough, Coventry, Withernsea and Nottingham- phew! Book your tickets! https://t.co/l8ApA1DgkB pic.twitter.com/PPxk4JJyVb

— A Northern Soul (@northernsouldoc) October 2, 2018
Sean follows him on his journey, from the highs of seeing the children flourish under his programme, to the lows of bankruptcy.
Straight Outta Kingston, if you will.
The film is deeply empathetic, with Sean's style of filmmaking, once described as "less fly on the wall, more fly in the soup", making the audience viscerally feel every emotion Steve feels.
The images of Steve stood outside his house before dusk, smoking and having a brew before he heads to work are deeply moving.
At one point, Steve is working his 19th day in a row, whilst also juggling the Beats Bus – this gruelling schedule is lived in every moment through Sean's intensely personal camerawork.
The film was screened at HOME, followed by a Q&A with both Sean and Steve. After the Q&A we spoke to Sean and Steve.
MM: Sean, how did you get into filmmaking?
Sean McAllister: I went to a community centre, I left school at 16, went to a job then left the factory when I was 18, went on the dole for a good nine years. In that time I went to a community centre and started making films.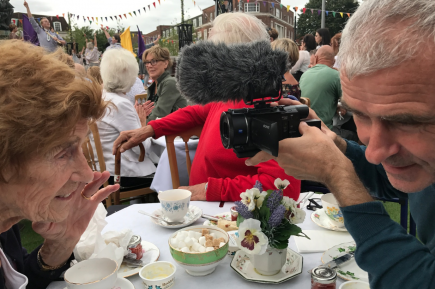 I just started making films about local things, about issues around Hull. I then applied to film school and got into Bournemouth Film School and then made a film in the pea factory where I was working in the summer that got me into the National Film School, and the rest is history.
MM: So what subjects are you drawn to when making your films? You've been to Hull, Iraq, Yemen, Japan, what are you drawn to in these places?
SM: Only an 18-year-old could prioritise Hull first out of all of them! I'm drawn to characters and I think I'm drawn to characters because of the factory. When I worked in factories and you're working in a boring job you pass the time by entertaining yourself with funny characters or enjoying people. I've always just liked character.
MM: Did you have any particular inspirations in making films, certain people or directors?
SM: I didn't know anything about filmmaking when I went to film school and I got in on the recipe of how to make the best Spanish omelette. Because I knew the way to divert the question of 'What's your favourite director?' was to talk about cooking and I knew the guy that was interviewing me loved Spanish omelettes.
But when I got to film school I started researching a bit and I really liked the British traditions of Mike Leigh and Ken Loach and in documentary I was inspired by Nick Broomfield and a really great filmmaker called Dennis O'Rourke who has since died. They would take the camera and have an adventure.
MM: In 2002 you made Hull's Angel, another film focused on Hull about the impact of asylum seekers in the city. How has the city changed from 2002 to now with the City of Culture status?
SM: One of the areas that Steve lives around now was an area that was run down and full of 'to let' shops, then in 2002 we had the real first influx of Kurdish asylum seekers. And now that street, which is called Spring Bank, is jokingly called Spring Bank-istan because it's full of Kurdish restaurants and Kurdish community. I think it's revitalised Hull in a really positive way.
MM: You've previously spoken about 'poverty porn' and the demonisation of the working class in TV, so what was the most challenging aspect of making an empathetic film like A Northern Soul?
SM: It was really challenging just to get the right voice. The first most challenging thing is to find someone like Steve, you don't really talk about but it's lots of years of looking.
Then once you've got a character like Steve, you're filming loads of stuff then you're sifting through it in the edit and it's fine tuning whether to put a needle that we discovered in his backstreets in the film or not.
That is a massive difference in the emphasis on the story you're telling and the depiction of his world. So getting the walk of his streets right, and the talk of his streets correct and the fine tuning is really f*cking hard. I think it's just giving him dignity, because he's carrying the voice of everybody.
MM: So Steve, the Beats Bus is full time now, how's that going?
Steve Arnott: Brilliantly. The workshops are just getting better and better. We're engaging a lot of young people in Hull. We're getting loads and loads of requests like 'How does my daughter or my son join the Beats Bus?' and we've been booked for a seven-match contract with Hull City, the football team.
We're doing a 12-month project called the 'Beats Bus Orchestra' where we're combining live music and hip-hop which is gonna be really interesting.
MM: And you're still working with the original kids from the film?
SA: Yeah, we're still working with Blessing, Harvey, Ash, Roxanne and Casey. A couple of the young girls dropped out because they had dance classes and other things going on but we held some auditions so we took some new members on. We've got four new members now as well.
MM: Theresa May vaguely announced an end to austerity at the Tory party conference on Wednesday.
SM: (laughing) Yeah she obviously came to see the film without telling us…
MM: Austerity is obviously a recurring theme in A Northern Soul, do you think her announcement will bring a big change to these communities or not?
SM: I think the end of austerity, if it did happen, would take a long time to filter through because these communities were blighted by years of cuts before austerity anyway. You've got masses of rebuilding to do. What you have to couple with the end of austerity is a massive conscious injection of cash to compensate if you really want to.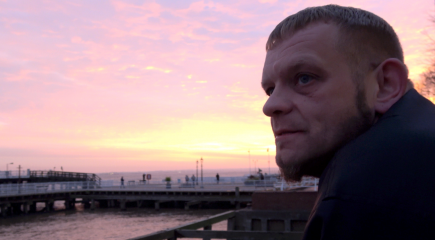 SPRING BANK-ISTAN: Sean McAllister says owing to Kurdish influence in Steve Arlott's modern-day Hull (pictured), the East Yorkshire city is thriving 
MM: You mentioned before you've had some controversy over the BBFC rating of this film, tonight it was a 12A, talk us through the controversy.
SM: Well we released the film and we were shocked that it was given a 15. I was speechless really, I never thought about it. Then I learned from them (the BBFC – British Board of Film Classification) that apparently you're only allowed four F's.
We then learned when we looked into it that they can make exceptions, and they did with The King's Speech which is when posh people say F – with a stammer. The way Steve uses the F word, it's 'sweary voice', that's all it is.
It's what you should call sweary voice. And if you go back to the BBFC and you say 'Yes people are upset by the F-word, if it's used aggressively like 'motherf*cker' or 'f*ck you'. But if it's sweary voice, you could probably get away with it on 'Play School'.
MM: How long did it take to film?
SA: About 18 months overall.
SM: It's quite funny, I never told him we were even editing. He says in the kitchen one day 'Anyway when's this film gonna be finished'. I said 'I think next week! It's the opening night film at Sheffield.' He says 'Oh f*cking hell I better finish my job then'.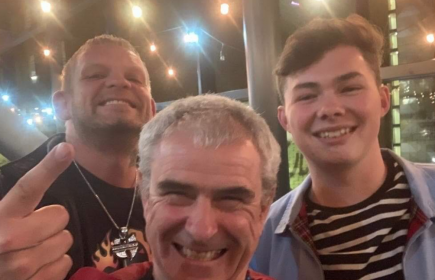 FOLLOW YOUR DREAM: Steve and Sean (centre) with MM's Harry at the HOME screening earlier this month
MM: You've jetted around the world making movies Sean. Do you prefer shooting abroad or in England?
SM: The answer really is that I love an adventure and if you're raised in Hull you want to get the heck out of Hull. Hull has got a lot more interesting after 2017 for me.
It's always a bit more exciting to be abroad but at the moment I'm really enjoying filming in the UK because it's vibrant and interesting and 'your country needs you!'
MM: With the Beats Bus now where does the funding come from?
SA: It's coming from a different number of places. We started a crowdfunding link, that's done really well, that's enabled us to buy all the equipment back. We've got some funding from a place called Bud Hull which is a Christian organisation in Hull, they gave us £5000 to start off so that was a good start for us. We sell merchandise, getting paid for doing workshops and we're just in the midst of writing a couple of funding bids as well.
MM: If you could have one message to people who are thinking of starting a similar project to the Beats Bus, what would it be?
SA: Follow your dream, don't give up on it. If you believe in it enough then you can make it happen.