Trampolining may not be the first thing that comes to mind when the time comes to start shedding those winter layers, but Jump Nation offers a slightly alternative option to standard gym sessions.
The UK's leading trampoline park opened in August 2014 and provides an enjoyable way of keeping fit and healthy.
MM reporters recently visited the venue to speak to managing director Michelle Ball and even relived some of their childhood by having a go on the trampolines.
And Mrs Ball revealed that the popularity of Jump Nation has come as somewhat of a surprise.
"Its popularity has exceeded our expectations – ultimately, trampolining is really good fun," she said.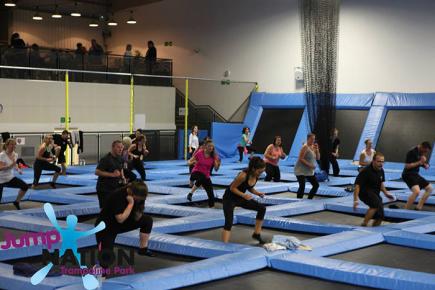 CORE STRENGTH: Fitness classes are popular at the venue
"If you go to the gym you have to be quite dedicated – nowadays more and more people live busy lives and have a hectic schedule and if you don't enjoy your exercise then you simply won't do it.
"You can come here and do what you want, whether it is just jumping around and having fun, or whether it is for fitness and recovery."
Despite the park being tailored primarily towards families with children, it also attracts groups of teenagers and adults on evenings and at weekends, who use it as an enjoyable social activity.
Classes are held and taken by fitness instructors who tailor the lessons to the needs and wishes of those who attend.
Events that have been held at the venue may also come as a surprise, with hen dos, stag dos and Christmas parties being established fixtures at the trampoline park.
Mrs Ball, who founded and built the business with her husband, also explained how Jump Nation can provide fantastic benefits to health and wellbeing rather than just acting as an outlet for fun.
"One of the best benefits of trampolining is that it adds to your core strength – it works muscles that most people don't even know they have!" she said.
"Parents can only manage ten minutes even if they go to the gym every week and their kids are still going an hour later.
"It's fantastic how children keep going, I don't know how they manage it!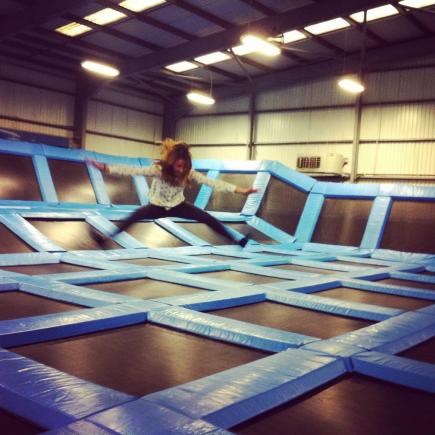 JUMPING FOR JOY: MM's Eve Langford takes to the trampoline
"Trampolining is also very good for anyone who has joint problems because it doesn't put any pressure onto your joints, even people with osteoporosis benefit as it helps to build bone density.
"It offers a form of exercise to people who struggle to be able to do other kinds such as running."
The initial success of the business came as a huge surprise to Mrs Ball and her husband, who are in the process of expanding the company other areas of the country.
She intends to use Trafford's Jump Nation as a blueprint for this expansion and insisted the priority was perfecting the Manchester park as much as possible before establishing other venues.
"By the end of next year we hope to have an additional five to six sites up and running," said the mother of one.
"We wanted to make sure Manchester Jump Nation was the best it could be before expanding to other areas – we didn't want to duplicate mistakes across various sites.
"We have spent more time here in Manchester than what we initially envisaged, but that will make what we offer stand out from our competitors.
"We have come a long way."
This is particularly important in businesses such as these with competition at an all-time high as trampoline parks are becoming more popular.
"Facilities such as Jump Nation are popping up everywhere and a lot are specifically aimed at free-runners and groups of this nature – we just want to be accessible for everyone," said Mrs Ball.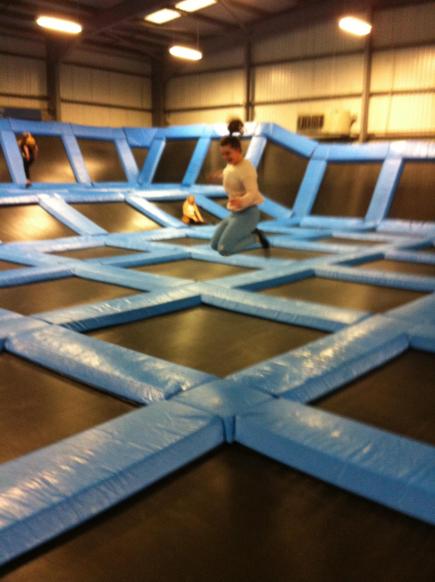 HAVING A KNEES UP: MM reporter Kayley Dickinson with a spring in her step
"No matter how old you are, everybody enjoys trampolines.
"It brings back a sense of nostalgia and that freedom of fun that you sometimes forget as you get older."
Mrs Ball also took the time thank the people of Manchester for playing their pivotal part in Jump Nation's success.
"I would really like to thank the people of Manchester for taking us to their hearts and welcoming our new business into the region," she said.
"They are the reason for Jump Nation's success and we could not have done it without them.
"We hope the people of Manchester continue to visit Jump Nation for many years to come."