From humble North American roots, urban sketching is beginning to make its mark on Manchester's booming cultural scene.
In 2007, Seattle-based journalist Gabriel Campanario set up an online forum – Urban Sketchers – which encouraged all individuals to capture urban and city scenes through on-location drawing.
A year on from this, Campanario formed the below manifesto for the modern movement.
We draw on location, indoors or out, capturing what we see from direct observation.
Our drawings tell the story of our surroundings, the places we live and where we travel.
Our drawings are a record of time and place.
We are truthful to the scenes we witness.
We use any kind of media and cherish our individual styles.
We support each other and draw together.
We share our drawings online.
We show the world, one drawing at a time.
Now, 10 years on, there are nearly 200 individual urban sketcher groups around the planet who adhere to this concept.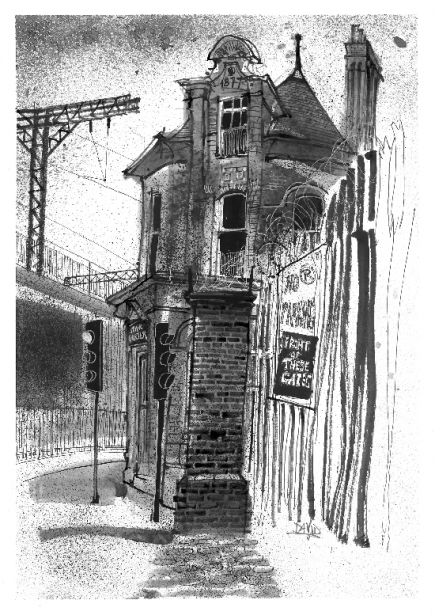 AUTHENTIC FEEL: Urban Sketchers Manchester draw on site to let their surroundings affect them and aid their artwork
To mark the occasion, Salford Museum and Art Gallery has invited Urban Sketchers Manchester to produce the 'One drawing at a time: Salford and Manchester'.
The exhibition will be open to the public until June 10 2018 and will celebrate the diversity of the Mancunian group who live across the city – Salford, Bolton and Wigan to name a few areas – and how they create detailed, visceral and sometimes abstract illustrations without the aid of photographs.
The @MCR_UrbanSketch exhibition officially opens today @SalfordMuseum. Come and be one of the first to see these beautiful paintings of #Manchester and #Salford. We even have some work for sale! https://t.co/RqnzuVCMAf pic.twitter.com/gxBN8LGUN1

— Salford Leisure (@SalfordLeisure) December 9, 2017
Drawing on site helps artists and sketchers get an authentic feel for the environment that they're in. By letting the environment have a profound effect on them, they allow it to aid the way they sketch and see the world.
Peter Holden, artist and member of the Urban Sketchers Manchester, told MM that drawing is a nice distraction in the somewhat engulfing social media age.
"What I realised was, that by going out and sketching, you have to really look at something.
"When you take a picture, you get an impression of it, but you don't really study what you have just photographed. The only way of doing that is to draw and be looking and really seeing what is in front of you.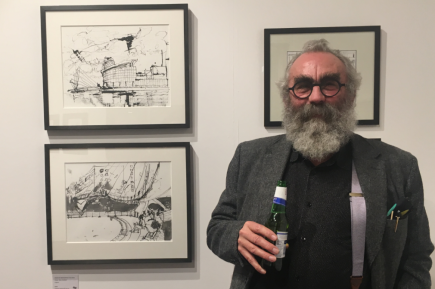 DRINK STIRRERS & INDIAN INK: Peter Holden sketched these pictures of Media City using wooden coffee stirrers he collected about town     
"I'm really looking at stuff and seeing things that I would not normally see if I had taken a photograph.
"I am training my eye and my brain to look at things in a really deep way."
Urban Sketchers not only encourages a deeper level of thinking and perceiving but also offers a sense of support and belonging.
Members go out as groups in order to comfort and help each other sketch as being on site can be daunting and somewhat overwhelming.
Jo Morton – an artist, member of the Urban Sketchers Manchester and the owner of Hebridean Postcards – told MM: "Everybody goes out of their way to be friendly and encouraging.
"I find it marvellous to be in a group of sketchers as being an artist is a very lonely profession, because by its nature, you have to work by yourself a lot.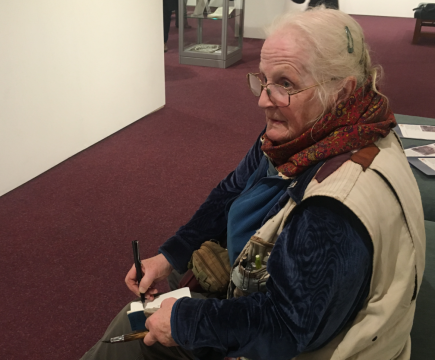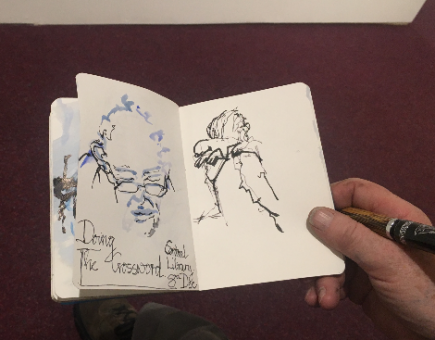 'DOING THE CROSSWORD': Hebridean Postcards owner Jo Morton drew an image of a man in Manchester's Central Library then sketched an image of a lady in a coat while MM sat with her
"With the urban sketchers, the Facebook page and the group itself is good for meeting friends and getting feedback.
"We [urban sketchers] are encouraging people to use their eyes. It's all about the urban scene, one drawing at a time and drawing opens our eyes wider and we start to see much clearer.
"It's all about encouraging people to draw from life and learning the art of how to do it."
Sketcher, photographer and writer Len Grant, who has been in the Urban Sketchers for about four years, said any fears he had about the quality of his work quickly disappeared.
"When I first went out with a group it was a bit scary because I felt I wasn't very good.
"I felt intimidated as I thought there were a lot of people out there who were better than me, but everyone made me feel really welcome.
"On the first group outing, I asked for advice and they said 'just keep doing it' and that is what I have done in the past four years.
"Slowly I'm making improvements."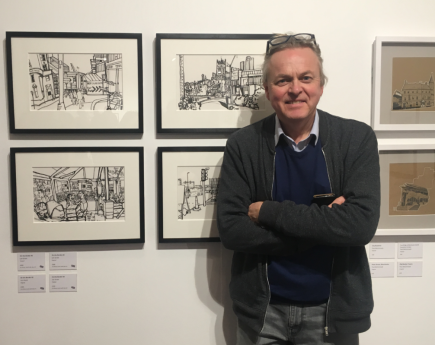 ON THE UP: Len Grant has gained in confidence during four years with Urban Sketchers Manchester and has just launched The Rusholme Sketcher website