A Stockport man, suffering from depression and anxiety, has been given a 'reason to live' after rescuing a puppy from Dogs Trust Manchester last year.
After a life-threatening accident that left his skull fractured, 33-year-old Daniel McCormack was suffering crippling mental health problems.
He rarely ever left his house – that was until he met three-month-old Scamp.
The pup really has proved to be this man's best friend, saving him from a life of drink, depression and loneliness, in fact, Dan says without Scamp he might not be here at all.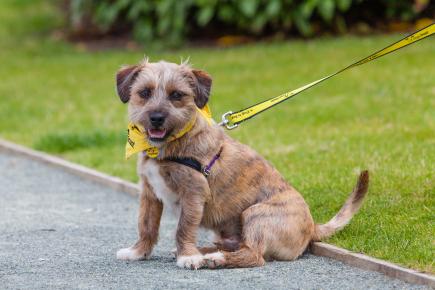 RESCUE DOG: Scamp saved Dan from crippling depression and anxiety caused by a life-threatning accident
He said: "He has saved my life. Since day one we bonded and now we're inseparable.
"I know I was rescuing him as he didn't have a home and he was so young, but he has definitely rescued me.
"He has given me a reason to live; to get up in the morning. If I hadn't got him I wouldn't be here now."
Dan used to use alcohol as a way of dealing with his troubles, but it was this 'coping mechanism' that eventually put him in hospital.
His mum Barbara said: "As a family we've had a tough time and Dan's coping mechanism was to have a drink. In May last year he fell and knocked himself unconscious.
"He was rushed to hospital and was found to have a fractured skull and a bleed on the brain so he needed emergency surgery. We didn't know what the future was going to hold."
Dan was in Salford Royal Hospital for seven weeks and when he came out it was obvious it was going to be a long road to recovery.
He needed regular physiotherapy and occupational therapy as he was unable to walk properly and his speech and his memory had been affected too.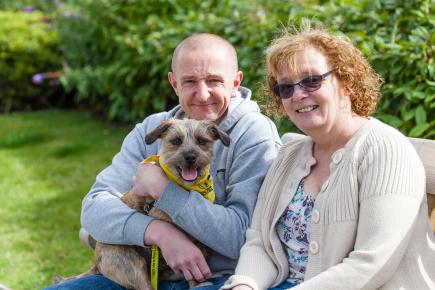 COPING MECHANISM: Dan used to use alcohol to drown his sorrows but since rescuing Scamp he doesn't drink at all
The accident had also affected his personality – rather than being the confident outgoing person he had been before, he became a virtual recluse.
When his Occupational Therapist suggested he might benefit from having something to give a purpose to his day, Dan started to think about getting a dog.
After discussing the level of commitment looking after a dog would take, Dan and Barbara finally went to Denton's Dogs Trust Manchester last December and were introduced to Scamp.
Both fell in love with him and from the day they took him home, Dan's and Scamp's lives changed for the better.
Dan said: "I don't drink anymore and whereas before I wouldn't even walk to the bus stop, now I'm out for hours in the fresh air.
"I've got a new circle of dog-walking friends too. If I'm having a bad day, it doesn't matter to Scamp. I still need to walk him, play with him, feed him, do his training to make sure he's happy and healthy, and it's worth it.
"He makes me laugh every day! It's been a tough fight and without Scamp I know I'd have lost."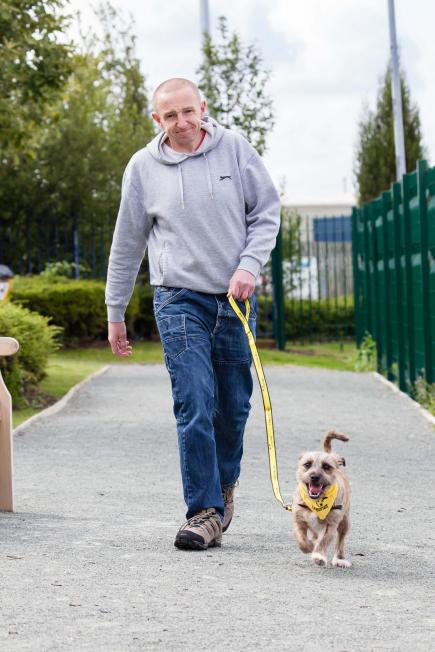 OUT AND ABOUT: Dan hardly ever left the house until he got Scamp but now they go for walks everyday
Rehoming Centre Manager Dawn Bishop said that Scamp and Dan's relationship shows how companionship can change a person's and a pooch's world.
She said: "The commitment Dan has shown to Scamp is a brilliant example of how to be a great dog owner.
"There are so many benefits to dog ownership and for many people simply having companionship can change their world. "
To find out more about Dogs Trust Manchester go to their website or visit the centre on Parkway, Denton, M34 3SG.
It is open 12pm-7.30pm during the week, except Wednesdays, and 10am-4pm at the weekend.
All images courtesy of Wendy Lovatt, with thanks.