Greater Manchester is brimming with great museums and people come from all over to visit these cultural hubs and sample their hidden delights.
But what happens when they are forced to close and their galleries become off-limits?
They go online!
Many museums remain closed due to the Covid-19 outbreak and some people are unable, or uncomfortable, visiting public spaces like these.
But that doesn't mean you have to miss out; Our museums have some amazing digital-offerings, so you can continue to learn and be inspired by their diverse collections from the safety of your home.
MM took a look at a few of the online options for culture vultures wanting to make some at-home discoveries.
The National Football Museum reopened late last month and are now welcoming visitors Thursday to Sunday. However, they have really risen to the challenge of lockdown and have created some great online resources for those who can't make it in person.
"We made a very firm decision that we didn't just want to close-down and lock-up," Laura Crossley, Head of Content at the museum, told MM.
"We really wanted to put our focus on creating digital-content so people could still access the museum despite us being closed."
And the content they have created is well worth checking out.
Strip! How Football Got Shirty, an exhibition currently showing at the museum has been made into an online exhibition with its own dedicated website.
It is interactive and visual; the site is packed with personal stories, articles and media, including a 20-minute virtual tour around the physical space by the curator of the exhibition, filmed the day before lockdown.
They also have a series of videos, available on their YouTube channel, called "First 11", which would interest even the most fervent football-phobic.
Each video focuses on a different aspect of the beautiful game, using historical research and items from the museum's collection, and they are fascinating: 
"They showcase the objects in an accessible way and tell really good stories about them. Our whole mission is about sharing stories about football and the First 11 series does that really well," said Crossley.
Gallery Oldham have also been thinking imaginatively about how to reach their remote audience, with online exhibitions, downloadable activity sheets for kids and life drawing classes via Zoom.
They have made their current photography exhibition, Syd Shelton: Rock Against Racism available to view online and taking some time to look through the striking monochrome images is highly recommended.
Shelton captures a period in time, between 1976 – 1981, when the Rock Against Racism (RAR) movement was at its height.
The photos are energetic and compelling and shine a light on this grassroots movement which saw musicians from across the genres unite to fight against racism and the rise of far-right fascist politics in Britain.
They have also created Oldham's Lockdown Museum and Lockdown letters, a digital project documenting the lives of local people during these extraordinary times.
Submissions of photos and letters have been made into digital exhibitions and form a time-capsule for future generations to discover what it was like to live in Oldham during the 2020 Covid-19 outbreak.   
Over in Spinningfields, People's History Museum is telling the stories of those who fought and continue to fight, for equality and justice.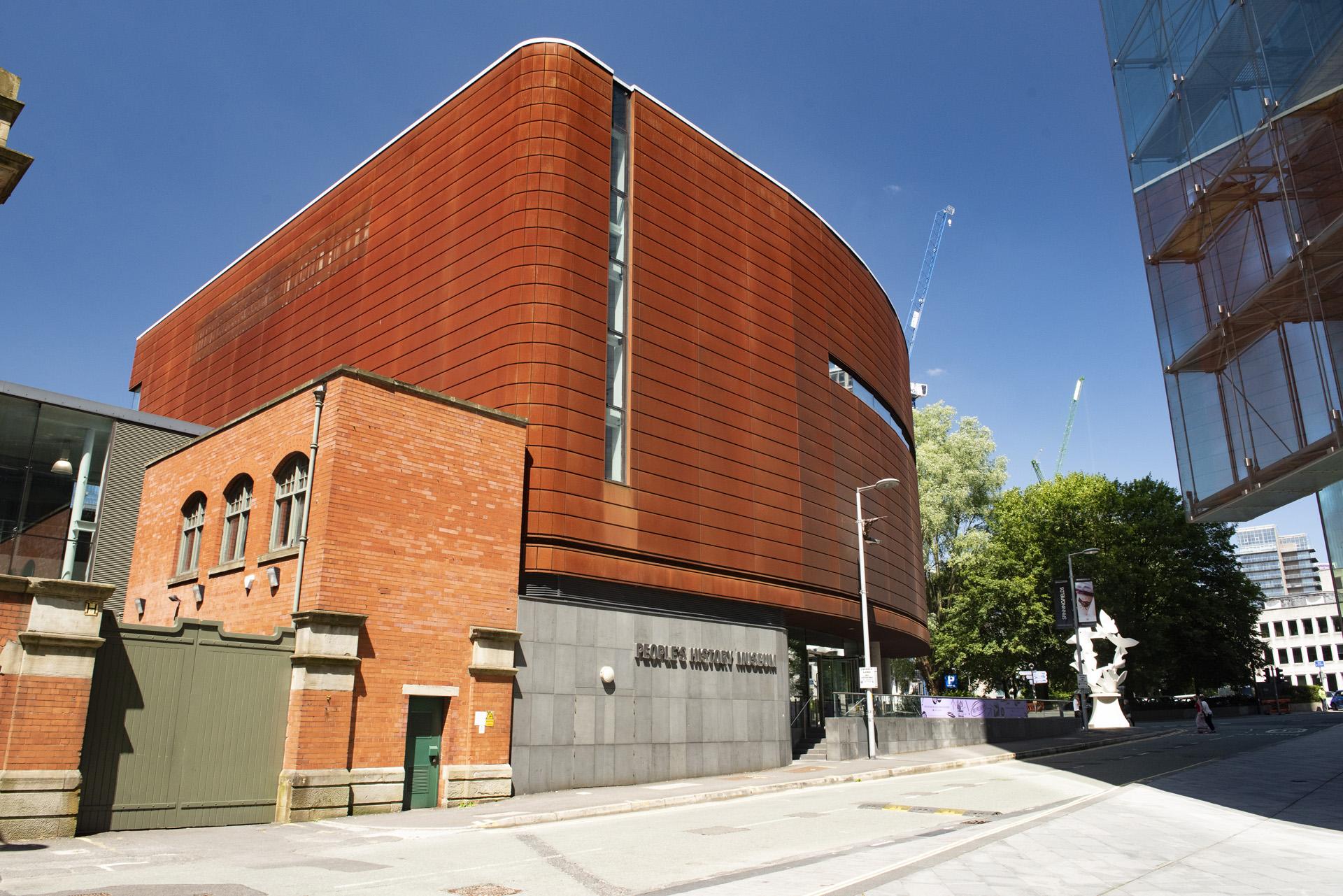 Their Ideas Worth Exploring: at home and online website is the place to go discover the museum from home.
Talking about the digital project, Programme Manager, Helen Thackray, said: "It features some existing resources alongside a whole range of new ideas, learning sessions and creative activities inspired by our existing work that were developed during lockdown for everyone to take part in."
There is a jam-packed programme of online activities to take part in as well.
"You can listen to a series of podcasts about Votes for Women, discover more about Peterloo, take part in My First Protest Song, create an art-inspired Doodle Den, take part in a topical discussion with Have Your Say, create your own Fabric of Protest and much more," Thackray said.
They also have an active social media presence and a thoroughly enjoyable blog where you can discover the stories behind the museum's objects and exhibitions.
As the national museum of democracy inclusivity is vitally important to the People's History Museum and their digital work during lockdown has helped with this.
"Increasing our online presence has added a further level of inclusivity to our work, with anyone able to participate wherever they may be. 
"Inclusivity is a factor that is incredibly important to us and is one of the reasons why we'll be looking to continue to make more activities available online in the future," said Helen.
Manchester Museum, part of the University of Manchester, have created a whole online Quarantine Museum and it is a feast for the eyes.
The content is vast and ranges from the weird and wonderful insects of their Beauty and the Beasts exhibition, to their Queering Manchester Museum; a digital trail around the museum from a LGBTQ+ perspective.
Connection & inspiration is needed during challenging times like this. We've uploaded our digital content onto a mobile site so you can explore the museum in your home We hope it helps entertain educate & sparks joy & wonder until we reopen https://t.co/jEDimVQXB3#MMinQuarantine pic.twitter.com/Kx3Jzbk2Ye

— Manchester Museum (@McrMuseum) March 31, 2020
During July and August, the museum are also taking part in South Asian Heritage Month and have teamed up with Border&Fall, a digital publication and strategic agency, to showcase The Sari Series, a beautiful anthology of film documenting India's regional sari drapes, with all videos available on their YouTube channel.   
This is only a snapshot of what's out there; there is plenty more to explore online, with museums across Greater Manchester and the UK offering events and exhibitions for you to enjoy from home.
And while museums will be opening soon, if they haven't already, the digital resources they have available can give us a new, and sometimes more in-depth, opportunity to explore the wonderful collections housed in our museums.
So, log-on and get exploring!