"You might be thinking Pete Tong's about to make an appearance before a barge floats across the stage," says Adrian Berry of his show.
The mysterious From Ibiza to the Norfolk Broads title – depending on how good your knowledge of David Bowie lyrics is – actually comes directly from his hit Life on Mars.
A homage to Bowie's life and his music this is not however. Berry suffered with an eating disorder and depression in his teenage years following the separation of his parents and wants to break the taboo of mental health.
Since the show's beginnings in 2016, it arguably has done, Berry (main picture, above right) commenting that in post-performance Q&As anorexia and bulimia have been discussed almost as much as Bowie.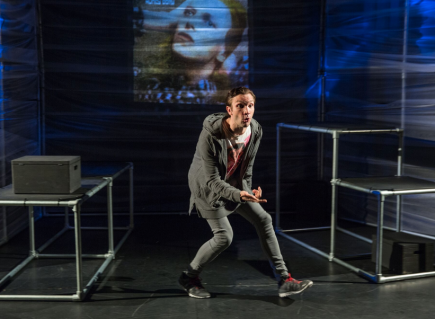 VULNERABLE AND SENSITIVE: Alex Walton excels in playing nine different roles – including a troubled 18-year-old boy as well as the lad's mother 
A musician himself – Berry plays bass with his band Alberteen – he also juggles his role of articistic director at Jacksons Lane in north London.
Ahead of the 30-venue UK tour which starts in Derby this evening before three consecutive nights in the North West this week, MM caught up with the director of the one-man show starring Alex Walton.
MM: Morning Adrian, how much is your music influenced by Bowie?
AB: It doesn't particularly sound like Bowie but the band are all huge fans. Music finds a way into everything I do, from the band to the play which is obviously musically-orientated.
The influence is there and Bowie's been there all my life, so it always filters through in some way. But we're not exactly a Bowie tribute band.
What about the amount of Bowie music in the play itself? What do you say to comments like there aren't enough songs in it?
Well there are 14 Bowie tracks so that kind of surprises me. Even people complained about Lazarus, which was a non-stop Bowie musical. People said Bowie's choices weren't Bowie enough. I thought he chose well.
I think if you're a bit of a fan, you'll be massively pleased. You might think 'Why are we not singing along to Life on Mars?' but I tend to ignore those sort of things. It was never intended to be a jukebox musical.
There's enough music within it and it's the way the music is used I suppose, plus the choices of music are not the most obvious ones. There's stuff from The Next Day, Heathen and the Berlin period, that was my choice really.
It's been so well received but as soon as there's the odd negative thing you tend to listen to that a bit louder. 
I saw so many nasty reviews of Lazarus that I think we came away from it quite well. It's a difficult piece – it's not a tribute. Ours is also quite hard-hitting.
Please RT: Still a few tickets left for our critically acclaimed Bowie theatrical homage From Ibiza to the Norfolk Broads at Salford @The_Lowry Jan 17th 'A blazing, deeply moving performance' @MTAwards https://t.co/tBMGEmkmjA pic.twitter.com/L5U1o7nh4g

— From Ibiza show (@IbizaBowie) January 12, 2018
Has any criticism helped the production grow?
It's a rocky road to go down if you start listening to it, that's where madness lies. From the very first run in London we invited lots of people we trust to give feedback. And actually there was one review which picked up on a certain section – which was always jarring for me – that reaffirmed what I thought, so I made a cut in the show and it's better for it.
Is the show based on anything personal?
The crux of it is that I had an eating disorder as a teenager after my parents separated, so I've got first-hand knowledge of that and I'm quite happy being open about it.
For years I was embarrassed about it, like it was taboo. Any kind of mental health or depression, people get embarrassed about it – like it's a weakness if you admit to it.
So I came out quite openly about it, saying 'Yeah I used to chuck up my food and I went through depression in my teenage years'.
They say to write what you know, and not having to really research much for this show was great because of my first-hand knowledge.
It works so well within the show because one of the traits of mental health or obsessive behaviour is to develop obsessions with artists, or film stars, or pop stars. In this case it's Bowie.
As a teenager personally I wasn't very obsessive, that came much later in life, when I was about 21. But I don't think it would be as interesting a piece of work if it wasn't Bowie.
You mentioned Alex is a sensitive character, what is it about him that makes him the perfect fit for such a role?
He's very vulnerable and a very sensitive performer – in a good way of course – and intuitive. He plays nine characters in the show and is totally believable as an 18-year-old boy, as he is in the shoes of the boy's mother.
I had his voice in my head when I was casting and he locks into the role very well. It's not quite method but it's not far off.
Tomorrow ibizabowie opens at @derbytheatre, tonight we dine in style. @ Pizza Express https://t.co/AGCgvIIZFF

— Alex Walton (@A_W_29) January 14, 2018
Was the show always going to be a one on-stage actor production?
There's an original version which was written and had seven actors in it. That's not where I was at but I had to go through that process to a certain extent.
When I did Dye Young Stay Pretty, which is set in the 70s and about a girl who is a Debbie Harry fan and goes on a pilgrimage to New York, it wasn't perfect for me but it was a similar kind of format which is where I earned my stabilisers I suppose to learn to ride alone – enabling me to write From Ibiza to the Norfolk Broads.
What I discovered with that show was the amount of freedom you have with one actor: you can go backwards and forwards in turn, you can do whatever you want and the whole suspension of disbelief becomes much easier for a writer and an audience, as opposed to when you have a load of actors on stage giving each other cues. There's a real liberation to that.  
How did your initial idea for the show in 2015 change after Bowie's shock death in January 2016?
The interesting thing is the themes haven't changed. When he died I was on holiday in Tenerife. It was two days after his album came out and I was lying by a pool listening to it, then someone said Bowie's dead and my first instinct was 'We can't do this show anymore, it's going to look like a cash in or whatever'.
But we'd already started the process of talking to Bowie's people and getting a lot of encouragement and someone quite close to him said 'There's going to be enough shit tributes out there which we can't control so if what you're doing has integrity keep going'.
The thing about it is it's set in the time when Bowie was alive, then the bit where Rob Newman comes in as Bowie at the end – he does a brilliant Bowie – has taken on a whole new feeling: it sounds like a voice beyond the grave now, even though it's an imagined conversation between the boy and Bowie.
I was in Brighton – we had five sold-out nights there last year on the anniversary of his death (Jan. 10) – and when the lights came on at the end, I was sat at the back, I looked around and people were balling their eyes out. People had gone there to pay their respects – because the play's quite a sad one and then you hear Bowie's (Rob's) voice, it had that impact.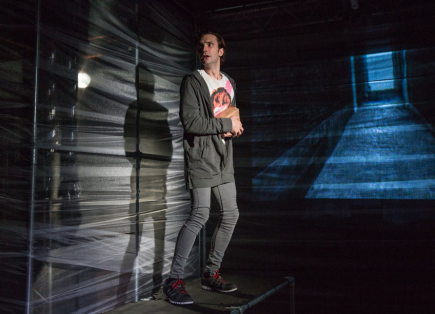 HARD-HITTING: From Ibiza to the Norfolk Broads discusses eating disorders using a David Bowie soundtrack – something the late singer emailed Adrian Berry about to voice his approval 
I never thought it would have that kind of impact, I don't know if it would have had so much if he was still alive but I think because Rob does it so well it's quite eerie.
What kind of reactions are you expecting from this UK tour – taking in so many different and diverse locations?
I just don't know how much people are expecting the content of it. I think people are going in expecting Bowie. But it's quite ambiguous the way we write about it – I'm not sure how many people are going because they really want to see a play about a boy with an eating disorder.
What we want – and what I've found – is people go in and it's not what they expect, yet by the end they're completely won over by it.
For the Bowie fans I think there are enough little in-jokes  and references which will make them get excited, but similarly there have been people who know nothing about Bowie and have come away with an appreciation for his music.
Another thing is to break down the taboos about mental health – that's a big one. 'Dispelling myths around eating disorders' isn't a sexy one to say so there's an element of putting the audience in with Bowie and then surprising them.
Because we're confident enough in the show, I don't think we're misleading people.
We end the play – with some outro music – from Blackstar, a musically joyous track about Bowie knowing he's going to die. You've got to work a little bit when you're watching the show but for us it's really positive. We don't want people walking away feeling depressed.
Did you ever meet Bowie himself?
No but he emailed me about the script and sent some positive words. It was a very encouraging email. We've met a lot of his friends and associates which has been nice.
I saw many of his gigs: Glastonbury 2000, Festival Hall, seven or eight times. I was very fortunate.
If you could ask him one question what would it be?
I'd like to ask him about his relationship with his half-brother Terry, who was schizophrenic and had mental health issues and then killed himself. Bowie wouldn't have been who he was had he not lived with his half-brother – he introduced him to Jack Kerouac and Charles Mingus. He was a big jazz fan.
I'd love to find out more about his relationship with Terry. He was understandably guarded about it.
To mark Eating Disorders Awareness Week, Bournemouth University, @EqualityatBU, Students' Union Bournemouth University and Dorset Healthcare University NHS Foundation Trust is hosting a series of events on the 26-28 February 2018. https://t.co/br7aWbcSfa

— Beat (@beatED) January 12, 2018
What have mental health organisations said about the show?
That's been interesting, we've heard of young people taking their parents to it to explain what they're going through. Beat – the UK's eating disorder charity – have been promoting the show through their internal networks and I'm glad about that because we didn't want to shout about eating disorders too much.
We're finding ways to reach people and in the Q&As there has been a lot more discussion about anorexia and bulimia. Almost as much as there is about Bowie and mental health.
That's been good for us because we get questions on Bowie we can't answer. But when they come through about the more synoptic things we like to engage a lot.
From Ibiza to the Norfolk Broads, that's a long way to cycle. Explain the title for us…
Two weeks isn't it? (On a bike).
No seriously it's about a physical journey in someone's head and happily it's a lyric from Life on Mars.
If you don't know the lyric you might be thinking Pete Tong's about to make an appearance before a barge floats across the stage, but it's a very non-linear title which is designed to get people intrigued.
It's ambiguous, and Bowie was often described as a chameleon whereas actually chameleons change their colour to blend into the background. Bowie changed to go against what was surrounding him. He hated that clichéd description.
Thanks for your time Adrian, wishing you all the best for the tour!
"I saw my first ever play at Derby Playhouse… It was the beginning of my journey and made me want to explore more." – @Ade_Berry writer and director of @IbizaBowie – ON TONIGHT!

Interview: https://t.co/D5KZCB1Z5z
Book Tickets: https://t.co/hAQlYTEjxa pic.twitter.com/EJPVyy2qbO

— Derby Theatre (@DerbyTheatre) January 15, 2018
From Ibiza to the Norfolk Broads is showing at The Lowry on Wednesday. Further dates below:
January:
15-16 –  Derby Theatre, Derby
17 – The Lowry, Salford
18 – The Brindley, Runcorn
19 – Unity Theatre, Liverpool
23-25 – The Old Market, Brighton
26 – The Woodville, Gravesend
27-28 – Southhill Park, Bracknell
30-31 – Sheffield Theatres, Sheffield
February:
1 – Mill Arts Centre, Banbury
2 – Assembly Rooms, Ludlow 
3 – Brewhouse, Taunton
6 – Theatre By The Lake, Keswick
7 – Middlesbrough Theatre, Middlesbrough
8 – Pocklington Arts Centre, Pocklington
9 – Square Chapel Arts Centre, Halifax
10 – Barnsley Civic, Barnsley
13 – Theatre Royal, Bury St Edmunds
16 – Trinity Theatre, Tunbridge Wells
20 – Stafford Gatehouse, Stafford
21 – Stantonbury Theatre, Milton Keynes
22 – Harlow Playhouse, Harlow
23 – The Gulbenkian, Canterbury
24 – Folkestone Quarterhouse, Folkestone
25 – Margate Theatre Royal, Margate
27 – The Phoenix, Hampshire
March:
1 – Wyeside Arts Centre, Builth Well
2 – Theatr Mwldan, Cardigan
3 – Merlin Theatre, Frome
6-10 – Jacksons Lane, London