A little over two years ago, Francesca Barker's future looked bleaker than ever. 
The convicted fraudster and drug user was staring down the barrel of a prison sentence after too many bad decisions had come back to bite her.
But fortunately, she was offered a lifeline and managed to escape with a suspended sentence, along with a hefty £8,000 fine. 
Seeing it as her second chance, she launched her own business 'The Barker Baker' – a bakery that gives back to society by supplying to food banks across Manchester.
But prison loomed over her head once more after she was ordered to pay the £8000 fine in full last year.
Thankfully, Francesca was eventually allowed to pay it off in installments after MM got behind her 'keep me out of prison' campaign, which she said had a 'big impact' on the case. 
And the 27-year-old's success story continued last week after she landed the 'Business Newcomer of the Year' accolade at the Pitman Training Super Achievers Awards 2015.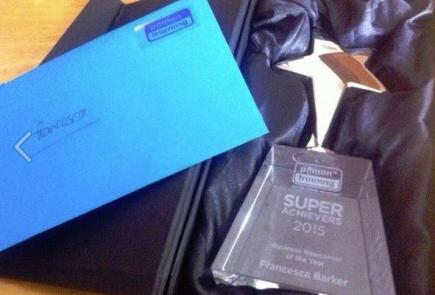 RISING TO THE OCCASION: The former convict was recognised for her efforts
Francesca spoke to MM about what it meant to win the award.
"I couldn't believe it – the woman that I was up against is really successful and has done really great things," she said.
"She had been through the Pitman training programme, so she had a really intimate connection with the branding. For me to win it over her is incredible.
"It proves to me exactly what I built the business for. That is what I'm striving for, for people to see that and take that away from what I'm doing. It's just incredible.
"It's an extra push and such a confidence boost. We're moving in the right direction every day."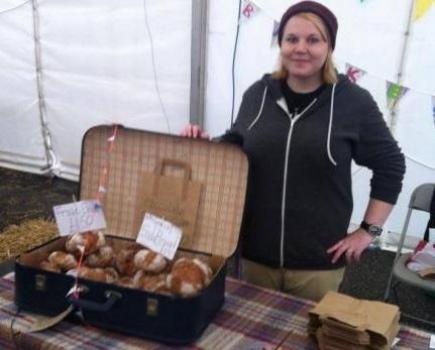 USING HER LOAF: Francesca standing proud at her baking stall
Escaping jail time was the wake-up call Francesca needed and she luckily found herself in a world of support through probation, drug rehabilitation and mental health professionals.
"My probation officer was an incredible woman," she said. 
"The first time I met her we had a normal conversation and that was very refreshing because I was expecting a heavy handed approach and punishment. 
"But instead it was 'how do you fancy trying baking because I know you like cooking' and tapping into what I'm good at. It was exactly the right time to do that for me."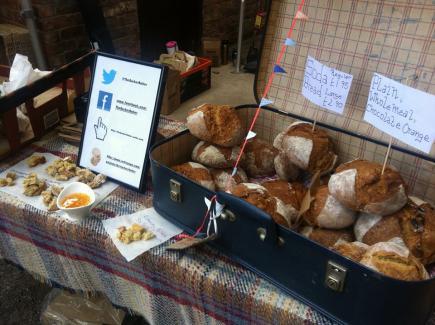 BAKER'S DOZEN: The Barker Baker offers a range of food items
Managing to avoid prison was a saving grace for Francesca, who believes 'that would have been it' and described the scenario as 'game over'.
She said: "I did not see a positive outcome on the other side and I think a lot of first time offenders, should that be the worst case scenario, do fall through the cracks of the system and there is no hope on the other side.
"I could be idealistic and say we can all change and I would have received the opportunity to make a better life if that had of happened, but to be quite honest, that's not how I felt.
"When things like this happen, it motivates you to take it to the next level and it's people recognising that you have the ability to do that."
Francesca vowed to continue the growth of her enterprise after receiving an engraved award, £500 in cash and an online Pitman Training course of her choice to the value of £250.
She revealed that she was aiming to expand her workforce by reaching out to people who were in a similar position to what she once was.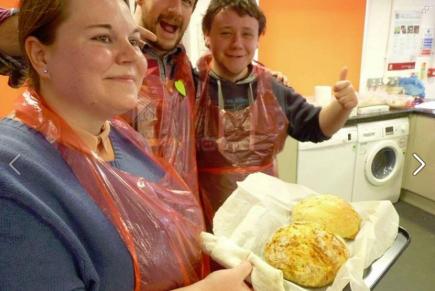 REACHING OUT: Francesca showing the ropes to youth offenders
"We are now at a stage where we are taking on other ex-offenders," she said.
"We've got a guy on the books who has just come from Strangeways. He worked in the bakery there so he is very excited to be involved.
"It sounds quite limited and niche, just taking on ex-offenders, but that is my purpose, to give them ease of access to employment and self-employment. I just want to break down the barriers."
Turning over a new leaf is a realistic possibility for offenders, but Francesca discussed how rehabilitation programmes, like the one which she owes her newfound life to, need more focus.
"That is where much more investment needs to be made," she said.
"I know there's cuts left, right and centre but I do think that offender rehabilitation through education and alternative programmes, like baking or creative outlets, is a lot more practical and a lot more hands on, because it taps into human nature.
"You're doing something good for yourself and it doesn't have to be life changing. It doesn't have to be employment based or retribution based or giving back.
"It's about you, and a lot of the time when you're involved in the criminal justice system , you don't feel like it's about you because you're the one who did something wrong."
Ex Dragons' Den star Hilary Devey was one of the judges on the awards panel and she commended Francesca's sense of purpose and carpe diem spirit.
She said: "This is truly a story of triumph over adversity.
"One also gets a sense of Francesca's strong appreciation of the importance of social responsibility as a tenet of her business philosophy."
Images courtesy of Facebook, with thanks.