Sourcing clothes ethically and responsibly is one of the new trends to enter our lives in the past decade, but concerns being raised by industry insiders begs the question, is social media fuelling our obsession with 'fast fashion'?
At a debate hosted by Selfridges last week, the need for change within the industry was discussed by a handful of fashion experts.
And as they were quick to point out on several occasions, following the Rana Plaza disaster in 2013 – which killed over 1000 people – consensus was clear: everything we wear comes at a cost.
But can we really pin point our love of disposable fashion?
Sitting on the panel was Phoebe Lettice Thompson, creative director at Illustrated People, though many will recognise her from Made in Chelsea. 
And it was what she had to say that really resonated: the millennial generation has an unquenchable thirst for constant buying in a bid to always be wearing the new and the now, thanks to social media.

STOP SOCIAL MEDIA: Made in Chelsea's Phoebe Lettice Thompson (left) and iD magazine deputy manager Lynette Nylander join the debate
She explained how big Instagram stars, like Kylie Jenner, have been slowly glamourising fast fashion labels with amazing pictures, showing how great instant cheap fashion can be. 
But then, alas, you buy it, wear it once, and it falls apart and ends up in landfill. 
Phoebe said: "I think the concept of throwaway fashion is absolutely being driven by social media sites and the constant need to upload pictures and make sure you don't keep repeating what you wear.
"Now it's how most online companies are popping up, they're coming from almost complete anonymity and suddenly pay a big Instagram star thousands of pounds and it's their business made. 
"But I don't feel fulfilled buying clothes like that. Yes I get an instant buzz of getting a bargain, it arrives and it's popular, but you don't get that sense of satisfaction from really living in something and loving something and having an attachment to that garment. 
"People don't get attached to fast fashion, it is by definition so replaceable, but maybe there is a jacket you spent a lot of money on, you've lived in it, loved it, and there is a much stronger chance it's been produced in a far more ethical way."
True, but also strange if we consider how many people are increasingly concerned about what is going into their bodies, making sure food is organic, possibly going vegan.
But not many people seem as worried about what is going on their bodies. 
Deputy manager of i-D Magazine, Lynette Nylander, also sat in on the panel.
"We have four times as many clothes in out wardrobes as our parents did, and a lot of it has to do with fast fashion. 
"We're constantly being sold things we don't want, or need. But we need to make smarter choices. If you're buying a dress for £5.99, it's not a bargain, it's cruelty."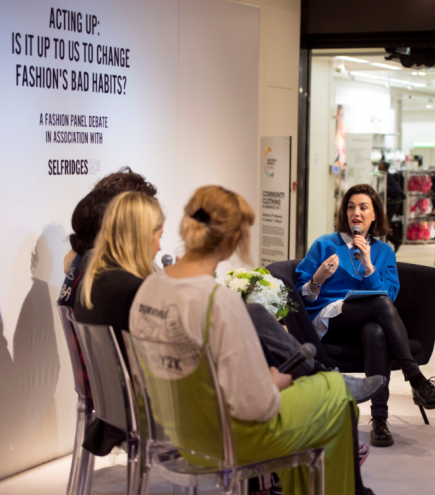 MATERIAL WORLD: Selfridges are raising awareness in 2017 about how our clothes are being made 
The panel was brought together as part of the Material World campaign, being run by Selfridges, from January-March in a bid to bring awareness to how our clothes are being made and the importance of sustainable fashion. 
A series of events have been hosted in the past few months by the department store giant, shining a light on the detrimental effects that unethical fashion is having globally. 
To find out more about the campaign, and how you can buy smarter, visit: http://www.selfridges.com/GB/en/content/material-world