The word 'hero' is over-used in today's society.
It's been linked to Rooney when he's scored an 89th-minute goal in a tense match, the bus driver who saw you running for the stop and decided to wait and your other half when they do something vaguely romantic.
But for Sue Good, a retired head teacher from Didsbury, it is a well-deserved title.
To say she is an active volunteer in the community is an understatement – when I phoned her for a quick chat, she was busy making a rhubarb pie for a charity raffle at the same time.
Sue, 65, has worked extensively in the voluntary sector for more than 10 years and her exploits have seen her help out at the Commonwealth Games in Manchester (2002), The London Olympics and Paralympics (2012) and with schools, churches and hospitals around Greater Manchester.
Since 2010, she has been working for The Christie charity, but trying to pin down exactly what she does on a week-to-week basis is difficult, as Sue is involved in multiple schemes with various organisations.
"I do so many voluntary activities. I fit in wherever I'm needed", she said. "It can be anything. I'll do anything."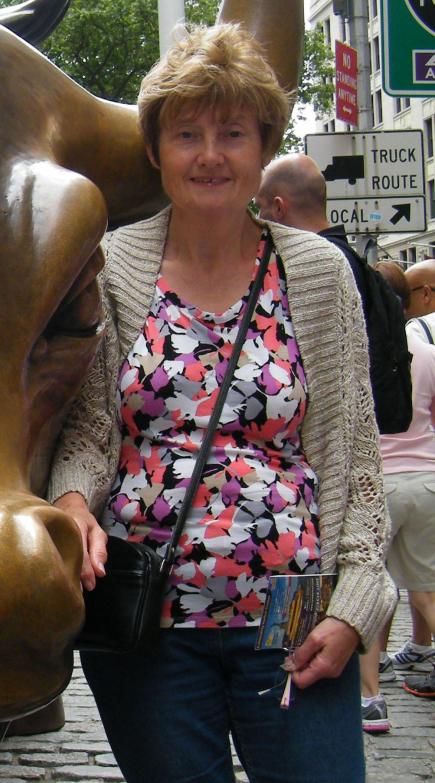 DEDICATED: Former head teacher Sue Good
She is a determined woman and, as a cancer survivor, The Christie is a very special charity to her.
Her voluntary duties have taken her all over the country, and she spoke fondly about all the experiences she has had and the people she has met along the way.
During the London 2012 Olympics she spent two months as a personal driver – escorting officials from the Olympics Committee around central London, and to and from the Olympic Stadium.
"Driving brand new BMWs around London was really fun", Sue smiled. "I also transported the head of the Paralympic team around [the city]."
While she was there, she also got a chance to see some Olympic handball, the Paralympic table tennis and some of the Paralympic boccia – a sport similar to bowls where you have to get your ball as close to the target ball, the jack, as possible.
Sue has met many inspirational people during her time volunteering, and one such meeting came during the Paralympics.
Team GB athlete David Weir – who finished second in Sunday's London Marathon wheelchair race – ranks among the best she has met.
"The privilege of meeting David Weir was special because he could have gone away or thought 'Oh no, not another photo'."
But Weir stayed and posed for pictures with Sue – highlighting the fact that athletes recognise the crucial work of volunteers in sport.
Closer to home Sue has been working at Didsbury Church of England Primary School in relation to World War One and this year's centenary.
They have been looking at the World War One memorial and remembering the fallen heroes of 1914-1918.
Sue also recounts her work for the church and with the scouts, and quite rightly brings up the age-old metaphor about having too many balls to juggle.
When she is not busy with schools or churches, she is visiting hospitals and talking to patients.
"I don't have a regular week. It's [about] making the best use of the time you've got available."
She is also a trustee of the Didsbury Parsonage Trust – based at the Grade II-listed Old Parsonage Building on Stenner Lane, Didsbury.
The Trust provides a much-needed community hub for the people of Didsbury, and Sue contributes to a variety of fundraising activities there.
Maria Valentine, who works at The Christie, was the one who nominated Sue for her Unsung Hero recognition.
Sue Royle, is Voluntary Services Manager for The Christie, and spoke fondly of Sue's contribution to the charity.
She said: "Without the support of volunteers like Sue we simply wouldn't be able to maintain the excellent reputation we're renowned for. 
"All our volunteers continually go above and beyond, providing an invaluable service across our organisation and we can't thank them enough."
 As with many volunteers, Sue is only too happy to help and is humble about her achievements.
She said: "I was really quite flattered. Whatever I set myself to do, I carry out without too much fuss.
"Volunteering is just about giving up the little amount of time you can spare, it doesn't have to be time-consuming and simply saying 'I'm too busy' is no excuse.
"I've always had a mantra: if you want to get something done, ask a busy person."