A Wigan couple will be braving new heights and jumping out of an aeroplane (don't worry, with parachutes) to raise money for their 'lovely' friend's Bolton children's charity.
Charlie Thornley, 28, and Matt Pennington, 30, have set up a gofundme page to get people to sponsor their thrill-seeking challenge and raise their £3,000 target.
They will, literally and metaphorically, step out of their comfort zones – as burger and vintage loving business managers with a French bulldog called Alan – to become skydiving daredevils for 45-year-old Katie Holt's charity, Blessing in Disguise.
Katie's main goal is to improve the quality of life for the families and carers of disabled, disadvantaged and terminally ill children and young people.
She organises 'life-enhancing' themed breaks, events, experiences and activities so that suffering kids can enjoy treasured memories to share with family and loved ones.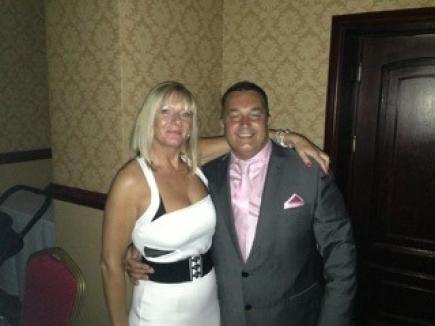 LIFE-ENHANCING: Katie, pictured with her hubby Dave, wants to improve suffering kids' lives by giving them memories to cherish
Funds raised also go towards providing a range of essential equipment such as special needs prams, walkers, sensory equipment, and communication aid.
Katie told MM that her inspirations for the charity came at very different times of her life.
She said: "My first inspiration for the charity was a cousin of mine who was disabled. And when I attended school I used to spend some of the summer holidays with him and my other cousins.
"The second was that I worked for other charities in the past and didn't see where the money was being spent and didn't see the difference.
"So I decided to see what differences I could make."
Charlie, who met Katie and her husband Dave through Matt as he went to school with Dave's children Viky and Ryan, described the charity's work as 'unbelievably important'.
She remembered in particular attending a couple of fairground days hosted by Blessing in Disguise for disabled and poorly children and seeing the joy on the kids' faces.
She told MM: "She has arranged two fairground days supported by Silcocks fair in the last two years enabling children with disabilities to enjoy something that they may never be able to experience.
"The rides were all slowed down and the music toned down along with the flashing lights. There was candy floss and games and Dave dressed up in a Peppa Pig costume to entertain the smaller ones.
"The whole event was free and the smiles on the children faces just made my heart melt.
"This is something that pretty much every child gets to experience and she made that available to children who due to their disabilities or illnesses would never have had a chance to witness or be a part of."
Katie's hubby of 10 years regularly gets involved with the charity, donating both his time and office space to the worthwhile cause.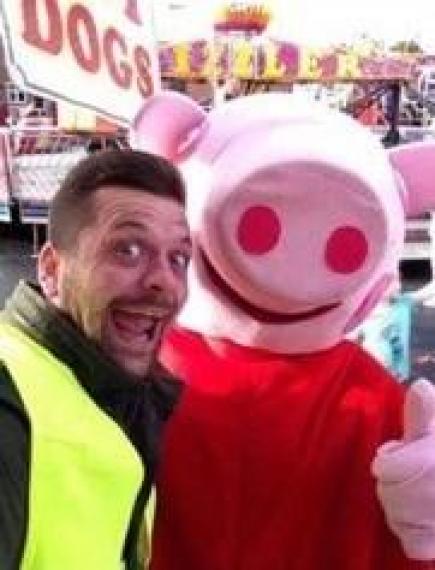 OLD FRIENDS: Matt and Dave aka Peppa Pig go way back to when Matt went to school with Dave's kids
The couple are clearly very dedicated to having a positive impact on the lives of the families struggling with their little one's disability or illness – and they couldn't get higher praise from Charlie.
She said: "That's what makes Katie and Dave so special they are such welcoming and loving people who have a genuine wish for people to be happy.
"They have the ability to make you feel like family when you're in their company – there's no airs and graces or falseness."
And the caring couple don't just host events for the kiddies, but the grown-ups too, to help raise the money they need.
Just this month Katie held a casino night at Bolton's Genting Casino – tickets were just £10 and everyone had free blackjack and roulette lessons with prizes for the winners and losers.
There was a raffle with sports signed goods which had been donated along with restaurant meal vouchers and lots of other goodies.
"The money raised helps families take their terminally ill children on holidays and trips too along with providing equipment," Charlie said.
"These opportunities to these families are literally life-enhancing."
It is no surprise then that Charlie, who runs a Manchester advertising agency, and Matt, who runs The Bath and Bed Company in Atherton are willing to take a leap – or plummet – of faith for their friends.
They have never skydived before and are understandably filled with equal measures of apprehension and fear in the lead up to their fundraising flight.
But Charlie said it is something they have actually been planning for quite a while as they have watched Blessing in Disguise grow.
She said: "I think it's safe to say we are both very excited but also a little terrified at the same time.
"It's something we have both wanted to do for a while and whilst we have been watching Katie build the charity up we decided now was the time to make a big push and help her."
Katie gave an example of just one of the many families Blessing in Disguise are currently supporting to show how your donation to Matt and Charlie's skydive, or the charity itself, could help.
She told MM about a little boy called Kieron, who has profound and multiple physical and learning disabilities and has to be fed through a tube that goes directly into his stomach – through PEG feeding.
She said: "The family are applying for vital pieces of equipment. Kieron's requests are for Wedges, Abduction Block and Supports – they are from Jiraffe who provides special needs equipment.
"Kieron's Family are in need of these pieces of equipment because Kieron needs to be able to have time out of his wheelchair to prevent pressure sores and give him time in a different position.
"Currently the only alternative at home is for someone to sit with him to hold him."
Charlie said this is why the skydive isn't just about money, but also about awareness – because if more people knew about families like Kieron's and all the other children in Manchester suffering then they would find no issue at all with donating.
"It's not just about the money, although obviously every penny really does go a long way in benefitting the lives of children and their families, but it's also about raising awareness of the work that Blessings In Disguise do," she said.
"Katie and her volunteers spend a lot of time on the phone asking for donations and I just think if more people and more companies were more aware of what they do the funding would perhaps come a little easier for them."
After all, a few pounds here and there is nothing compared to what Charlie and Matt are doing.
And it turns out the couple aren't content with just jumping out of a plane for the charity but they are also donating from their businesses too.
Matt will be giving 5% of what is made from every bed sold next month to the cause and Charlie will be donating 5% of all artwork costs to the pot too.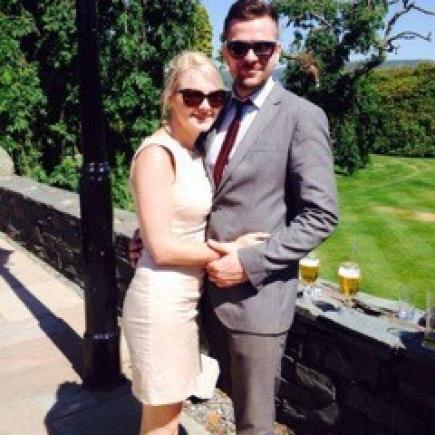 DONATING DAREDEVILS: Charlie and Matt aren't just skydiving to raise money for Blessing in Disguise but giving donations too
They are urging anyone who can donate, whether it is a little or a lot, to get involved and make sure Blessing in Disguise gets all the support it needs.
Charlie said: "This is something that is happening locally and there are so many children going without things they need due to them not being available on the NHS.
"The smallest donation could go towards something life changing to a family, a specialist car seat, sensory equipment, specialist beds, safety aids and monitoring equipment….the list is endless!
"Even if you cannot donate financially if your business can offer a meal voucher which could be auctioned in a raffle, for example, every little helps!"
To give what you can to sponsor Charlie and Matt's skydive for Blessing in Disguise visit their gofundme page. You can also find out more about the charity here.
Main image courtesy of Laura Hadden, with thanks.