Manchester blogger and Lord of the Rings fan, Will O'Hara, has spotted links between Metrolink and Middle-earth during his morning commute across Manchester.
Mr O'Hara, who uses the Altrincham – Bury line, gazed up at the map during his journey and realised that a number of tram stops sound very similar to locations in Lord of the Rings and Game of Thrones.
The connections between Manchester and Middle-earth don't stop there as Mr O'Hara compared Manchester to Helm's Deep in Lord of the Rings.
"Both [are] large cities with strong willed citizens, and what is more they both have large towers which make loud noises.
"Helm's Deep has the a tower with the Great Horn atop it – and Manchester has Beetham Tower (The Hilton) which makes a very low hum when the wind catches it at just the wrong angle!"
In this parallel world, Mancunians would be Rohanians, whilst he believes that it would be better to live in the world of Lord of the Rings than in Westeros in Game of Thrones.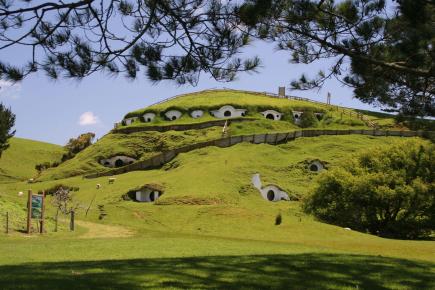 HOBBITON: Middle-Earth would be better to live in than Westeros
"Rohan was based between the Misty Mountains (the Pennines!) and the White Mountains (the fields covered in cotton in North Manchester, Whitefield).
"Middle-Earth would be better, assuming you have not got a special ring and a horde of crazed orcs after you."
Here is Will's choice of Metrolink stations where you could step out of Manchester and into Middle-earth:
Shadowmoss
 
Crossacres
 
Roundthorn
 
Northern Moor
 
Firswood
 
Harbour City
 
Milnrow
 
Westwood
 
Freehold
 
Hollinwood
 
Whitefield
 
Brooklands
 
Bowker Vale
 
Withington
 
Cornbrook
 
Castlefield
It is often said that J. R. R. Tolkien's place names are inspired by Old English because he was a professor of Anglo-Saxon, but perhaps he could have taken a trip around Greater Manchester instead.
But as Mr O'Hara pointed out, Mr Tolkien may not have liked modern-day Manchester.
"He was from Birmingham which probably puts us on dodgy ground straight away," he said.
"Also he was not a fan of industrialisation and its effects, so Manchester being the centre of some great industrialist movements – it probably would not have been his favourite spot!"
Mr O'Hara, who works in digital marketing, admitted that he has a very active imagination – but that doesn't always stop him from avoiding a pre-work doze.
He said: "Part of my job involves thinking up new ideas and that is something I have always enjoyed.
"The good thing about the Metrolink is that the announcements at each station are loud enough to wake you up."
However, Mr O'Hara believes that there are big differences between Manchester's public transport and the London Underground.
"People are generally more likely to interact and help in Manchester.
"I have seen that countless times – someone needed help and other passengers have stepped up.
"The atmosphere is usually pretty good, probably better in the evenings when work is over! I think that's a fairly Mancunian thing to be honest."
We asked Transport for Greater Manchester if they were planning to name any of the stations on the new Second City Crossing line after locations in Lord of the Rings, but unfortunately they were unable to comment.
We would love to hear your suggestions for other places in Manchester that could be in Lord of the Rings or Game of Thrones. Bilbo Baggins of Baguley? Or the Towers of Besses o' th' Barn?
Get in touch with Mancunian Matters on Twitter or Facebook. 
Visit Will's blog here.
Images courtesy of Rob & Jules, via Flickr, and AdeKaka, via Wikimedia, with thanks.