Normally seen in front of the camera, Anna Wilson-Jones has swapped roles for short film The Visitor taking on the role of writer and producer.
Anna has been acting for over 20 years, with a resumé boasting credits in cult shows Black Mirror, Spaced and Waterloo Road.
Now she presents The Visitor, a short film adapted for the screen by and starring her husband Steve John Shepherd which made its premiere at Manchester Film Festival earlier this month.
MM caught up with Anna after the screening.
For those who haven't seen it, can we get a short synopsis of the film.
It's the chance encounter of a homeless man who breaks into a woman's house and they strike up an unusual bond and some past memories resurface during the course of the film.
It's adapted from your short story of the same name, where did the idea originally come from?
My younger brother and I have always through the years told each other stories or thought: 'What if this happened, what if this guy did this?'
We were talking one day, and said: 'What if a burglar came into your house but then for some reason you befriended him and he became a friend and lived with you.'
I wrote that story down, but then as I was writing it I felt like what if actually that burglar, for some reason there was something at the back of his subconscious that made him go to that house.
And there was actually a link with the person and that's why they struck up this relationship. That's then how the film came about, so my husband adapted it into a short film.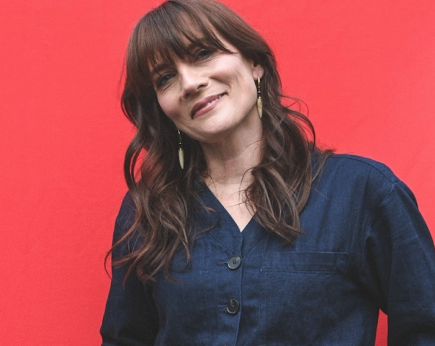 Was it always the intention to make it a film?
Yeah I guess that was always the intention. My husband is working on a feature length version, which obviously figures in loads of other components. It was our first venture into doing something by ourselves, which was nice.
How did you get into acting?
Well, I actually started out doing medicine, I was studying medicine at Cardiff University. In fact I had a place in Manchester but I decided to go to Cardiff because my brother and sister also went there.
However during the summer holidays at university I was doing National Youth Theatre, and that's where my love of theatre started. I thought of it as a hobby and then one day I went into my medical school and had to do dissection and I realised I was completely squeamish and couldn't do it.
So I left medical school, changed to law, did a law degree and then became an actor. Not sure my parents were that happy about that, hopefully they are now.
You've worked with lots of directors, you've been acting for over 20 years, did any of them have any influence on this, or how you worked on this?
Oh gosh, I don't know, they probably all had in their own way. You pick up things all the time as you're going along and you certainly know the styles that you like and don't like. The most important thing for any job is to have a happy set where actors feel they can be themselves.
You hear those awful horror stories of Hitchcock type directors, I mean he does get results to be fair, you can't fault him. We just tried to create a nice happy environment so everyone can feel creative and be able to input.
Were there any specific influences for The Visitor, were there any films or TV shows you had in mind?
You know, not really. We discussed the lighting a lot. I've learnt so much with this because it's the first time I've been this side of the camera.
Certainly I kept saying I wanted the grade to look kind of like a French movie. I can't describe what I mean but you know those French films where they look rather beautiful but I didn't want it to be to forensic, so much is in HD and so much is so close. I loved the lighting that made it all look rather other worldly, that's what I wanted it to look like.
It was a long time ago, but what was it like working with Edgar Wright on Spaced?
It was absolutely brilliant, I mean, they are the funniest people on earth – Edgar Wright, Simon Pegg and Jessica Hynes, who's a great friend. It was wonderful. Every time you do a job you've no idea what's gonna come of it. Because you do some jobs and you think this is gonna be amazing and this is gonna be this incredible film or incredible series and then it kind of just doesn't work.
Simon and Jessica asked all their friends to come and do a comedy with them and that's what we did. Nick Frost was Simon's friend and Katy Carmichael was in it as well, we were all great friends. He's an incredible mind.
Anna Wilson-Jones reading @ITVVictoria script @W4BookFest. Who said Queen Victoria wasn't fun?#Chiswick #books pic.twitter.com/Ww6r6riaKt

— Alastair Hilton (@London_W4) September 17, 2016
There's the old theory that all actors want to be behind the camera, was that the case with this?
No, not hugely. I have to say. I actually absolutely love acting but recently I get this urge to tell stories from the other side. But I still would say acting is my first love.
With it being your short story, were you protective of it in the edit?
Yeah, Steve had written the film and then Duncan Roe had directed it, and we luckily agreed on most of the things. The thing that kept on having to be picked up was getting the story to be clear, it's the most important thing. 
To have that strong narrative, which I think we just about got in the end. I mean there were little things I get funny about, that's something I've really learnt from being this side of the camera.
Will your experience as a producer change you as an actress?
Definitely, being a producer, the work that you do have to put in is quite extraordinary and it becomes all encompassing, even on a short film, I mean it's only 15 minutes. You can't stop thinking about it.
To a certain extent with actors, you go in and you do a job and then sort of leave it behind. You might regret some things you've done but there's nothing you can do because once it's on camera, that's it, it's done.
So there's that sort of freedom you get with that in a way, which you don't get being producer because you're continually working. Then even after you've finished filming you're trying to get into festivals.
Were there any problems you came across that you didn't expect?
Yeah, loads. We lost Steve's toy rabbit, and lost his costume so we had to remake it, I don't know how we managed to do that. It was quite difficult sometimes, my son, who played the little boy in it. He was only 3-and-a-half or 4. We obviously tried to make it as enjoyable as possible but children don't always do what you want them to do.
What's it like working with your husband?
We met doing a play together in Leeds, at the West Yorkshire Playhouse and then that transferred to the West End in 2001. We played brother and sister in that and then bizarrely we played brother and sister again in Silent Witness. But that's the only times we've worked together.
It's great, luckily we get on pretty well!
What's your favourite thing you've worked on?
Victoria is a wonderful job. It's an absolute blast and we have so much fun and it's lovely doing it. We've just finished the third series and it's a lovely group of people.
I loved Black Mirror, that's probably one of my favourite jobs because I loved Screen Burn before. It was the first episode and I remember the director Otto just told me to do the scene but he didn't tell me what the thing was the the Prime Minister had to do. Then he told me at the end and I thought it was a joke.
I loved The Night Watch because I'm a huge Sarah Waters fan so I was starstruck that I was doing an adaption of one of her novels.
What's next?
I've just finished doing A Confession which is an ITV drama about the murderer Christopher Halliwell, it's quite a hard hitting drama. Then I'm in the middle of doing Harlots, which is great fun, all Georgian big wigs and costumes, so two very contrasting jobs.
Do you worry when you do period dramas that you might be typecast?
No, I don't really worry about being typecast, I'm just really glad to be working!
To be fair I haven't done that much period drama before Victoria. I did a film called Gladiatress set in the Roman times but apart from that I hadn't really done very much so I was absolutely thrilled to be doing a period drama.
It's amazing being able to inhabit those costumes and that way of life. I have no worries at all about being typecast, it's absolutely fine.
Tell me something you've never told anyone else before.
I used to have a pet squirrel called Squigs that lived in my living room curtain.
Images courtesy of Kirk Newmann via Instagram, with thanks.