Some say you can't teach an old dog new tricks, but Russell the Retriever is embracing 21st century technology by providing a pooch's perspective on regional politics using a mounted GoPro camera.
The four-year-old black Labrador/Retriever cross is shooting footage from a camera attached to his harness as he accompanies Wigan Deputy Mayor Susan Loudon around the Borough.
Russell is aiming to raise awareness of Guide Dogs for the Blind, and already has his own Twitter page updating followers of his movements, while a proposed 'dog-blog' is also forthcoming.
"This is a great way to get information out, and raise the profile of the charity," Councillor Loudon told MM.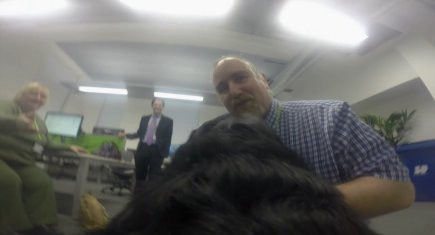 RUSSELL-ING UP SOME FOOTAGE: Russell tries out the new equipment
"We have been trying to increase participation and show people the work that the council has been doing, and we thought 'why don't we put a camera on Russell to get a different perspective on things?'
"We can fit the camera on two different places on his harness, so that he can film without interfering in his movement hopefully get some really fun shots."
Had my 1st @GoPro fitting today! Heres some of the first shots. I think the lights were a bit bright #glare #gopro pic.twitter.com/YSFZeEkvu0

— Russell Deputy Dog (@Russ_DeputyDog) January 19, 2015
The camera can either be fitted to Russell's collar or onto the back of his harness, providing a dog's-eye-view of council affairs.
The videos will be uploaded onto Twitter and YouTube, while Guide Dogs for the Blind will be keeping track of Russell's progress with a 'dog-blog on their website.
The budding camera-dog belongs to Councillor Loudon's sister, Joan Mee (who is partially sighted), but is currently accompanying the Labour politician on selected day-trips out to schools and public events.
@Mister_Oy as you were taking pics of me I was returning the favour! @CllrSusanLoudon & @KeirStitt in the background pic.twitter.com/ptT2As0mRh

— Russell Deputy Dog (@Russ_DeputyDog) January 19, 2015
Councillor Loudon is set to become Wigan's Mayor next year, and has pledged to continue supporting Guide Dogs for the Blind and their training centre at Atherton.
As well as explaining the desire to raise the charity's profile through Russell's videos, the Councillor highlighted the contribution to the cause by the Wigan and Leigh Fundraising Group.
The group carries out numerous fund-raising activities and events, while also organising guide dog visits to schools in order to encourage learning.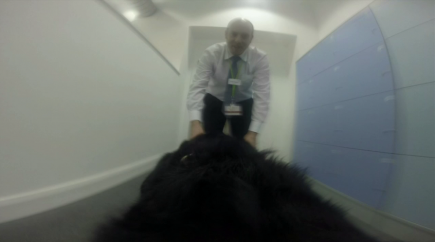 WUFF RIDE: The footage isn't always the most steady
Councillor Loudon also had some more good news to share. "We have adopted two guide dog puppies, who have been named Warrior and Leigh [after Wigan Warriors and Leigh Centurions rugby teams[," she said.
"Once they are old enough they will hopefully be able to attend matches and events held by the clubs in order to further raise the profile of the charity.
"Both teams have provisionally agreed to put messages in their programmes about the charity on match days, and there are plans for the dogs to make appearances on the pitch to further raise awareness."
To keep up to date with Russell's adventures, follow him on Twitter @Russ_DeputyDog
For more information about Guide Dogs for the Blind, visit: www.guidedogs.org.uk/