MM chatted to a Manchester Metropolitan University fashion graduate about the narrative, characters and Japanese influence behind her designs after she was named Young Designer of the Year 2015.
Rebecca Carrington, from Moston, received the prestigious and internationally-recognised award at the Clothes Show Live last month.
She secured her win by impressing judges with a ready to wear garment inspired by the Tokyo fashion scene.
The competition was open to entrants aged 17-25, who were set the task of designing and creating a garment suitable for a top fashion blogger.
Rebecca, 22, said: "I am grateful that my design was recognised and supported by people in the fashion industry.
"It was really exciting for me to see my work on the catwalk again."
All candidates were advised that judges would be looking for bold and confident pieces which stood out for 'all the right reasons'.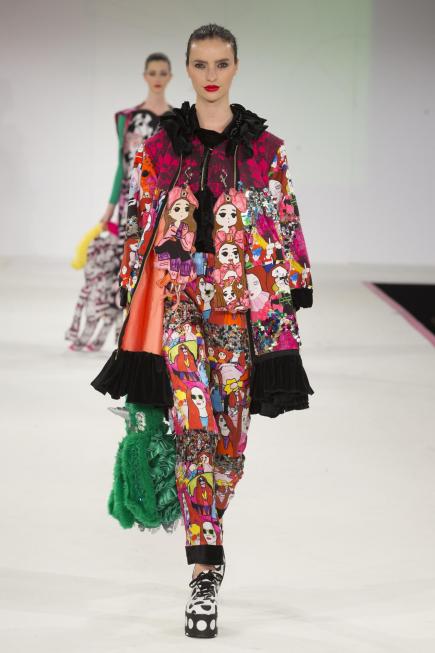 INSPIRED: On her trip with Man Met Rebecca loved how 'cute' the fashion is in Tokyo
After judges managed to whittle the competition down to the top ten entrants, each finalist got the chance to see their final pieces modelled on the show's Image Catwalk.
Talking about how she prepared for this occasion, Rebecca explained how it took about a month to finalise her designs.
Rebecca said: "The preparation is in the clothing, and the way it falls. Out on the catwalk it is all down to the quality of the clothing itself.
"I just made sure that my outfit was made well, and really spent time in making it the best I could."
The fashion graduate got her inspiration for her winning designs on a university trip to Tokyo – and experience she had 'always dreamed of'.
She said: "I was in awe of the way Japanese girls and women dressed to be 'cute'. In Britain, we often opt for clothes that are more sophisticated as we grow up.
"That wasn't the case in Japan so I felt inspired. I love finding inspiration in unexpected places."
Earlier on last year, Rebecca's collection also helped her to win the £5,000 gold prize at the Phoenix Cup fashion competition in China.
Rebecca was also encouraged to enter China's Phoenix Cup fashion competition which saw triumph over entrants, including two classmates, to a £5,000 and the opportunity to travel to Ningbo.
She remains modest about her two award wins, and thinks that winning the Phoenix Cup was a great honour.
She said: "I was shocked to win, but most of all I felt really honoured that my collection was appreciated internationally.
"It was an amazing opportunity winning an international competition. I got to go to the city of Ningbo with two of my classmates, share my work and meet other designers."
Although, the success of her collections is something the designer should be proud of, she added how there is still a stigma attached to pursuing a career in fashion.
She said: "I feel it's more acceptable to get a job and work for money and find a sense of security.
"Whereas I'm sticking to my guns, following my heart abd doing what I enjoy doing in my life and that's being creative."
Choosing to stay in Manchester while she studied for her degree, means that the designer was able to see the comparison between the northern city's style and that of Japan.
Explaining the differences she has noticed, she added: "I like how people dress laid back in Manchester.
"It's quite interesting how in Manchester we dress for comfort and the weather, and in Japan they dress more traditional."
Rebecca was also keen to state that unlike many designers, she doesn't see her collection as a reflection of her style.
In fact, instead of thinking about the look of her design, Rebecca focuses on creating characters and telling a story with her work.
She said: "It's always about the narrative for me. I get completely absorbed into creating characters.
"I then imagine what they would wear, and how they would behave in the world. It's about the characters life and style for me."
Looking ahead to the future, Rebecca told us us about what she is aiming to achieve in 2016.
She said: "I've taken a step back, and took some time for myself. I am focusing on developing my design skills also by applying for paid internship."
Joe McCullagh, Head of Design and Associate Dean for learning and Teaching at the Manchester School of Art, is certain Rebecca is headed for greatness.
He said: "We are all absolutely delighted for Rebecca on her awards last year
"Rebecca's work typifies the individuality and creativity from our fashion students."
"We congratulate Rebecca and we know that she will go on to further great things in the futures."