One man and his hearing dog are on a mission to fetch support and money for life-changing disability dog training charity, Hearing Dogs for Deaf People.
Dogs have long been considered man's best friend, but for some people living with hearing loss, a canine companion can be a lifeline from the loneliness, isolation and anxiety that deafness can bring.
National charity, Hearing Dogs for Deaf People, kick off the first ever Great British Dog Walk on Formby Beach on April 11.
The walk raises awareness and funds for Hearing Dogs, a national charity that gives deaf people independence and confidence by providing dogs trained to alert them to everyday and emergency sounds.
Taking the lead in the Liverpool leg of the dog walk is one man whose life has been dramatically improved by his clever canine companion.
Richard Carr, 49, from Cheadle, is one of half a million profoundly deaf people in the UK and has struggled terribly since his school days with conversations and friendship groups due to his disability.
He said: "Being deaf always makes people less confident in life as there are so many pitfalls and challenges in your path and this can lead to feelings of isolation.
"I have always made the best out of situations regardless if at work or home, but it is extremely tiring and trying being deaf."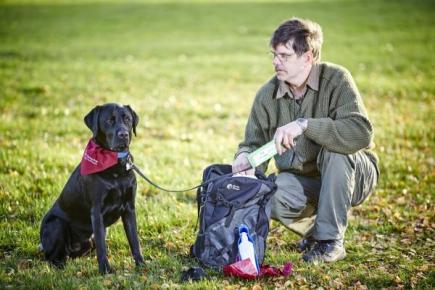 A MAN'S BEST FRIEND: Cameron the Labrador is at Richard's aid night and day
Since being paired with his hearing dog, a black Labrador named Cameron, two years ago, Richard's confidence has grown immeasurably.
Safe in the knowledge that Cameron will alert him to important sounds such as the alarm clock, doorbell, and fire and smoke alarm, Richard is able to live his own life independent of constant care.
With his distinctive burgundy jacket, Cameron's job as a hearing dog is easily recognisable – helping to identify Richard's otherwise 'invisible' disability to others.
Speaking of Cameron, Richard said: "His energy and loyalty rubs off on me too.
"I never used to take my hearing aid off before Cameron came along, but I can now do this quite often as Cameron gives me the confidence that he will do his work as I need."
He is also a great conversation starter – not least for Richard to explain to people Cameron's namesake – the Prime Minister David Cameron!
"Before I had a hearing dog, I was shy when it came to speaking but now everyone wants to know about Cameron," he said.
"Having a hearing dog is a great way to start conversations and I feel much more confident now.
"I am lucky to have such a wonderful companion by my side."
With each dog, like Cameron, specifically trained over around 18 months to match their deaf individual's needs, hearing dogs offer a life-transforming, practical and compassionate alternative to technical equipment.
Richard now wants to help other severely and profoundly deaf people by embarking, with Cameron, on the Great British Dog Walk to raise money for the charity that he says changed his life.
He said: "Having Cameron by my side brings fulfilment and contentment to my life and taking on new challenges like the Great British Dog Walk will most certainly do so too.
"We are really looking forward to getting started and we hope to see you at one soon."
The inspirational pair will be walking 80 kilometres from Scotland to Devon across 10 National Trust sites, not to mention travelling long distances in between.
They hope to raise more than £2,000 for Hearing Dogs and are asking friends, family and members of the public to sponsor and support their journey.
Rachel Hassey, Community Fundraising Manager for Hearing Dogs for the North West, said: "It is an incredible challenge that Richard and his hearing dog Cameron are embracing, and we are so grateful that they have chosen to raise funds for Hearing Dogs together.
"The bond between Richard and Cameron is incredible, and they have put so much hard work into preparing for the walks.
"We would like to encourage members of the public to join them on the Liverpool leg of the walk at National Trust's Formby Beach, and help raise funds to create more hearing dog partnerships like Richard and Cameron."
The breeding, training, placement and life-long care of each hearing dog costs around £45,000.
Providing hearing dogs to deaf people at no cost, the charity relies on the generosity of individuals, to ensure they can continue to create life-changing partnerships.
The Great British Dog Walk takes place at National Trust's Formby Beach on Saturday April 11 from 11am and will include demonstrations from the Hearing Dogs display team.
A variety of stalls of gifts, crafts and children's games will also be present at the event.
All walkers will be able to get their paws on a doggy bag including a pair of doggy ears to wear for the walk.
Sign up for the dog walk here.