A single dad from Oldham, whose cancer scare while mourning the loss of his own father compelled him to put pet to paper, is releasing his first sc-fi kids' book this summer.  
Ian Hughes, 34, began writing the adventure novel Zeki & The Space Cadets back in July 2012, but several personal problems forced him to put his writing on hold.
Later that year his father tragically passed away, and then just two years later, Ian suffered a cancer scare which 'compelled' him to finally finish the book. 
"In the new year, I decided that if something was to happen to me, I wanted there to be something of mine my son could be proud of," Ian told MM.
"I felt Mason could look at the book and be like, 'my dad wrote that', and hopefully inspire him to greatness. That compelled me to finish it."
Zeki & The Space Cadets is a quirky tale set in the year 2150, featuring talking cats and evil ninja squirrels.
The story unfolds after the galaxy has been overthrown by alien ninja squirrels and Earth is the only planet that hasn't fallen to their rule.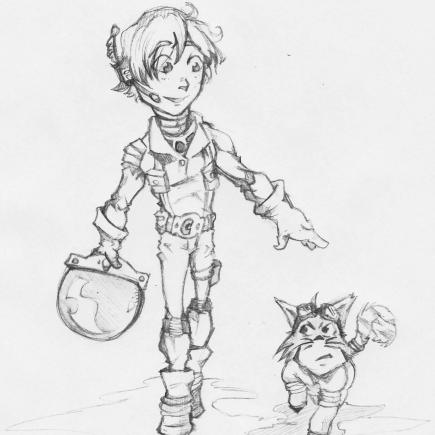 QUIRKY STYLE: Ian did not just write Zeki & The Space Cadets but illustrated it too
Zeki is an eight-year-old boy who dreams of becoming a space cadet and saving the galaxy with the help of his talking cat, Muffin. 
Ian admitted his son, Mason, is a muse for the main character Zeki – a shy boy, who has the potential to do anything.
"I've been writing silly stories since I was a teenager and my teachers told me off for my quirky style. I once got detention for writing the word 'urinal'," he added.
"But I've always believed I should write my own way, I know my style is a bit different and that isn't a bad thing."
Should the first book prove to be a success, Ian has plans for a three-part series but admitted it could possibly be extended beyond that.
"While the story I currently have planned is only in three parts, it has the potential to go on and on, I have many ideas and it is a series that could conceivably never end," he said.
"In this first book, they don't go further than the moon so there is a whole universe out there to explore and expand upon in later stories."
Ian's keen love of astronomy inspired Zeki's adventures, giving a sense of reality that is often lacking from science fiction.
He also investigates the paranormal in his spare time and is working on a book covering spooky activity in the North West.
The first-time author, who is also illustrating the novel, believes that his unusual style sets him apart from the current crop of books for children and young adults.
He said: "My writing style is a bit different, it's quite easy to read and they leave things to the imagination a bit more as opposed to being overly descriptive.
"I feel the story is different to what many young people are used to.
"The book shelves are occupied by vampires books at the moment, which are all incredibly similar and a bit dull, offering no variety for readers."
He also believes that his book is proof that anybody can write a story if they put their mind to it and show enough passion to stick at it.
He added: "Just basically write from the heart and also write from the mind and you'll end up with a good book."
Zeki & The Space Cadets is expected to be released this August.