Pumpcage skatepark under the Mancunian Way will be launching its first ever adults skateboarding lessons next month.
MM dropped in to get a taste of what it's all about.
Hot on the heels of last year's successful girls-only night and a whopping £100,000 grant from Sport England in September, the ambitious team have set out to ramp up their appeal to an older demographic.
Pumpcage coaching and development worker Jonny Rose showed MM's Dan Hall the basics in a whirlwind session that will form the basis of the new sessions.
From having never stepped on a board before, I was extremely impressed to be able to get get on and off without losing balance, skate around, and even go down ramps convincingly in just a single lesson.
Thanks for the awesome lesson @projektsmcr! I'm a goddamn natural and will be back! pic.twitter.com/2LTgt8hitv

— Dan Ladden-Hall (@DanLaddenHall) April 12, 2018
Nevertheless, being initially inept in front of a couple of 11-year-olds, who seemed to be able to do complicated tricks with such humiliating ease, made the appeal of being taught in lessons exclusively designed for adults immediately obvious.
"We try very hard to make sure this place isn't an intimidating place to come to," said Jonny.
"I think people just want to learn new things and they want to do exciting things and skating is both of those for a lot of people. We're giving people an easy way to get into it."
Under the guidance of Jonny's tutorage I felt completely comfortable and made an unbelievable amount of progress in the short time I was taught.
After the session I asked him why the park had decided to launch adults-only lessons.
"We get a lot of adults doing private lessons," came his reply.
"A lot of adults say to us, 'I used to skateboard a few years ago and now I'm sort of getting back into it,' or 'I'm trying to encourage my kids to be a little bit healthier'."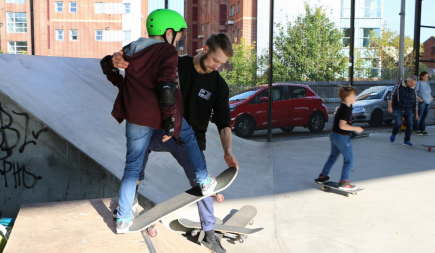 'BEST DAY OF MY LIFE': Pumpcage's Jonny Rose says when he works with schoolkids one of them will always claim it has changed them for the better
He added that a lot of adults tell him they're having a "quarter-life crisis", but that while most of the adults he's taught are between 25-45, the oldest person he's taught in a private lesson was in their 60s.
Jonny puts the wide interest in Pumpcage down to the unique atmosphere that the park is renowned for.
"Certainly in the North of England there just isn't a place like this that people can come and feel welcome, try new things, build friendships, build relationships and improve themselves. And all of that happens from a sport that's entirely about you and a skateboard."
The beauty of learning in adult-specific sessions is that if you want to try skating, but don't want to take the plunge and buy a board and the rest of the gear, Pumpcage will provide it all for you.
And of course, you're inevitably going to make more progress with a new skill when you've got an expert showing you how to improve.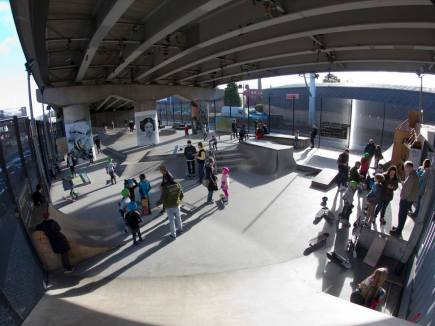 £100,000 GRANT: Sport England funded skateboarding in 2017 with the sport one of five new disciplines set to debut at the Tokyo 2020 Olympics
With their team of in-house coaching staff, Pumpcage's team will be drawing on a wealth of experience amassed through teaching private lessons and after-school sessions all over Greater Manchester.
For the kids at schools running clubs taught by Pumpcage, the benefits of learning to skate aren't just about exercise.
"Every time I go and work in a school and teach a group of kids how to skate, one of them always tells me 'This is the best day of my life'," said Jonny.
"I think adults, like kids, just want to experience new and exciting things and skating is both of those for a lot of people and we're giving them an easy way to get into it."
Adult lessons will be launching at Pumpcage on May 2 – weekly sessions will run every Wednesday thereafter. The sessions cost £8 for two hours. No booking is required.