A job advert for a health and safety position is never an exciting prospect – but one firm's search for a noise technician has taken an unorthodox twist.
In a bid to secure a new employee in Manchester, Tewksbury-based audio health and safety firm HSMC have unleashed a job description with a difference.
Among other details, the ad contains threats to kill the previous employee who 'turned traitor' and bury them under the patio, warnings for Yorkshiremen about having to work under the 'superior specimen' Lancastrian boss and that the hours are 'long and frankly rubbish'.
They even warn that applying for the job would be a 'grave mistake'.
Wiganer and Director of the quirky firm – or chief dog's body and head honcho as he puts it – Adam Jackson told MM: "We work in a dull sector. We do a good job and we might as well do it while enjoying it."
The advert goes on to claim that one employee called Kev lives 'so far down south it is basically France' and that another is 'so skinny we'd swear he [spends his overnight allowance] on ciggies' rather than the food it was intended for.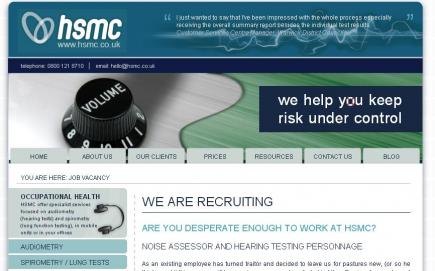 Adam, the brains behind the business' 'jovial' style, admits this isn't the first time he has taken a unorthodox approach to previous job applications when he's been 'left to his own devices'.
The Southern firm try to make things easier for someone 'oop North to apply – by translating their application. 
The ad reads: "As we like to be as inclusive as possible, we can also translate this into Northern for you: "Reet, although th'outfit is in one of them foreign southern places, we're lookin' for a proper northern type fot come n'do some fettlin' fer a bit o'cash". We hope this helps?"
They also warn that clients are prone to 'get very angry and shout at us'.
The business provide noise assessments and train other companies on health and safety issues, such as fire risks when they are not larking about.
But far from unprofessional – the firm work with Formula One teams like championship leaders Mercedes as well as Lotus, Force India and Marussia – the firm's jokes and banter helps them get the perfect candidates, more often than not.
"Every now and then you get the odd person who turns us down for being too flippant, but it's a very rare occasion," said the 42-year old 'regal viceroy'.
"But it works very well. We've already had quite a lot of applications. People have really taken to it and it has struck a nerve."
And the firm, who also have offices in Cardiff and High Wycombe, conducted more than 21,000 workplace audiometry tests last year for clients including: shipyards, distribution depots and food producers as well as private estates, joiners, welding fabrication shops, hotels.
They even lend an ear to RAF bases and airports.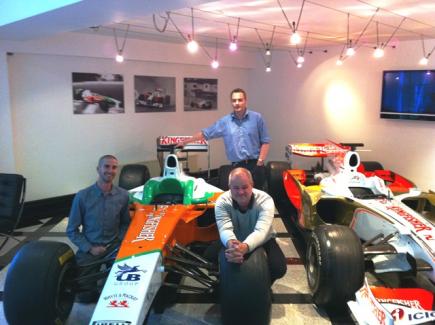 WHEELY GOOD JOB: HSMC work with Formula One teams like Force India (©HSMC with thanks)
The unique style also extends to the HSMC website, which is even used by a school of management in Cardiff to highlight how to bring such a 'boring' subject to life.
And with former Senior Vice President – Postie Guarding Operations Maia, aka the office dog – also getting a mention on the site, this is a firm with a difference
"It's about being human," said Adam, who insisted that 'we can train you to do hearing tests but can't train you not to have the Magical One-Day Flu which always seems to strike on a Monday morning' in the advert.
"The hardest thing with recruiting is not getting people with technical qualifications, it's getting people you can work with and that have a good application," he said.
The closing date for applications is August 17. https://jobsearch.direct.gov.uk/GetJob.aspx?JobID=8912617
Image courtesy of BBC via YouTube, with thanks.