One Direction fans were left devastated when Zayn Malik announced yesterday afternoon he is to leave the world-famous boyband .
Last week the 22-year-old singer returned home from the Asian leg of the group's 'On The Road Again' tour citing stress, and it has now been confirmed that he is no longer part of the multi-award-winning ensemble.
A statement from the band reassured fans that they will continue to perform as a four-piece, with Harry Styles, Louis Tomlinson, Liam Payne and Niall Horan planning to complete their global tour before recording a new album.
However, many believe that Zayn's departure presents an opportunity for one lucky individual to move into the limelight and occupy his place in what is officially the richest boyband in music history.
MM took to the streets of Manchester to find out who the public thought should step up to the role, with some surprising results.
We offered four viable replacements to choose from in the shape of former Top Gear presenter Jeremy Clarkson, Manchester-born rock idol Liam Gallagher, Happy Mondays dancer Bez and irritating pop sensation Justin Bieber.
Additionally, participants were encouraged to put forward their own suggestions if they believed someone else would be more suitable.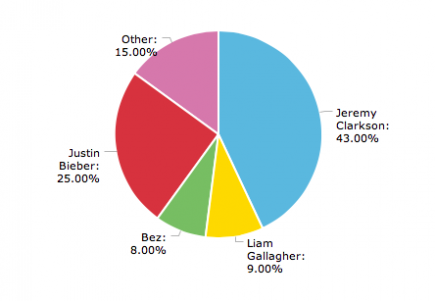 The over-riding response was that recently-unemployed motormouth Jeremy Clarkson should be the man to fill the void, with 17-year-old student Jack Peters from the Northern Quarter enthusiastically recommending him for the job.
He said: "Jeremy Clarkson definitely. He would be fantastic. He's got a great personality, he's clearly got a great voice and he's out of a job."
Salford resident physics student Ben Twigg, 21, also agreed but for slightly less charitable reasons.
"I think it's got to be Jeremy Clarkson," he said.
"It would be hilarious to make anyone who hates either Clarkson or One Direction start liking them because it would be the most surreal thing to ever happen to the entertainment industry."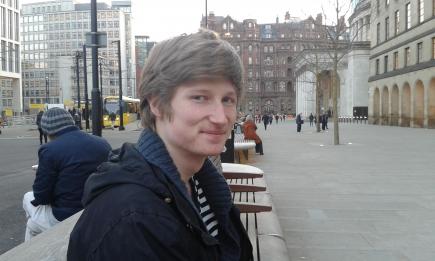 'MOST SURREAL THING': Bring in Clarkson, says Salford physicist Ben Twigg, who said it would be the most surreal thing to happen to the entertainment industry
Primary school teaching assistant Josie Hepplewhite thinks the 54-year-old joining the band would be slightly problematic, but conceded that he would bring an added dimension to the group's live performances.
The 22-year-old, currently living in Moss Side, said: "I would say Jeremy Clarkson, but I'm worried about the height. How tall is he?
"I reckon he is a big man. They could get some pretty good human pyramids going with him in the band though."
But it wasn't just Clarkson who received support from Mancunians, with 21-year-old Canadian popstar Justin Bieber touted as having the credentials to seamlessly merge with the English-Irish chart toppers.
Student Elliot Littlefield, 17, from the Northern Quarter said: "I think Justin Bieber would fit quite well, because no-one likes the rest of One Direction, and they don't like Bieber either.
"Add them all in, and the job's a good'un. It will make an even more controlled circle of hatred!"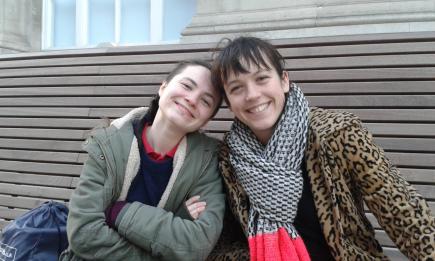 'I'M WORRIED ABOUT CLARKSON'S HEIGHT': Josie Hepplewhite (right) thinks that the ex-Top Gear presenter is a bit tall for the band
Aqeel Akhtar, manager of an independent electronics store, expressed his surprise at the band's disintegration, and vehemently disagreed that Clarkson should be given the opportunity to demonstrate his vocal prowess.
The Fallowfield resident, 23, said: "It would be funny if Justin Bieber was asked to fill the space, only because his reputation might improve with regards to how bad he has been in the past."
HR advisor Nicola Gleave was one of the few who showed support for former Oasis and Beady Eye frontman Liam Gallagher, although her choice was influenced by her distaste for the two most-popular picks.
The 37-year-old commuter from Wigan said: "I don't really care, and probably no-one should replace him, and definitely not Jeremy Clarkson.
"You can't go around smacking people and expect to jump straight back into another job. And definitely not Justin Bieber, because nobody needs to see more of him.
"I would say probably for a laugh, Liam Gallagher."
Amjad Gaffs, manager of Frurt Frozen Yoghurt Shop, disagreed and thought that Gallagher's reputation would be tarnished by any association with the group.
The 37-year-old from Rusholme said: "It can't be Liam Gallagher – I love him, and that would bring him down.
"I think Jeremy Clarkson would be a good one for the role, although I don't think it'll be too long before he gets a job.
"If anybody I thought it would be Harry Styles who would leave. But it was inevitable that one of them would go, as after that amount of time they all get under each other's skin."
Fine Art student Sophie Chen admitted that who filled the final spot in One Direction wasn't top of her interests list, but was excited about the thought of former Happy Mondays member Bez getting involved.
The 23-year-old from the Northern Quarter said: "I am very indifferent to Zane leaving, although I definitely want Bez to replace him.
"I can't really see it happening though. He's gone a bit political with that fracking thing."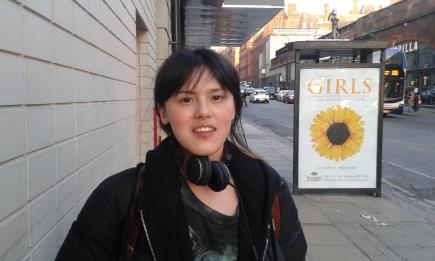 'I WANT BEZ', says art student Sophie Chen, but admits that 'he's gone a bit political'
Café worker Amy Nash, 21, also lent her voice in support of the eccentric 50-year-old despite recognising that Bieber would be the more obvious choice.
The Withington resident said: "I would like to say Bez from the Happy Mondays to join them. He would bring a bit of sassiness and a bit of jazz.
"However, I also reckon Piers Morgan could replace Zane. He's sexy, and I reckon he's got the voice. Why not!?"
Jason Beresford, 16, also offered a left-field suggestion when he championed the chances of the Mayor of London.
The 16-year-old Games Development student from Blacon said: "I'm going to have to go for Boris Johnson.
"He's got style and charisma, and he would fit in that group pretty well. That's his type of crowd, I reckon."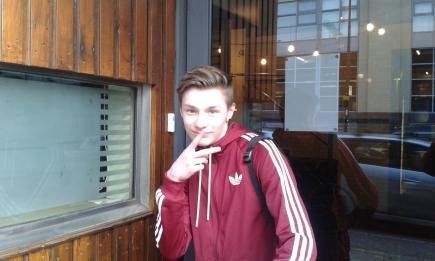 'BORIS FOR 1D': Student Jason Beresford is championing the Mayor of London for the new opening
First year medical student Lizzie Rawlins made assurances that she was handling the news of Zane's exit well, and thought that another young British pop act would be well-suited to carry on in his stead.
The 22-year-old from Fallowfield said:  "I'm coping okay with Zane's departure, although I think there will be girls across the country who will be heartbroken.
"My immediate thought as a replacement was Justin Bieber, as he's already been in the limelight a lot so he is used to the celebrity and the fame.
"But Conor Maynard would probably be better than Bieber because he would have less ridiculous demands, and I haven't heard anything from him in a while so he might as well jump on the bandwagon."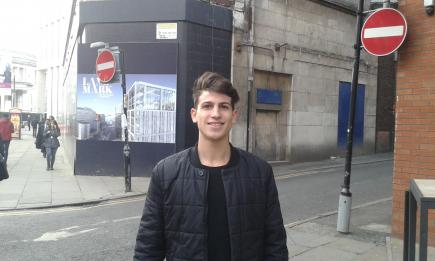 'WHY NOT ME?': French intern Jean thinks he should get an audition for the role
French Language intern Jean Trinquier even went so far as to throw his hat in the ring for the job, demonstrating his vocal talents in a 10-second burst of song.
When finished, the 20-year-old from Salford said: "I will replace him! I have a good voice. Tell me why it cannot be me?
"But seriously, they need a good guy with a nice haircut, a little voice and charisma. That's all."
Top image courtesy of Javierosh, with thanks