A brave Trafford man who two years ago set himself a bucket list because a deadly brain tumour had returned is to dedicate his life to raising awareness of the disease and treatments available to fight it.
James McCarthy, 33, has set up a community company – an organisation just short of being a charity – with the aim of raising vital funds to carry out research into brain cancer and the effectiveness of proton therapy.
And his first event is the Yorkshire Three Peaks challenge with his best mate Shaun Henshaw next month – just seven years after the discovery of a first tumour left him having to teach himself to read and write again.
In 2009 doctors discovered James had been living with a brain tumour the size of a fist, possibly for several years, after he suffered a fit at the wheel causing him to lose control of his car.
James began an astounding road of recovery, learning how to read, write and walk again, before beginning six weeks of radiotherapy, all the while attending kickboxing classes once a week.
He even completed a business management degree at Salford University – despite doctors warning him against it.
That kind of mental strength will stand him in good stead for the Three Peaks challenge which is a gruelling 24-mile trek up and down peaks of Pen-y-ghent, Whernside and Ingleborough all in under 12 hours.
So how is the training coming along?
He said: "I've got some walking boots but that's about it! I've been walking about 10 miles a week to break the new boots in but I've got strong willpower.
"I've heard you can't walk for a few days after completing it so let's see how I am the day after!"
Since setting up his bucket list – which includes a number of trips, experiences and even a tattoo – two years ago, James has been lucky enough to tick off plenty.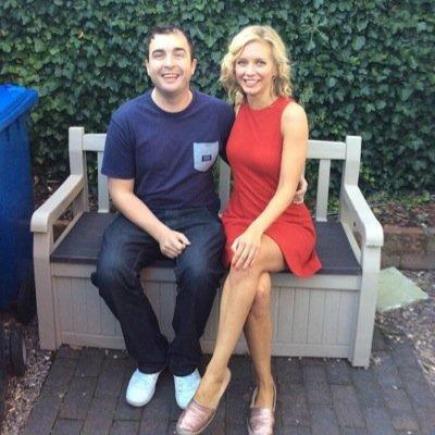 FRIENDS: James with Countdown host Rachel Riley
He's drunk red win with ex-Manchester United boss Sir Alex Ferguson, DJed in Ibiza, Thailand and Marbella, meet the Class of '92 and visit religious site Lourdes.
James said: "I really couldn't thank Mancunian Matters and its readers enough for making these happen because without that publicity I'd have never done all the things I've done.
"It's been crazy at times. When we were in Ibiza, Marbella and meeting Alex Ferguson it was just like I was in another world.
"There have been tough times and I've gone through periods of depression but setting up the community company has given me something to work on and I'm determined to raise awareness of brain cancer.
"I want to be remembered for something good."
A host of stars helped raise awareness of the list by completing the ice bucket challenge including former United stars Cristiano Ronaldo, Paul Scholes and Gary Neville and Countdown boffin Rachel Riley.
James said: "It was incredible to get those people doing the ice bucket challenge. I'm a big Manchester United fan so having Ronaldo do it was brilliant.
"When Rachel did it down at Old Trafford I couldn't believe it. She's become a good friend of mine and she's always doing stuff for charity.
"And she's a big United fan as well!"
James hopes that he'll soon be able to turn the James McCarthy Brain Cancer Foundation into a charity but in order to do so he needs to find a sponsor, or sponsors, willing to fund the charity to the tune of £5,000 per year.
And if he is able to do so then his target is to raise £1million which he hopes will fund research into treatments such as proton therapy, currently unavailable on the NHS in this country.
Proton therapy has been available in the US for more than 30 years and is available at a hospital in Prague, but with a price tag of £10,000-£20,000.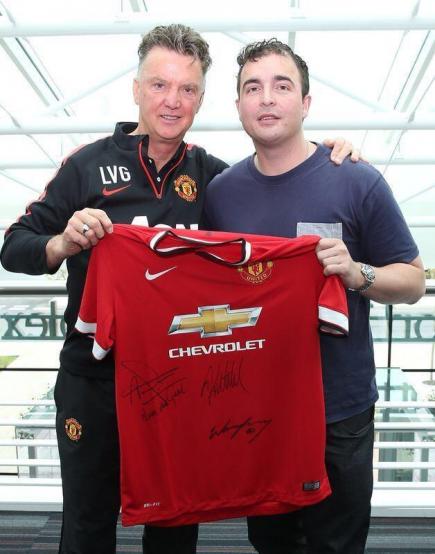 VISIT: James was able to meet ex-United boss Louis Van Gaal on a visit to the Reds' training ground
James say its effectiveness has been proven and wants the treatment to be available on the NHS in the UK.
He said: "The problem you have with the NHS is that Governments value profit and there is no way that profit and healthcare should ever be in the same sentence.
"Why should someone have to pay £20,000 to go over to Prague to have the treatment? It just isn't right so I want to do this for other people.
"I was ashamed to have a brain tumour when it was first diagnosed in 2009 but I've embraced it now and I'm not giving up.
"If God is willing then we'll raise that £1million."
The money raised from the Yorkshire Three Peaks challenge will go into the first stage of research into brain cancer. 
To find out more about the James McCarthy Foundation click here; to visit his YouTube page – which features an array of his celebrity Ice Bucket Challenges – click here and to sponsor James on his Yorkshire Three Peaks challenge click here.