Since winning season three of the Great British Bake Off, John Whaite has been a very busy boy.
In between preparing his second book, cooking at live shows and regular television appearances, the 24-year-old Wiganer has also managed to squeeze in a patisserie diploma at the world renowned Cordon Bleu culinary school.
Before the world of bright lights and soggy bottoms beckoned, John studied law at Manchester University and was working as a commercial banker before the show 'saved him'.
With his self-deprecating humour, and mouth watering delights, John charmed the nation and wowed judges Mary Berry and Paul Hollywood.
Speaking about the Great British Bake Off, John told MM: "It was a brilliant thing to be a part of. It's nationalised our love of baking and has brought us all together in that sense."
Manchester had a big impact on John's baking, and was the place where he really started to come into his own in the kitchen. 
"When I was at university it was a time of indulgence. Manchester for me was the liberation stage of my career," he told MM.
"Because I was in my own house, I could bake whenever I wanted. So I wasn't worried about messing my mum's kitchen up.
"That's when my love of food really started to materialise into something quite recognisable."
Last month John was awarded his Cordon Bleu diploma, which he hopes is the next big step to becoming a professional cook.
He said: "I wanted to do it as I'd been projected from Bake Off into the food industry, and I want to stay in the food industry.
"I'd always dreamed of doing Cordon Bleu, and I thought, 'I've got to make myself a professional,' and the only way for me was a professional course."
John is set to release his second literary offering today: John Whaite Bakes at Home, and is taking a step back from the lofty culinary heights of Cordon Bleu to deliver an amazing collection of simple recipes.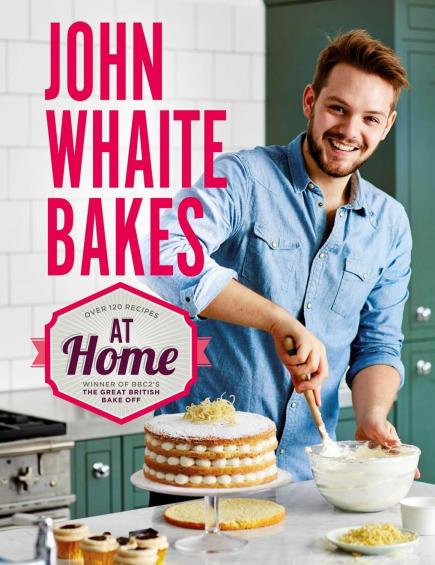 READY STEADY BAKE: John Whaite Bakes at Home hits stores today
He told MM: "The book is about home baking, it's simply what I like to make when I'm at home, so it's a very true account of how I bake. It's a book for everyone, whether they're experienced or a newbie.
"I'll always write recipes that everyone can do because there's no point including a something that the reader is really going to struggle to bake."
The son of farmer, and a proud Wiganer, the dishes that John associates with his home town are simple classics such as mince and onions, and meat and potato pie.
John first started baking alongside his mother growing up. 
He said: "I used to spend a lot of time with my mum baking. If you've got young children it's a great way to spend time with them.
"She's proud, but she's a bit peed off I've stolen her baking glory. She thought she was the best baker in our house, but she's had to renounce that title. She's a bit annoyed about that I think."
John has been with his partner Paul for 6 years, and the two are planning to get hitched at some point in the future. 
The pair can be seen on the front cover of Attitude Magazine this month, discussing equal marriage.
Someone will obviously have the unenviable task of baking their wedding cake (talk about pressure) and when asked what his ideal wedding cake would be, John said: "They'd have to be a few. Of course chocolate, and definitely a Victoria sponge, you've got to need some variety don't you?"
When he's not baking, John focuses on his passion for food photography, or going out with pals.
"If I've had a week when I've not seen my mates and had a party then something is wrong. I like to work hard and I play even harder," he said.
"I've got a real sweet tooth but I love savoury food, especially if I've had a rough night.
"When you're hungover it's always lovely to have something savoury, stodgy and starchy. Foods like my Stromboli buns and fig pizzas are always a welcome hit of salty savouriness."
With all these baked good flying around John confesses that at times it's hard trying not to pile on the pounds.
"It's definitely difficult, but if you have cake for lunch you've just got to have a lighter supper," he told MM.
"People often go on these diets where they take carbs out but they always fall of the wagon in the end. It's just about balance."
Unfortunately for him, working in the kitchen brings constant temptation, and when talking about his guilty pleasures John revealed with a laugh, 'Of course I lick the bowl… I lick it clean!'
John Whaite Bakes At Home is released today.