Some trading card games let you become a wizard, others a pocket monster – but few allow players to role play as a dominatrix.
However this is exactly what one transgender Ashton-under-Lyne-based games developer has set her sights on and wants Kickstarter backers to submit to her plans for a kinky card game.
Dorset-born Abigail Rose Boswell, 23, was inspired to bring the murky world of Bondage, Domination and Submission, Sadism and Masochism (BDSM) to the usually fantastical themes associated with card games.
BDSM covers a wide variety of sexual practices, ranging from role play to restricting movement and inflicting pain to provide pleasure.
Kinbaku, named after a style of Japanese rope bondage, is a card game where players build 'decks' through trading before 'battling' in the vein of industry ace Magic: The Gathering (MTG) and even Nintendo's nineties juggernaut Pokemon.
And both series played a role in inspiring the pleasure-and-pain-focused card battler.
"The idea originally came from looking around on a fetish site," said Abigail, who was born male but 'came to the discovery' that she was transgender between the ages of 16 and 17.
"I came across a few pictures of someone's joke little top trumps card for themselves, the sort that you seem to get with action figures where it gives a rundown on their 'stats'.
"Well, being into trading card games such as MTG or Pokémon, I wondered if I could make a BDSM card game."
Abigail began to mull over the idea – but it was defiance at a friend's doubts that caused her to whip the idea into shape.
"It might have ended there, but when I made my musing known to a friend they said they doubted I could. So I started drafting ideas to prove them wrong.
"The more I worked on it, the more I realised that I could make it and make it work.
"I've never actually seen a BDSM card game before, I'd like to think that I'm the first to attempt to make one, but that's probably just wishful thinking."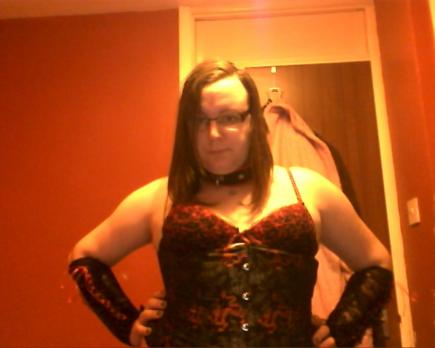 STRIKE A POSE: BDSM enthusiast Abigail is seeking £1,000 on Kickstarter to develop her card game
Currently, on the long road of developing the game and securing funding via the Kickstarter crowdfunding platform and the games developer has raised £225 at the time of writing, with 53 days remaining.
Kinbaku, one of two Kickstarter campaigns Abigail has running at the moment – the other being a dice-based RPG named PASSIVE, has a £1,000 goal and must receive that total from backers to receive any money at all.
Pledge rewards included chances to beta test the game, receive exclusive designs and card ideas that never saw the light of day as well as a chance to dine with Abigail and take her on at her own game.
But with both a 'petplay' and a 'sadomasochism' themed deck to create all on her own, Abigail is still far from completing the project as she waits for funding to arrive.
"I'm not going to lie – it's going slightly slow," Abigail told MM.
"Unlike other card games, I don't have a huge team helping me work on it. Just myself. However, I carry a notepad and pen at all times.
"I never know when or where inspiration will strike and I'm often jotting notes and ideas or doodling sketches and icons."
As more backers get on board with the project, Abigail will need plenty of inspiration to match her ambitious plans and bring the game to full production.
To achieve this, the games developer is not solely relying on funds from others via Kickstarter and is willing to put her money where her mouth.
"I'm confident that I will meet my goal," said Abigail.
"I'm even planning on putting all the money a family member left me when she passed away as inheritance towards it to actually get artistic work on cards, trademark the game and help pay for production costs.
"I believe in this game and plan to see my idea become reality."
With designs for the backs of the cards already undergoing changes on three occasions – and a fourth redesign being considered – there is plenty of work to do to iron out the kinks ahead of the planned end of 2015 release date.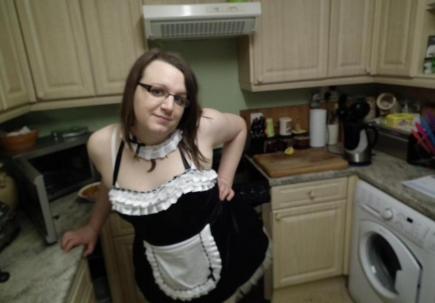 GET IT MAID: Abigail is determined to release her risque card game
But Abigail is hoping to dominate the task despite only trying her hand at a card game once before with a two-player fantasy-themed title called Heroes Guild – the Quest for Treasure five years ago.
"In terms of coming up with cards, at first I thought it would be easy, but I'm starting to realize that it's not," said Abigail.
"Not only do I have to come up with the idea, but then abilities, types, sub-types, influence costs, stats and so on, then I have to make sure it's not overly powerful or too weak."
Of course, key to the success of any trading card game is the community behind it with players to trade, buy and battle with the cards as they become available.
And, while Abigail may be able to appeal to fetish fanatics as well as card game aficionados, how will those who don't dabble in play with whips and chains take to the risqué fun?
"Well as it stands, I've not told many known as 'nillas (short for vanilla – meaning uninterested or unaware of BDSM) by the BDSM community," said Abigail.
"The couple of people who would be classed thus seemed curious and tended to want to know a bit more about it, thinking that I was either joking or a little mad.
"Most of the people I told were into BDSM and loved the idea, either wanting to support the idea, spreading it by telling people or eagerly waiting for it to become a thing."
With subject matter firmly-placed in the niche category of sexual fantasies, it is perhaps inevitable that the uninitiated will raise an eyebrow or two.
But Abigail is undeterred and has modest goals for Kinbaku.
"Success in my eyes would be to see people either selling, trading or playing my game, to introduce people to my love of BDSM and the enjoyment of a card game," said Abigail, also recalling school days playing Pokemon in the playground with friends.
"The idea that this can end up being a full-time job, making and releasing fun and different games is my dream job."
Abigail's Kickstarter page can be found here.