Comedian Alexei Sayle this week bemoaned the 'neutrality' of programmes such as the BBC's Mock the Week, criticising the show for its curiously impartial approach to political satire.
As much as the programme attempts to tow the BBC line of political balance, for Sayle, the emphasis on being an acceptable face of harmless political repartee has helped to create the culture of blunt, almost apologetic, commentary that now surrounds the political figures of today, on TV.
If you are struggling to grasp what Sayle is getting at, this is the type of 'harmless' political satire that presented Boris Johnson – a man sacked from The Times for making up quotes in the early 1990s and the former editor of The Spectator who gave the thumbs up to their disparaging comments on the city of Liverpool in 2004 – as a bumbling, cuddly buffoon throughout the 2000s on shows such as Mock the Week and Have I Got News For You (HIGNFY).
Have I Got News For You, which escaped Sayle's damning analysis, is, of course, another bastion of the very British oddity that is metaphysical satire.
The programme, that features Private Eye's Ian Hislop as a panellist, has been so eager to upset the political establishment since first aired in 1990 that it, infamously, helped turn today's Prime Minister, who presented the programme four times, into a household name.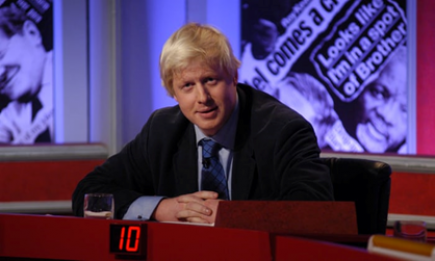 MAKING HIS NAME: Future Prime Minister Boris Johnson was able to put his controversial early career behind him when HIGNFY employed him – four times – as a guest presenter
In other words, mainstream political satire has had no discernible appetite for properly holding our politicians to account for more than two decades.
As all seemed lost, however, it's almost as if satirists such as Christopher Spencer – better known as Twitter's @Coldwar_Steve – whether consciously or not, have seized upon the Spitting Image-shaped chasm that has existed in British satire since the programme's demise in 1996; to bring satire back from the brink.
There is no element of playing it safe in the mould of the likes of Mock the Week when it comes to Spencer's ground-breaking work – seen below – which has already been compared with the satire of William Hogarth and James Gillray in The Guardian.
The instantaneous, transient nature of Twitter has allowed Spencer to engage with the ever-changing spate of developments that have followed since the UK voted to leave the European Union in 2016, in a way that makes the satire of the likes of HIGNFY seem like a tired, vestige of the past.
— Cold War Steve (@Coldwar_Steve) September 19, 2019
EXHIBIT A: Prime Minister visits a hospital in a post-apocalyptic Britain of his own making. He is about to enter a room featuring the world's media, a stricken Steve McFadden and a (largely hidden) Cilla Black.
A combination of Twitter, Photoshop and the small matter of Britain facing its biggest political crisis since the Second World War was the potent mix that was required in order for Spencer to create himself an unmistakable niche in British satirical discourse.
Spencer's Twitter profile has enabled him to cultivate a following of over 200k people effectively from the comfort of his Birmingham home, from which he regularly delights his growing fan-base with collages depicting a post-apocalyptic Britain featuring ever-present protagonist Steve McFadden – the actor who plays Phil Mitchell in EastEnders – alongside Brexit supporting celebrities as far-ranging as The Who's Roger Daltrey and former England footballer Peter Shilton amidst the backdrop of scenes such as a boarded-up Downing Street.
The absurdity of Spencer's collages, such as his depiction of what could only be described as a post-Brexit Dante's Inferno under the watchful eye of TalkSport's Alan Brazil, as seen below, presents the dystopia of a Britain that has descended into a Hobbesian state of nature, in which Mike Ashley's Sports Direct and Fray Bentos tinned-pies are the only constants.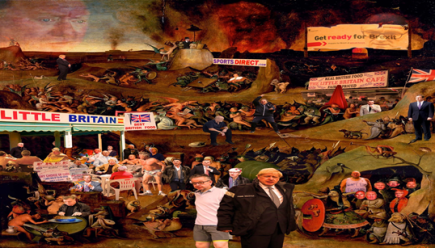 EXHIBIT B: Under the watchful eye of Alan Brazil, architects of Vote Leave, Boris Johnson and Michael Gove, feature in a post-Brexit Dante's inferno, alongside a Fray Bentos tinned-pie eating Sam Allardyce
Of course, Spencer's genius is his ability to articulate what a very-British form of apocalypse might resemble. In doing so, Spencer has inadvertently saved British satire in a way that is refreshingly fit for the 21st century.
In a way that Mock the Week and HIGNFY so miserably failed to do during the lost years of British satire dating back to the mid-1990s, Cold War Steve has become an unlikely vehicle for holding the architects of Britain's journey towards an increasingly likely 'no-deal' exit from the EU on October 31, to account.
Spencer's work might not be pretty and critics might point out that the Birmingham-native makes little effort to hide which way leans on the issue of Britain's impending exit from the EU, however, this is frankly where the beauty of Cold War Steve lies.
For too long TV programmes such as Mock the Week and HIGNFY have done a lousy job of highlighting the shortcomings of Britain's political establishment but, just when it appeared like all was lost, Spencer's work has reminded us of just how powerful political satire can be.
Yes, it's offensive. Yes, it's crass. Yes, its unreserved. But, thank God it's all those things; it's about bloody time.
Christopher Spencer – better known as Twitter's @Coldwar_Steve – will release his new book, A Prat's Progress on October 24, just in time for Britain's exit from the EU on October 31. It is available to pre-order online and from all good book stores.
BOOK 2 Announcement!! I shit you not! A souvenir/pictorial artefact of a somewhat eventful year, my 2nd book (from @thamesandhudson ) is out on 24th Oct – but available for preorder NOW (see link below) 
https://t.co/b4rDtNrgVI pic.twitter.com/GV4CnSdhlo

— Cold War Steve (@Coldwar_Steve) September 18, 2019