Take That star Gary Barlow sent Twitter in to a frenzy earlier this month when he vowed to perform at five weddings in 2015.
The 43-year-old has since been inundated with requests from happy couples desperate for the Million Love Songs singer to attend their nuptials and make their big day the Greatest Day.
One woman trying to catch the attention of Mr Barlow is Patricia Harrison, founder of Stalybridge charity, Gift of a Wedding.  
The charity, which was set up in 2012, provides free weddings for terminally ill couples desperate to tie the knot.
One couple set to walk down the aisle in February is Kathryn De-Wet and Nicholas Slattery. The pair contacted Patricia just before Christmas after discovering Kathryn had incurable breast cancer.
Patricia is now urging the former X Factor judge to make a special appearance at the Manchester ceremony next month.
"What we do is really special, we just think what we do is really great, and we know Gary would think exactly the same thing," said chair and founder Patricia.
"Kathryn and Nicholas are a really lovely couple. They want to help Gift of a Wedding, help people understand what we do and show people what a great experience they've had with us.
"Come on Gary, pull your finger out, mate!"
After spending last year focusing on hosting weddings, the team is hoping to turn their attention to fundraising in the coming months in a bid to help even more couples across the country.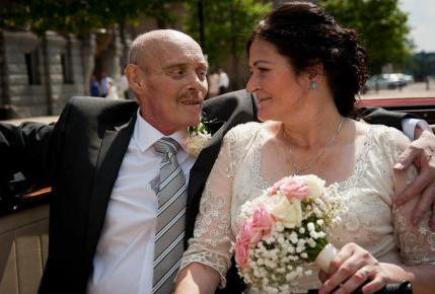 DREAM COME TRUE: Patricia arranged the wedding of terminally ill Liam who passed away three weeks after his special day
"We are always looking for any kind of wedding apparel," said Patricia. "One of the things we do is ask people to donate their wedding dresses to us."
In the past eight months over 200 wedding dresses have been donated, and this year the charity founder hopes to open a wedding dress shop in Tameside.
"A lot of the dresses we get haven't even been worn, so we've got the ability to be able to sell brand-new wedding dresses as well as second hand ones," she said.
"Wedding dresses are only worn for a couple of hours on the wedding day, so a lot of them are in excellent condition."
The charity is also looking for a retail space to be donated or offered at a low rent so they can continue their work, which takes place all over the country.
With seven core members, the charity often has to work to extremely tight deadlines, and last year organised a wedding in just two and a half weeks.
"People come to us when they know they're at the end of their life," said Patricia. "We just have to fit their criteria.
"We're trying to fit what people would normally do in 12 to 18 months into a few weeks, so that's why we need so many people to help."
To donate to Gift of a Wedding, visit their website  or call 0845 474 0717.
Image courtesy of Home Media, via Youtube, with thanks.