University of Manchester students have slammed MPs' vote against the Erasmus programme negotiation.
After MPs voted against New Clause 10 by 344 votes to 254 earlier this month, the Erasmus+ programme is in jeopardy for both British and EU students.
Whilst the House of Commons' rejection of the clause does not signal a certain nor automatic termination of Britain's membership in the programme, it does mean the government is not required to negotiate the programme as part of the Brexit deal.
With the Brexit deadline looming next week, it still remains unclear whether students would be able to study or work abroad if Britain withdrew from the programme.
Ben Tither completed a work placement in Heidelberg, Germany during his undergraduate degree at University of Manchester and studied for semester at Wirtschaftsuniversität, the University of Economics and Business in Vienna, Austria during his master's degree.
"Personally, I think that the vote is one of the biggest blows dealt to the youth demographic in the entire Brexit saga," he said.
"I believe that the UK is stronger through Erasmus, predominantly through the fora of institutions, education, social integration, mobility, cultivating business opportunities and so on. The list is infinite."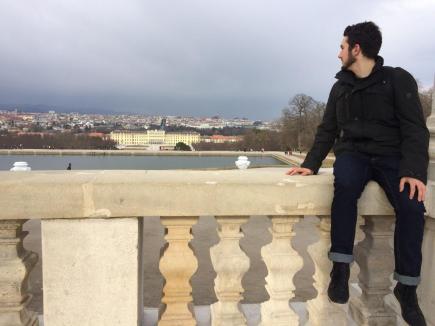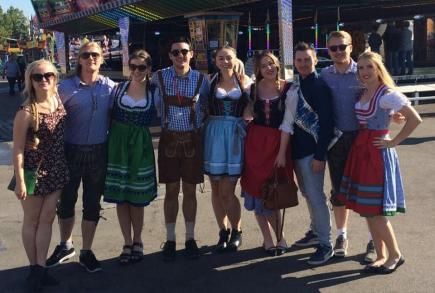 'INFINITE' POSITIVES: Ben Tither says Erasmus has undoubtedly made the UK stronger 
Chloe Hatton, who completed her year abroad in Annemasse near Geneva, claimed: "I think the decision of MPs not to have to negotiate for it means that it's not that high on their priority list and it'll be discontinued.
"And yes, there is the argument that you can still study abroad, which is perfectly true, but things like the Erasmus grant help give everyone that opportunity by removing some of the barriers that people may face."
Although she did not spend her year abroad in an EU country, but rather on the French-speaking island of Martinique, Olivia Burney still fully supported the Erasmus scheme.
"If the MPs make the Erasmus year non-mandatory, they risk students missing out of the most life-altering, confidence and resilience-building part of the degree," she said.
"In our world where we textbook knowledge is at our fingertips and we are achieving more academic success than ever, students are missing out on life experiences and need more opportunities to build their self-esteem, develop their independence, put their knowledge into practice and take risks. If anything, MPs should be making the Erasmus placements mandatory for all subjects," she added.
Speaking on his own experience, Tither said: "Erasmus gives you the opportunity to reflect on your individual roadmap. For me, it engraved a determination to become truly international; to embrace cross-border relationships and people; to define a lifestyle and career around the fundamental philosophies first vividly unveiled to me through these experiences."
Burney claimed that the year abroad is 'more than a language learning exercise'.
"It's a chance to push yourself out of your comfort zone – far away from family, your native language and culture. Without the same opportunity I know that I would not feel so confident in myself and my abilities, or so prepared for the future," she said.
Hatton praised the scheme saying: "The exchange itself was brilliant in terms of giving me a year of work experience, meeting loads of new people, and having the confidence to live and work in a different country with totally different ways of functioning- from bank accounts to healthcare."
The European Commission currently provides grants of up to €420 per month depending on the host country.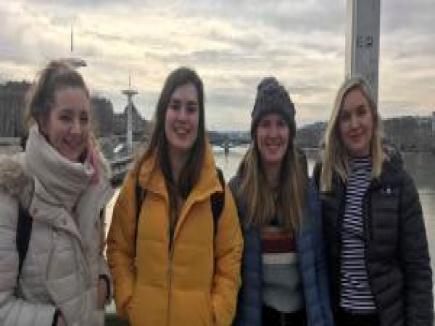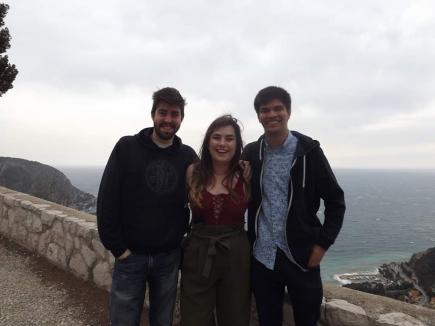 NO FINANCIAL BURDEN: Chloe Hatton, whose pay per month was 800 euros (and rent 500), told MM without the Erasmus grant she wouldn't have experienced life abroad
Without this grant many students would not be able to study and live abroad and would be forced to miss out on an experience that enriches them in life.
"Honestly, the Erasmus grant was essential – my monthly pay was €800 and my rent was €500 (and that was subsidised in state owned accommodation, private would have been around €800 with a €1500 deposit)," said Hatton.
"The Erasmus programme is great because it lets everyone experience life abroad and reduces the financial burden.
"For students who may face more financial difficulties whose parents can't support them, and even for those whose parents can support them a bit, it just makes living abroad a bit more feasible."
Tither explained: "The grant tore down the wall of disparity when it came to wealth or financial support. Whether you were working, middle or upper class, it didn't matter.
"The grant enabled me to pursue my future in a way which would have been otherwise impossible."
Equally, the end of the UK's participation in the scheme could signal the government slamming Britain's doors shut to the rest of Europe.
Jana Schepers, a German student, studied for a year at the University of Manchester through the Erasmus exchange and went on to complete her PhD at the university.
"For me, the Erasmus programme helped me to be more confident in my skills so that I was braver to move abroad for a longer period," she said.
"That's why I am a little sad that the British government might withdraw from the programme, because it would take away the opportunity for students to have this experience of personal growth and trust in themselves and their abilities," she explained.
The scheme presents opportunities that enrich students' personal growth through friendships, experiences and new skills.
"I had some of the strongest, most reliable and trustworthy friends from all over Europe – and beyond," explained Tither.
"It's only when you remove yourself from the common-denominator trappings of a bitingly British familiarity that you realise where you fit in in the wider world. No experience taught me that better than Erasmus," he added.
"Of course there's all the benefits of the programme in terms of opening up your horizons, creating connections all over the world, and obviously being able to speak more than one language," said Hatton.
Ironically, the exit of Britain from the Erasmus programme would most affect British students studying European languages.
The British government would be shooting itself in the foot if it were to deny its future generation of translators, diplomats and interpretators the opportunity to expand their cultural knowledge and improve their linguistic skills.
Following Brexit, Britain will suddenly need to turn to the linguists it is currently leaving stranded to negotiate and communicate.
"If the U.K. is absolutely serious about its war cry of self-determination and forging a new global identity for itself, then it needs to act like a global player," claimed Tither.
"I would implore the British Government to seriously acknowledge and examine the imperative of languages – and Erasmus (or Erasmus-style schemes) – in successfully crafting and redefining a new international profile."