As #EndTamponTax does the rounds on Twitter and the petition 'Stop taxing periods. Period' gains more than 200,000 the University of Manchester is looking into ways to make sanitary products cheaper for their female students.
The petition calls for the government to remove the 5% tax on sanitary products and it has attracted over 213,000 signatures so far.
It asks the government to stop defining tampons and other sanitary products as a 'non-essential, luxury item'.
The average woman uses 11,400 tampons in her lifetime and the government makes £15million a year from the VAT tax imposed on them.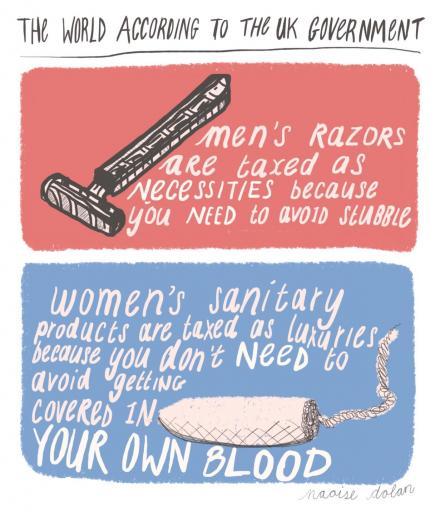 MAN-AGING MENSTRUATION: Apparently razors are 'essential' but tampons are not (© Naoise Dolan, with thanks)
Petition creator, Laura Coryton says: "Sanitary products control and manage menstruation.
"They are essential because without them, those who menstruate would have no way of pursuing a normal, flexible, public or private life and would be at risk of jeopardising their health."
University of Manchester Women's Officer Jessica Lishak told MM that the University was considering ways to make the price of sanitary products cheaper.
"It's actually surprising that it hasn't become a big issue sooner – putting sanitary products in the 'luxury, non-essential' category for VAT while men's grooming products such as razors are considered to be 'essential' and so are not subject to the same tax is effectively a tax on having a womb.
"At the University of Manchester Students' Union we are currently costing up subsidising sanitary items so that female students don't have to take the burden of this unfair levy.
Sanitary products have been charged since 1973 and a similar campaign in 2000, by Labour MP Dawn Primarolo, got the tax reduced from 17.5% to 5%.
This is the EU minimum rate, so in order for the tax to be removed, the government must raise the issue in the European Parliament.
Labour MP for Bristol East, Kerry McCarthy told Bristol Women's Voice that whilst she 'would like' to see it changed; it is not likely to happen soon.
"Sadly it seems unlikely that the UK would be able to secure unanimous agreement, particularly as relations with other EU members are not good at the moment," she said.
Campaigners have responded on social media by pointing out the discrepancies in VAT classification, which means that products including helicopters, crocodile meat and rum babas, are tax free whilst tampons are 'non-essential'.
Main image courtesy of Jen with thanks.