Ten Manchester businessmen have cycled from Land's End to John O'Groats, raising over £25,000 for a new cancer care centre being built at The Christie Hospital.
A team of chief executives from Manchester took part in the nine-day Deloitte Ride Across Britain to help fund the Maggie's Centre.
The new cancer care centre has been designed by world-famous Manchester architect Lord Norman Foster, and began building work in April.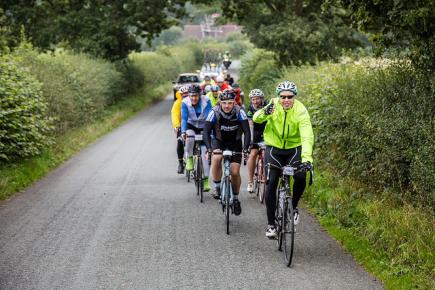 GREAT CAUSE: The Manchester CEOs raised money for The Christie Hospitals new cancer care centre
Mike Perls, Chief Executive of Manchester-based Marketing company MC2, rode along with nine other Manchester CEOs to raise money for the new centre.
Maggie's will offer practical, emotional and social support to those living with cancer and their friends and families in the North West.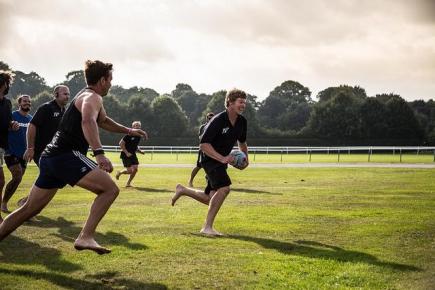 AS IF THE CYCLING WASN'T ENOUGH: Taking a quick rugby break from their rid across Britain
He said: "Deloitte is a client of my company so I wanted to get involved with the ride to raise money for Maggie's.
"It was an incredible experience – riding over 100 miles every day for nine days is certainly very attritional to say the least!
"It was fascinating seeing the changes in the landscape, and of course the road surfaces, as we rode throughout the country."
But the landscape certainly wasn't the only awe-inspiring thing on this fundraising adventure.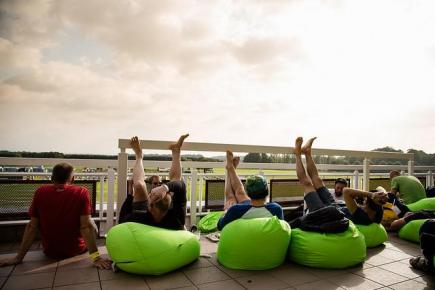 PUT YOUR FEET UP: The cyclists taking some much-deserved rest from the daily 100-mile slog
Mike added: "While we were on the ride I saw some really inspirational things, like one woman who had been fighting cancer for ten years, who got up in the morning, had to take a ton of medicines and then got on her bike and cycle the whole day through.
"That was really inspirational and humbling to see and really showed what an important cause this is."
Sarah Beard, Business Development director at Maggie's, told MM that the help the exceptional fundraising effort will provide the centre is greatly appreciated.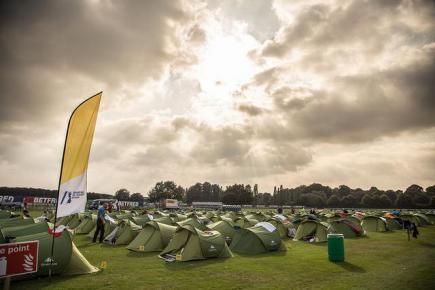 CAMPING OUT: The number of tents highlights just how many cyclists brave this journey
She said: "We'd like to extend a huge thank you to everyone involved in this wonderful fundraising effort which will allow us to run our programme of support from our new Centre at The Christie when it opens its doors next year to help as many people with cancer across Greater Manchester as we can.
"As an independent charity Maggie's relies on voluntary donations to allow us to provide and expand our unique programme of free practical, emotional and social support to people with cancer and their family and friends delivered by qualified professionals."
The team were part of over 800 cyclists who took part in the ride, organised by corporate services company Deloitte, in what is one of the country's biggest fundraising events.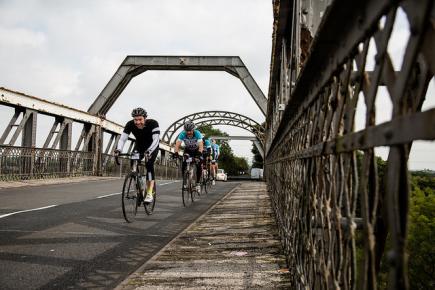 DAY 5: Cyclists crossed the Warburton toll bridge to reach the historic Manchester Ship Canal
Cyclists taking part in the ride crossed the historic Manchester Ship Canal via the Warburton toll bridge on the fifth day of their 966-mile cycle through the country.
The Canal was a vital trade during the industrial revolution and featured as the picturesque backdrop to the cycle.
The Ride Across Britain event takes place annually and in previous years has raised over £1.5million for its chosen charity, the British Paralympic Association.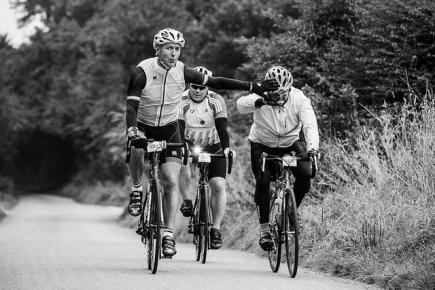 TOMFOOLERY: Still got the energy for fun despite cycling 100 miles a day for nine days
Managing Director Nick Tuppen said: "We had a really good ride this year. The most exciting thing about it is you never know who is going to turn up!
"What you find with the ride is that within the first 48 hours, having arrived as strangers, all the barriers between people begin to break down and an incredible atmosphere bubbles up.
"We've had some great people on this ride like Olympic champion Nicole Cooke, who now works for us at Deloitte, Paralympic champion Jody Cundy, and adventurer Mark Beaumont, who rode on a tandem with chairman of the British Paralympic Association, Tim Reddish.
"This year has been our biggest year of fundraising and we're confident that the final sum will be well over a £1 million."
Entries for those wishing to take part in the 2016 Ride Across Britain are open now and you can sign up by clicking here.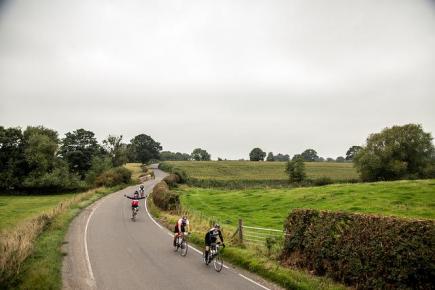 WILL YOU BE NEXT? Registration is now open for the 2016 Ride Across Britain
All images courtesy of Threshold Sports, with thanks.