The heartbroken parents of a baby who was stillborn have started a Crowdfunder to pay for a cold cot for the Royal Oldham Hospital.
Sarah Keast, 32, and Chris Hill, 30, were told that their baby Ava-Mai was going to be stillborn a few days before the birth and a bereavement midwife suggested the use of a cold cot.
The cot allows parents and family to spend time and say goodbye to their baby after its death by keeping the baby's body cool.
Ava-Mai's father Chris, from Oldham, told MM: "It gave us time with her that we wouldn't have got otherwise.
"We had time to bond we would have never got. It was comforting.
"It was in a specifically designed room where you are left to your own devices, it's a good set up in the circumstances."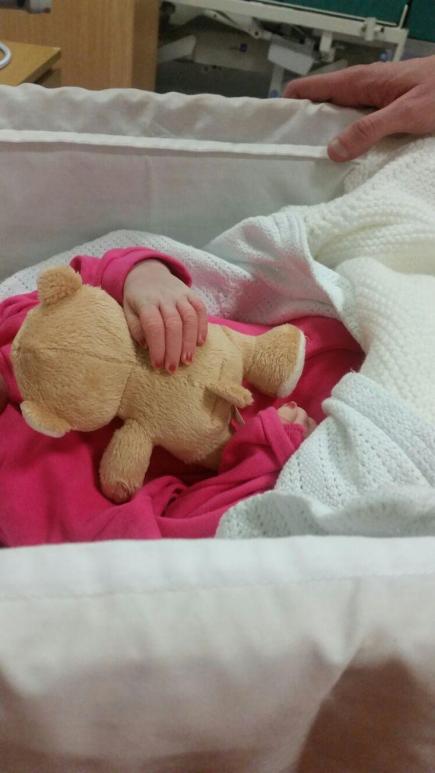 'LUCK IN A SENSE': Grieving dad Chris said they were given time with their baby that most parents don't get
Despite how comforting cold cots are, they are still not in wide spread use in hospitals, and if they are available, their numbers are limited.
"They're something that hospitals are short of," Chris said.
"We were talking to a midwife and we're quite lucky, in a sense, that we managed to get it.
"Just at that hospital there were ten still births in one week, and they've only got two cots so we were quite lucky."
Chris and Sarah are hoping to raise around £2,000 to pay for the cot, as well as a memorial plaque for Ava-Mai.
So far they have raised £672 on the Crowdfunder page, as well as £270 at the funeral.
They also hope to hold a fundraising day at a local pub after Christmas.
The Office of National Statistics published a report in 2015 which stated one in every 216 births was a stillbirth, making it 15 times more common than cot death in the UK.
Despite this, the government still doesn't currently invest in cold cots.
Therefore the efforts of Chris and Sarah are extremely important as, currently, the UK has to rely on the work of fundraisers and charities for the supply of cold cots.
Chris said charity Sands – Still and Neonatal Death – as being a great help in the aftermath.
The provide grieving families with items such as memory boxes which have been shown to Ava-Mai's sisters Caitlin Hill, 10, and Holly-Jo Dobson, 6.
He said: "A lot of the aftercare is funded by Sands, with things such as memory boxes and teddy bears.
"Other families that have been through it also do a lot.
"We've been given a teddy by another family and kept in touch with them online.
"There's a lot of work done by the charity, but in the sense of government action, a lot more could be done both in researching the prevention and the aftercare."
To help other parents like Sraha and Chris cope with their tragic loss, donate to Ava-Mai's Angels.