A fitness clothing brand launched by a student from Bolton aims to empower women by designing active wear specifically for modest wearers.
Imaan Active launched online on Instagram 12 months ago and aims to encourage and inspire women to reach their goals.
And the founder says it is much more than just a clothing line, it's a movement.
Owner Misbah Mogradia, 21, aims to inspire women all over the world.
Misbah, who is a student in Manchester, hopes her story will make others feel confident about themselves.
She said: "I wanted to support women so that they would feel confident to work out and share their results in order to build a community.
"I know myself a bit better by starting this.
"The things I say to people about having a routine and having small healthy habits has helped me structure my life.
"I now feel that I have a purpose in life.
"It has also bought me closer to my religion because taking care of my body and having a good structure fits in with my faith."
Misbah says it all started with feeling low and anxious. As a result, binge eating became her comfort zone.
She said: "I felt demotivated and lost.
"I wanted to do something for myself and get into shape.
"I started the gym and probably went one or two times the first few months.
"Except I was constantly looking over my shoulders and pulling my top down which was getting in the way of my workouts.
"I was really self-conscious.
"I knew there was a gap in the market – I was thinking about what happens after you squat and where the coverage needs to be."
Although it started with a few sketch ideas, the fashion designer really bought her vision to life.
The first two debut collections were the slim fit and relaxed tops so that it was inclusive to all.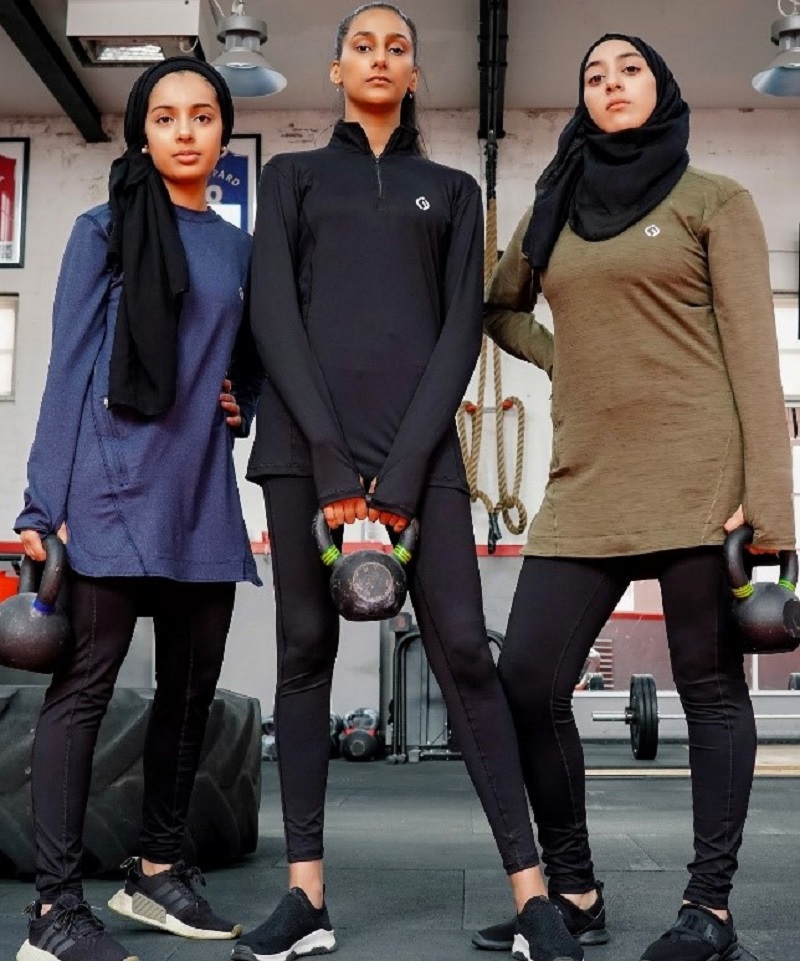 She said: "Modesty is a very intangible thing. It varies in every woman, regardless of who you are.
"When it comes to clothing, especially for Muslim women, a lot of things to do with clothing acts as a barrier. We want to go swimming but don't because we know it will show our body in a way we don't want it to be shown.
"Modest wearers should be able to achieve their potential. Making the choice to cover up a bit more shouldn't be a barrier."
The brand has been built for all women, irrespective of faith. The aim is to build a community to lift and support each other.
Misbah revealed: "I want women to bring their issues and share their experiences at the gym because I want the customers to be the brand.
"We are here for you and we want you to be heard."
Although the business is doing well, Misbah sees this as a passion project.
She added: "It will never be my only source of income. I want others to see it as something I am passionate about.
"It is kind of me fulfilling my passion. The values and what I aim to supply is revolutionary."
The most enjoyable part is meeting people from all walks of life she says.
She said: "I love having chats with mums, young girls, divorced women, they all want to chat about their fitness journey.
"We are community, a little team, a support group who help each other and cheer each other on."
Miss Mogradia admits: "I cannot switch off. I want it to grow and expand and have more of an impact and reach others."
Aneesa, based in West Yorkshire, a soon to be qualified personal trainer, started her fitness journey five years ago.
She said: "I have only ever trained at a female only gym. Though my love for weight training meant that I had to move to commercial gyms with different equipment.
"As a curvy girl, I struggled with modest clothes. When I came across Imaan Active wear, I was sceptical. But the quality of the material, the fitting, and the durability really made me feel great about my body."
Miss Mogradia added: "I feel like we can all wait until Adidas or a bigger brand comes up with a lady in a hijab. But Imaan Active is built by a Muslim woman, inspired by women, and influenced by the people who are wearing it.
"It is built on all these different experiences and it is really powerful."