We've had dapper dogs, cute cats, even a gorgeous guinea pig, and now it's time for you to cast your vote as the battle to be crowned the Manchester's Cutest Pet 2014 truly hots up.
With a pet-pleasing photo shoot and a free large canvas up for grabs (courtesy of Robert Ashton photography), don't delay in backing one of these beauties for the big prize.
Here are the contenders and be warned, these pets may just melt your heart. 
Send your vote to here or email newsdesk (at) mancunianmatters (dot) co (dot) uk by Monday April 14 to give the cutest creature a shot at scooping the top prize.
Frank
Frank will have no problem grabbing some pug love with his smart bowtie.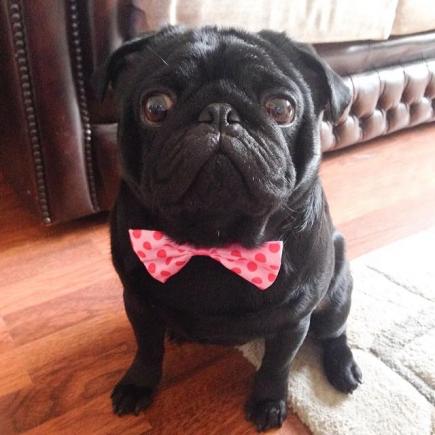 DEBONAIR DOG: Frank shows his pedigree with a classy bowtie
The three-year-old 'cheeky chappy' loves attention and you'll hear him before you see him with his 'bulldozer' snoring.
But he'll also break down your defences with his huge personality.  A big fan of kisses and 'tickly bellies', Frank loves his treats – though that's when he's not sneezing in your cup of tea when you're not looking!
The playful pug has already raised the spirits of owner Nicola Sharrock, who bought Frank while recovering from a heart attack.
And Frank's even ousted pre-competition favourite Dita von Pug out of the final ten.
And he's already raised yours too, no doubt.
Maurice
This continental canine has eyes to die for.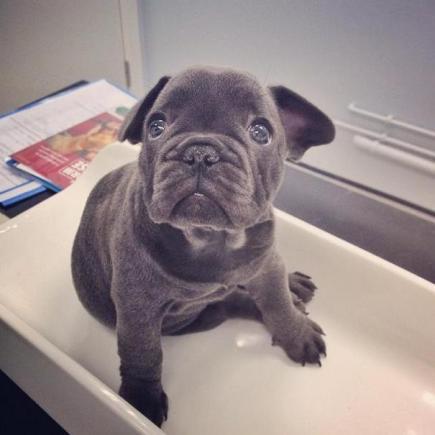 EYEFUL POWER: Maurice turns on the cuteness
One look is all it takes for French Bulldog Maurice to capture your heart.
Maurice's owner Jaime Gee threw down the gauntlet and declared that her French Bulldog was worthy of the cutest canine crown.
But with the perfect puppy dog eyes, sophisticated Maurice will be a strong favourite in this competition to 'baguette'.
Nelson
Grumpy old Nelson is determined to take the title.
The 13-year-old British Shorthair even managed to fit us into his busy schedule.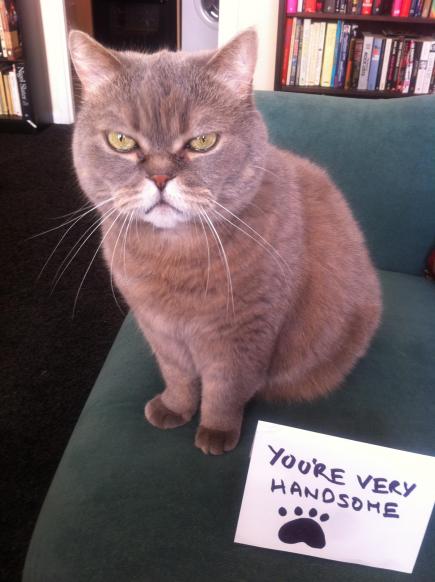 EVIL GENIUS: Nelson looks moody in his James Bond villian-esque pose
When he's not blogging, tweeting or trying to catch the eye of James Bond producers on LinkedIn, networked Nelson likes to sleep on owner Louise Bolotin's desk – whether she's working there or not!
Oh the indignity! I have kidney stones and have been put on an "invalid" diet. I'm still fit and handsome though. Any sexy queens up for it?

— Nelson the Cat (@NelsonColumnist) September 13, 2013
Nelson's already caught the eye of Stephen Fry on Twitter and he's turn heads in the city too.
The affectionate Amsterdam cat, who moved to Manchester a decade ago, is great at scrounging food, turning up at noon on the dot for his daily Dreamies. This Dutch-born delight even knows when to let Louise lie-in when she's ill or upset.
Don't snooze if you want him to win.
Burt
If 'fluffy-faced antics' are your thing then Burt's your man.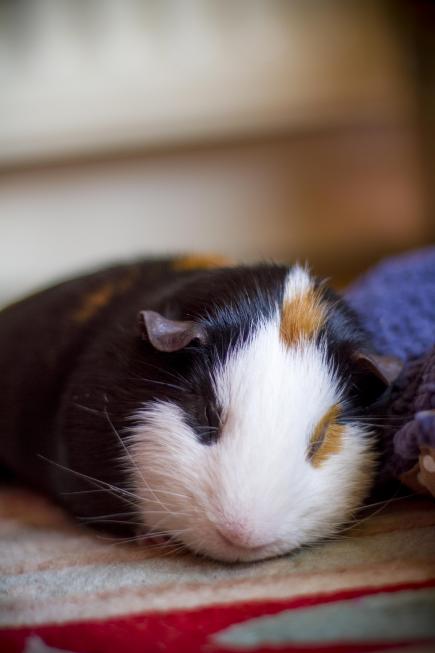 SLEEPING BURT-Y: Burt takes a break from 'fluffy-faced antics'
The snoozing short-haired guinea pig is a bundle of fun when he wakes up; running around the couch and climbing on his hammock to beg for more hay – and who could turn him down?
Gaynor Jones' almost-three-year-old makes her laugh everyday with his speedy silliness until he tires himself out and snuggles with his teddy.
Manchester will surely be the latest devotees to get on board 'Team Burt'. Go Burt! 
Mischa
Grinning gorgeous Mischa loves to flash her pearly whites.
The happy husky hero is all about work as well as play in her job as a rescue dog.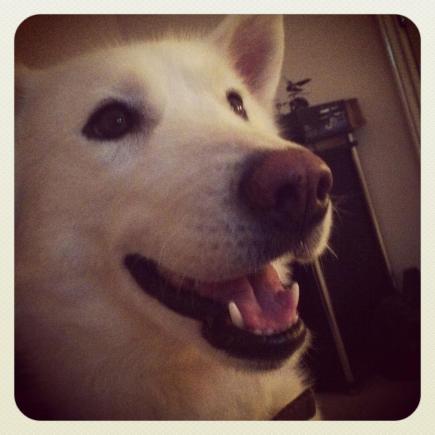 MISCHA-VOUS: Mischa is always smiling
Owner Elisa Ruff has warmed to the six-year-old Siberian since she found the gentle giant at the age of three when she was 'shy and skinny'. Now, the cheeky chappy is a star that has Elisa's ten-year-old tot in fits of giggles with a protective paw.
With her amazing personality and her stunning good looks, marvellous Misha is always getting compliments from dog walkers on every single outing.
But with a grin like that you'll have to break into a run to get your vote in.
Karl
If none of our pretty pets have melted your heart just yet then Karl is to the rescue.
The caped and chirpy Chihuahua's bark is more powerful than his bite – unless you're the postman!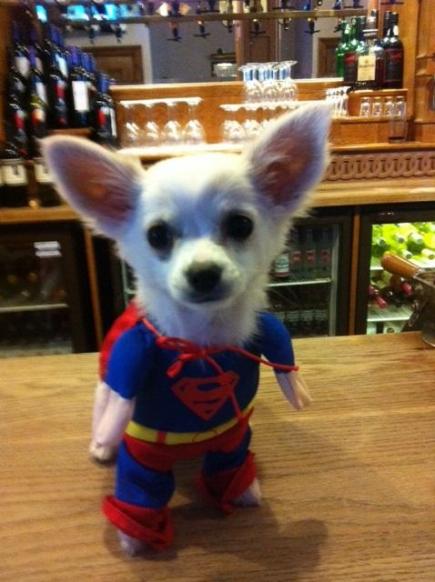 POSTMAN BEWARE: Caped Karl is a super dog.
Super Karl may even think that he is a horse as he gallops to the park and back for a quick spin on the swings –while the Moorhouse family are out searching for him.
And you would be desperate to find this six-inch terror, who is certain to fly to the top of the polls.
Misty
Misty loves balls.
Whether it be tennis season, a round of golf or even chasing after a humble bouncy ball, this terrific terrier adores all things round.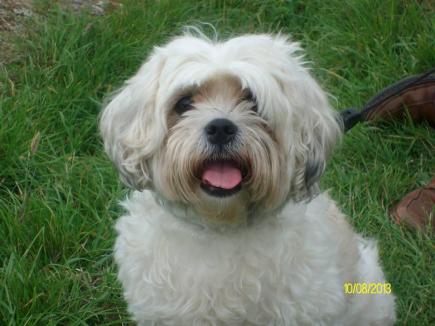 MISTY-ANO: Misty has some impressive ball skills
'Mistyano' as she is known in Hulme Park has the skills to share the pitch with Cristiano Ronaldo as she chases the ball with the same pace – and possibly marginally less diving.
The ball obsession has reached a whole new level with Marie Meighen and family resorting to hiding them in the fridge for a moment's peace!
Even then, this playful pup is likely to head straight past the sausages to make a beeline for the balls.
With the football season heading into an exciting climax, Misty needs your help if she is going to score.
Minnie
Minnie is hungry for success.
A cross breed between a Shi Tzu and a Pug, this minx will eat anything.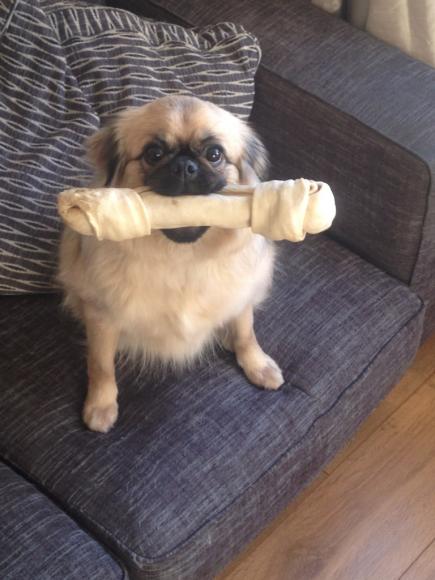 MINNIE MOUTH: Nothing is safe from Minnie's teeth
On Minnie's munch list are: a pot of basil, two birthday balloons and the majority of the wicker laundry basket – she even had a soft spot for some contraceptive pills!
While the one-year-old may not be in urgent need of a 'morning-after pill', she clearly needs some socks as she is more than happy to run off with everyone else's.
With a taste for her own poo – living up to her breed name a little too much – this pretty pup needs your help to take a bite out of the competition.
Sherlock
It doesn't take a detective to figure out why Sherlock is a stronger contender for the crown.
The Droylsden doggy, owned by Lily Houston, is always up for cuddles and a touch of attention – be aware, his ego is set to skyrocket if he scoops the prize.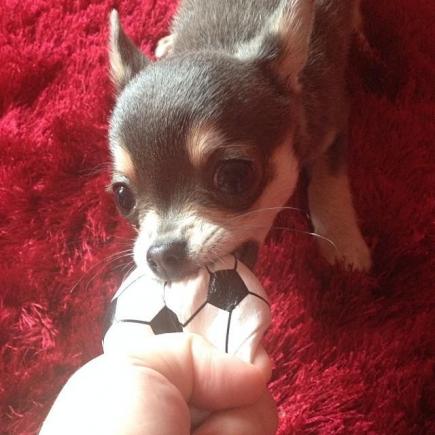 DEAD-LOCK: Sherlock is determined to win
The four-month old pup is more likely to be under a magnifying glass than behind one and his little legs have cut short many a walk – but even a brief stroll is enough to make even the most hard-hearted man stop and say 'awwww'.
Even though he'd never hurt a fly, Sherlock has never let his diminutive stature stop him from wowing other dogs as he marches straight to the head of the class in puppy school.
The only thing that might stop Sherlock from grabbing the title is that he is missing a little sidekick called Watson.
Otherwise, it's 'elementary' to expect Sherlock to lead the way.
William
Last but not least, William is top of the lops.
The hoppy bunny is no stranger to chomping through cucumber – and is hoping to do the same to the competition.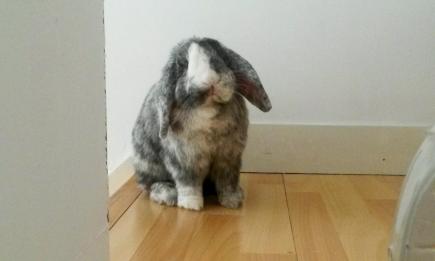 BIG WILLY STYLE: William's hopping hopes are in your hands
City-living rabbit William, owned by Northern Quarter-based Natasha David-Hilton, also loves his chew sticks almost as much as leaving a mess – often leaving a mash of newspaper and hay in his wake.
With fierce competition in his way, William needs your votes to hop over the rest – and then he can look to make it two on the bounce.
Got your favourite? Vote now to crown them Manchester's Cutest Pet 2014.
The winner will grab a perfect pet-tastic prize of a photo shoot and a free large canvas.
MM have partnered up with Robert Ashton Photography who specialise in 'capturing memorable portraits of your beloved pets'.
The Manchester snapper produces 'wonderful memento to cherish forever', ensuring your pet's character 'shines through' from a cheeky chirping parrot to a playful puppy.
Send your vote to here or email newsdesk (at) mancunianmatters (dot) co (dot) uk by Monday April 14 to give the cutest creature a shot at scooping the top prize.