A week before the Tour de France tears through Rochdale, thirteen miles of road were closed off to motorists as cyclists took over the city's highways for the third Great Manchester Cycle.
The 2014 edition had 8,000 riders take part, completing 13, 26 and 52-mile sportive challenges over a route starting and finishing at the Etihad Campus, altogether pulling in half a million pounds for charity.
As the route took in Old Trafford, that meant that part of Mancunian Way – usually out of bounds for cyclists – was closed off to traffic to allow the participants to ride in peace.
The 52-mile route had sold out over a month before the event, which raised an estimated half a million pounds for charities including the British Heart Foundation, the Christie and Macmillan Cancer Support.
The event was attended by riders of all ages and abilities, with free children's entries encouraging many families to join in.
Leonard Penny, from Glossop, said: "At 80 years old with a bad knee there aren't many cycling events that I can enter, but the 13 mile Great Manchester Cycle route is perfect for me.
"I rode with my daughter and grandson and the rest of my family are all here supporting. There's a fantastic atmosphere here, it's great to see so many riders of all ages, and I'm pleased to say I kept up with them!"
There were also a number of celebrity riders who turned out for the event, including Ashes to Ashes star Dean Andrews and Emmerdale's Nicola Wheeler and Rik Makarem, all of whom rode for Leukaemia & Lymphoma Research.
Also involved was ex-Hollyoaks and Casualty actress Gemma Atkinson, who took on the 52-mile route.
Atkinson said: "I've hardly been near a bike for two years but I'm always looking for new challenges for the Royal Manchester Children's Hospital and I thought the Great Manchester Cycle would be a great way to raise money.
"I've been putting some training miles in recently and I'm happy to get through it, it's been a really fun day and all for a good cause."
Ciaran Griffiths, formerly of Shameless, rode the 26-mile route alongside five other members of the Peugeot team for Children in Need, and said: "There's such a variety of people here.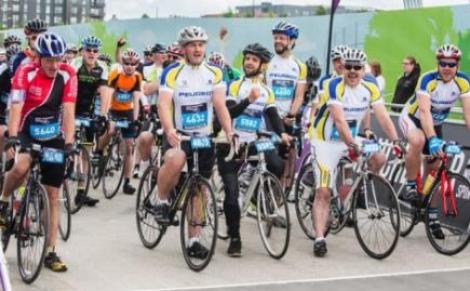 LEADING FROM THE FRONT: Ciaran's crew are all smiles
"You've got all the little titches, they're doing the 13 miles, you've got the top riders doing the 52 miler, and you've got the intermediates like me doing the 26 miler.
"It's a great day and with the roads shut we've had free reign of the city."
The event also gave participants the opportunity to try out all kinds of bike – road bikes, tandems and even penny-farthings.
Penny-farthing rider Paul Guyther said: "We often race my Penny-farthing but it's usually with a small group of other penny riders, not with 8,000 other bikes of all shapes and sizes, so it's been great to be part of such a wide-ranging, fun event."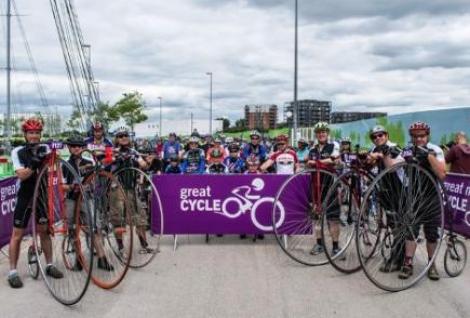 PENNY IN LANE: Manchester's big wheelers in full flow
The success of the 2014 event also guaranteed that the race would be held for a fourth consecutive year. 
Jamie Still, event director for organisers Nova, said: "I'm delighted with what we achieved this year, and we are already looking forward to 2015."
Main image courtesy of Rob Fedrick via YouTube, other images courtesy of Great Manchester Cycle, with thanks.